Ice Road Trucker Star Hugh 'Polar Bear' Rowland Thinks His Nickname Fits Him Perfectly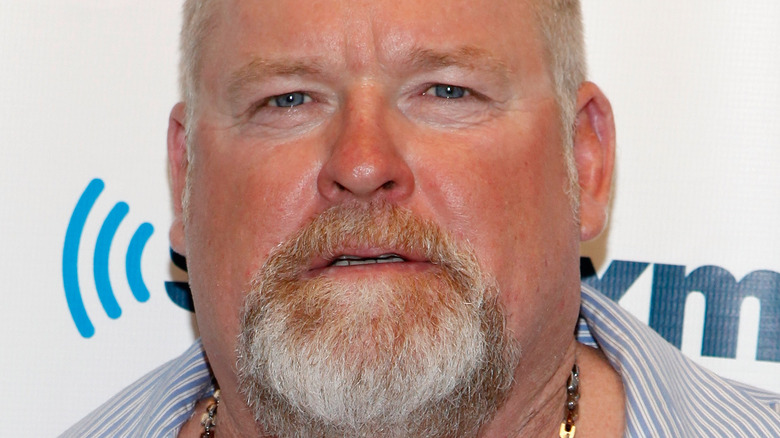 Cindy Ord/Getty Images
"Ice Road Truckers" is among the most successful series that the History Channel has ever produced (via Parrot Analytics). With its high stakes and risky look at one of the most dangerous jobs in North America, the reality show offers viewers a look into a world that they might not otherwise experience. This adrenaline-fueled storytelling made the series increasingly popular over the decade it was on the air, garnering 11 seasons of the show along the way (via IMDb).
Following a rotating cast of truckers who would haul loads down some of the most dangerous roads in North America, "Ice Road Truckers" features more than a few drivers who risked their lives with nerves of steel. One of which is the no-nonsense Hugh "Polar Bear" Rowland. While the burly trucker has been on the road for decades, and was featured in 112 episodes of "Ice Road Truckers" (via IMDb), he didn't always have that animalistic moniker. With that in mind, viewers and fans of the series might find themselves wondering where the nickname came from.
Rowland's nickname came from a bug deflector of all things
Hugh Rowland of "Ice Road Truckers" sat down with Hollywood Soapbox to discuss his time on the series and his long career in the dangerous profession. Naturally, Rowland's "Polar Bear" nickname came up during the conversation, and he went on to explain where it originated from. Strangely, the moniker was inspired by a bug deflector on a semi-truck that bore the same name.
"And everybody said, 'That fits you perfect.' I was just a hairy, gruffy guy, pretty aggressive up there," Rowland recalled "I like to fistfight lots. And he just called me the Polar Bear, and it kind of stuck. I've had it for 30 years." Given his size and disposition, the name seems to be a natural fit for the trucker, but it's certainly interesting to finally learn where it came from.
Rowland also mentioned just how long he had been in the game as one of the titular "Ice Road Truckers" shipping up and down the remote roads of Canada and Alaska. "I've done it my whole life, since I was a kid," Rowland said. "That's what I do for a job, and everybody watches it on TV."