Waxing On Author Ralph Macchio Recalls Life Before And After The Karate Kid - Exclusive Interview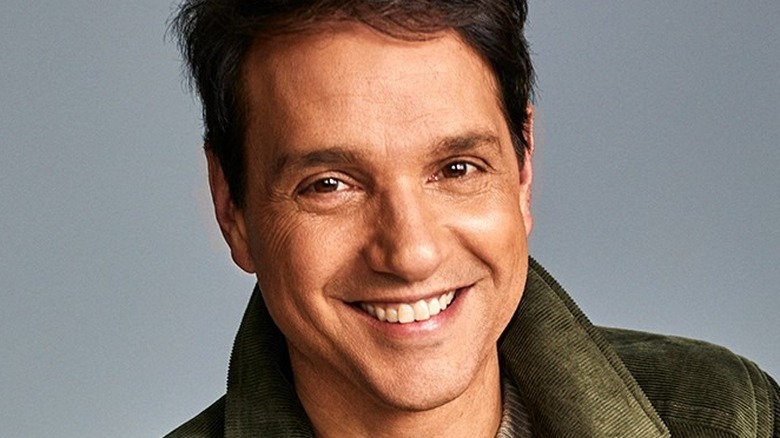 Michael Schwartz
As beloved actor Ralph Macchio has learned, screen stories can have a vibrant life long after the credits roll — as long as those stories find the right people to keep the spirit of the tale alive. Not only did it happen with his 1984 classic "The Karate Kid" and its two sequels, which gave birth to the smash Netflix series "Cobra Kai," but Macchio himself is also a perfect example of how it can be done. Taking a measured, realistic approach to his life and career, Macchio, thanks to his ability to keep things in proper perspective, has written his own success story no matter the ups and downs he's encountered.
Nearly 40 years after the premiere of Macchio's landmark film, the performer is finally sharing the stories of his life before and after his emotional turn as Daniel LaRusso — the scrappy teen who overcame the perils of bullying — with his new memoir "Waxing On: The Karate Kid and Me" (Dutton). The book chronicles Macchio's career as an actor, the uncertainties of show business, and his dedication to his family. Macchio also focuses on the creative forces who greatly influenced him throughout his career, including his "Karate Kid" co-stars Noriyuki "Pat" Morita, William Zabka, and Martin Kove, as well as the film's director, John G. Avildsen, screenwriter Robert Mark Kamen, and producer Jerry Weintraub.
"Waxing On" also delves into Macchio's other projects on stage and screen, including "Cobra Kai," which originated as a YouTube Red series for two seasons in 2018 and 2019. Created by "Karate Kid" superfans Josh Heald, Jon Hurwitz, and Hayden Schlossberg, "Cobra Kai" — which picks up on the lives of Daniel LaRusso and Johnny Lawrence (Zabka) more than 30 years after the fateful All Valley Karate Tournament — became a worldwide phenomenon in 2021 after Netflix acquired the series and produced new episodes that launched with Season 3.
In an exclusive interview with Looper, Macchio dived into his work on the book, shared some experiences from the past 38 years after "The Karate Kid," and weighed in on the future of "Cobra Kai" after its blockbuster fifth season.
A kick for the ages
I love how you start the book by describing the memories of seeing "The Karate Kid" in a packed theater for the first time and the reaction you witnessed from the crowd at the Baronet Theater in New York City. When the audience reacted to Daniel's crane kick, would you say as an actor-slash-audience member that it was the greatest moment you've ever experienced in a theater?
Yes. Listen, there have been great moments as an audience member in theaters in live theater. But for me, being "The Kid" in the movie that I'm watching for the first time, seeing that thunderous — I think that's the word I use — that thunderous roar, and people leaping to their feet ... I described it as being in the World Series, Stanley Cup, and Super Bowl all at the same time at the back of that theater.
It was a moment I will never forget and it amazingly keeps ... It'll never be that again, because that's the first time, but I still get to enjoy the fans embracing of this character and franchise to this day. It's really quite unique.
Life on the outside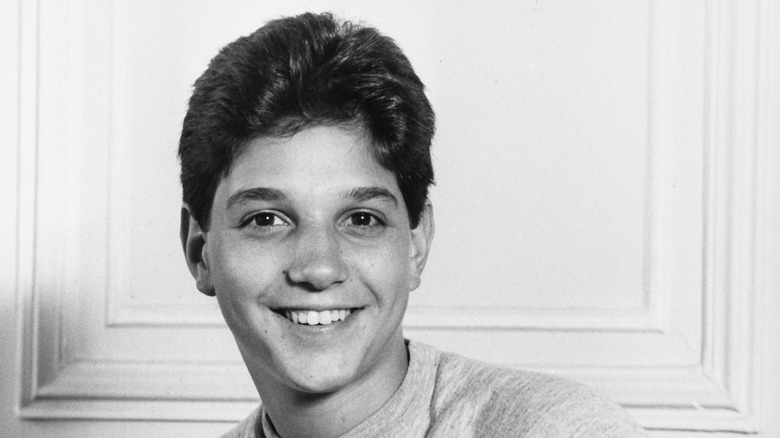 Dave Hogan/Getty Images
"The Karate Kid" was the second of a one-two punch for you within a short span of time. The first one came a year earlier with director Francis Ford Coppola and "The Outsiders." I'm sure that first punch is something you still cherish, especially considering the company you were in. Francis Ford Coppola, Tom Cruise, Matt Dillon, Rob Lowe, Diane Lane, Emilio Estevez — so many people — what a hell of a memory that must be.
"The Outsiders" holds a very, very special place. I read that book when I was 12 years old in seventh grade, and I had the opportunity to be in the film and role of a lifetime with one of our greatest storytellers and filmmakers in Francis Coppola. That was a super dream come true time. The two moments for me outside of the theater victory moment of "The Karate Kid" screening [were] getting the role in "The Outsiders" and getting the role opposite Robert De Niro on Broadway in "Cuba and His Teddy Bear." Those are two that nothing comes close to the personal feeling of achievement of getting those parts and having those opportunities and getting to work with those folks.
Macchio and Downey have interesting career parallels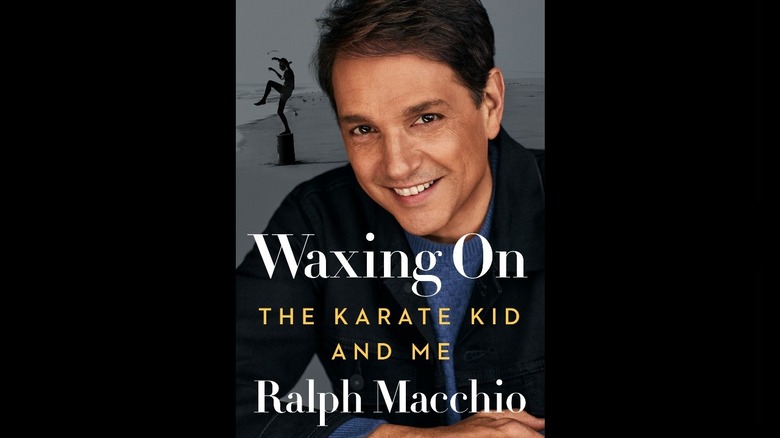 Dutton
Reading the book, it feels like you're leading a Forrest Gump-like existence with all of these very talented people you encountered early on in their careers. Was it Robert Downey Jr. outside of director John G. Avildsen's place when you thought you already had the role for "The Karate Kid"? What an incredible memory that must be, considering the trajectory both of your careers have taken since that point.
I think it was Charlie Sheen who was outside the bungalow on the lot that I saw when I was ... I sort of had the role of Daniel LaRusso, but the screen test hadn't happened, so it wasn't stamped legally. With Robert Downey Jr., it's interesting. The first film I ever did ["Up the Academy"] was directed by his dad, Robert Downey Sr., and I knew Downey Jr. when he was 13, 14 years old. I had heard that he actually was involved in the early workshop of "The Outsiders" before I got that part, and he was considered for Daniel LaRusso as well.
Would I trade an "Iron Man" in for all I have? I laugh about that occasionally. He's a super talent, an extraordinary person and movie star, and his journey's been quite wonderful — so different than mine, but we both come out on the good end.
A saved scene that could have forever altered the Miyagiverse
It's wonderful how Pat Morita has such a presence in the book. It's amazing to hear all your stories about him, including how the studio wanted to cut the drunken Miyagi scene where Daniel learns his mentor's tragic backstory about the loss of his wife and baby son. If you think about the emotional weight of that scene, I don't know what trajectory the film series would've taken or if "Cobra Kai" would've happened at all if it was cut from the film.
Yeah, you're right. It was a backstory to who Mr. Miyagi was and why Daniel LaRusso meant so much to him. It was a pivotal moment in the film where LaRusso then takes the baton himself and trains himself in that beautiful montage with that spectacular Bill Conti music. The scene itself — Pat would always call it his Oscar scene because he received an Oscar nomination for best supporting actor — and for the people who don't know that, it's good to remind them of that.
But it does stop the story. Technically, even Robert Kamen, who's the original screenwriter, says yes, at this point of the story in screenwriting 101, when you're racing to the climax, you usually don't stop for five minutes and talk about something 25 years ago. But once the audiences got in the theater, it added ... There was so much more motivation for Daniel LaRusso to not only do this for himself but for his mentor.
That's the beauty, that's the human element, that is woven into this "Karate Kid" universe. It strikes a chord on a human level, and all the "Get him a body bag" and "Sweep the leg" and catching flies with chopsticks or Cobra Kai-isms that are in the new series — it works because you care about these characters.
The Karate Kid scene that still makes Macchio emotional
You write in the book that the scene where Mr. Miyagi gives Daniel his car and you reply, "You're the best friend I ever had," is your favorite. Is there that or another scene that when you see the film again, you tear up every time? Personally, the tears flow for me every time I hear Elizabeth Shue's Ali screaming after Daniel is declared the winner in the All Valley Karate Tournament.
The one that gets me every time — the hairs stand up and I get the chills — is the montage post-the Miyagi drunk scene when Daniel goes out and he's training himself. It's called "Training Hard" and has the music by Bill Conti. You see Daniel in the long shot on the boat doing all the blocking moves, and he's on the pylon on the beach, and he's working on his crane.
You see the evolution of that character working hard to achieve. He's alone, taking it upon himself to be the mentor in his own journey from what he's gained from this friendship with Miyagi. It's pure and genuine, heartfelt, and it gets me — hook, line, and sinker — every time.
The spiritual origin of Cobra Kai?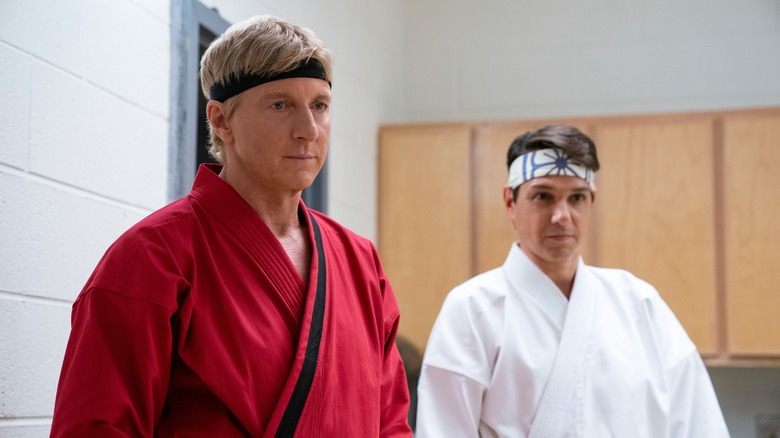 Curtis Bonds Baker/Netflix
The super fandom of Josh Heald, Jon Hurwitz, and Hayden Schlossberg brought you back to the Miyagiverse with "Cobra Kai." But from a spiritual standpoint — and I sense spirituality in your writing — that maybe it was Pat Morita who was the impetus for "Cobra Kai." After all, it was at Pat's funeral where you saw Billy Zabka for the first time in 20 years, and he waved and smiled at you, and you saw him in a different light. Do you think that moment was the spiritual impetus of "Cobra Kai" because of the way it brought you and Billy together?
It's interesting. I never looked at it from that perspective. I certainly did when I saw Billy that day at Pat's memorial because I hadn't seen him in a long time. As I write in the book, I saw him differently. We were both on the same side of the mat. We were there mourning our friend, as opposed to [being] nemeses and squaring up, which we wind up doing all the time on "Cobra Kai" because it's fandom and it's fan service and it works.
There's a lot of elements that go into why something works and connects with the masses. Certainly, you need the good writing, you need the execution, you need people who care. "The Karate Kid" franchise has been blessed more than once, and it's wonderful now to have 13-year-old kids run up to me on the street and know who Mr. Miyagi is based on what we get to do with this show. Hopefully, if they read the book, they'll get to get more of an inside, honest view of what those shoes have been like for me to walk in.
Bringing The Karate Kid films full circle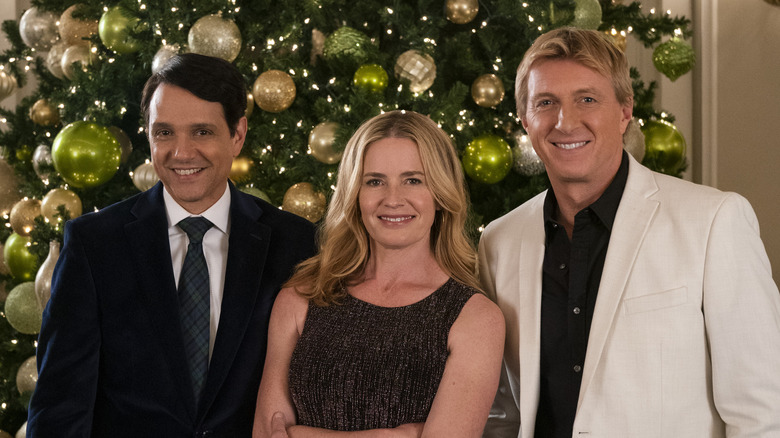 Curtis Bonds Baker/Netflix
It's interesting how you're not afraid to admit regrets in the book and your efforts to make things right. One of them regards how Elizabeth Shue — whom you've always known as Lisa — was written away in one line in "The Karate Kid Part II." That's the great part about "Cobra Kai," in that it allows the stories of "The Karate Kid" trilogy to come full circle and rights the ship in many instances.
Having all these actors, whether it's Lisa, or Tamlyn [Tomita], Yuji Okumoto — who's fantastic as Chozen — Thomas Ian Griffith from "[The Karate Kid] Part III," now being our ultimate supervillain in "Cobra Kai" ... Whether it's the shortcomings that give birth to new fruit in the present day or story elements that were not brought to fruition, we now get to enhance with furthering the story — [that's] really special, unique, and wonderful.
With Lisa and what happened at the end with her character, that was a disservice to her character by the studio and their choices — and I was so wrapped up in what I was doing in my life. I was going from a movie from "Teachers," a film I did with Nick Nolte, and then "Crossroads" and "Cuba and His Teddy Bear" with [Robert] De Niro on Broadway, and the Mets were in the World Series.
I was very, very preoccupied with other things, and it was just in writing the book I looked back. The advice I would've given my younger self is to stop a moment and maybe have picked up the phone or whatever. I don't have a big regret about it because I never did anything with ill intention, but in looking back on things, I would probably have done it differently, being a little bit older and wiser and understanding it better.
For the most part ... not always by design, but I came out pretty okay with most of that stuff. But I liked writing about that. There's little pieces of honesty for folks to take away.
Waiting on the future of Cobra Kai
Curtis Bonds Baker/Netflix
I loved "Cobra Kai" Season 5. It brought Daniel and Johnny together in such a strong way, redeemed Mike Barnes [Sean Kanan], busted Terry Silver [Thomas Ian Griffith], and vindicated John Kreese [Martin Kove]. Not only did it do justice to "The Karate Kid: Part III," it did the whole movie trilogy justice. The big question is, "What's next?" Right now, if you were to say this is the end, I would be satisfied. If Season 6 doesn't come to pass, would you say that this iteration of "The Karate Kid" story is complete?
I don't think so. First of all, in the "Cobra Kai" world — which is kind of a karate soap opera; it's like a telenovela — [for] every door that closes, another one opens. It's by design. The writers wanted this season to come in for a landing where everything felt okay, but they teed up a lot of international elements: the Sekai Taikai and what that is, Kim Sun-Yung and who he is and was. There's a lot teed up to burst the dam again, but it's at a place that it would be interesting.
We haven't officially gotten our Season 6, and I'm hoping we do because the writers should be given the opportunity to bring it in for a landing in a satisfying way and potentially open up for some spin-offs and other ideas. But it's cool to play it like, "Oh, good, I'm glad this is done," and just when you think it's safe to go back, just when you think you're out, they pull you back in! By your reaction, I think that would be the play and what they're looking to do. We'll see. Fingers crossed.
[Do you have] any thoughts about the new "Karate Kid" movie that was announced recently?
I don't know what's going on. I know they made an announcement that they're going to have a "Karate Kid" feature in 2024. There's little information out yet ... There's a Broadway musical written by Robert Kamen — who wrote the original script — which is based on the original film, coming to Broadway. I never cease to be amazed with the next chapter in the "Karate Kid" universe. It'll be exciting to see it, and I'll see where it goes.
Ralph Macchio's memoir, "Waxing On: The Karate Kid and Me," is now available in stores and online.
This interview was edited for clarity.