Marvel Fans Want Bella Thorne To Play Lady Deadpool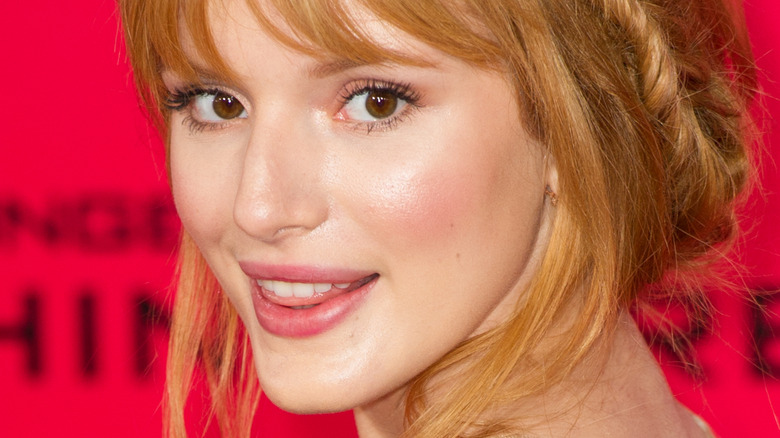 Christopher Halloran/Shutterstock
Bella Thorne has come a long way since her first, uncredited role in Matt Damon and Greg Kinnear's film, "Stuck on You," at only five years of age (via IMDb). Early on, Thorne honed her craft during short stints on television series like "Dirty Sexy Money" and "My Own Worst Enemy." In 2010 she landed the role of one of the leads, CeCe Jones, alongside Spider-Man's (Tom Holland) future love interest, Zendaya, on the Disney Channel's "Shake It Up." And while the film "Midnight Sun" didn't score well with audiences or critics, according to Rotten Tomatoes, Thorne gave a poignant performance that showed off her vast acting range.
Thorne hasn't appeared in the Marvel Cinematic Universe yet. Still, she's often expressed a keen interest in that foul-mouthed, chimichanga-eating anti-hero who will soon be joining the MCU. "'Deadpool' — my favorite — also because it is so raunchy," Thorne said in an interview with ComicBookMovie.com contributor Josh Wilding via YouTube. "And, hello, who does not love Ryan Reynolds?"
Thorne also admitted, in the interview, that she is still interested in portraying Lady Deadpool. In the comic books, the uber-cool female version of Deadpool, Wanda Wilson, first appeared in 2010's "Deadpool: Merc with a Mouth #7," and she exists on Earth-3010 of the Marvel Multiverse. Lady Deadpool and the MCU's Earth-616's Wade Wilson team up in the Deadpool Corps, but did you know fans are also clamoring for Thorne to don the guise of Lady Deadpool on the big screen?
Marvel fans can totally see Thorne as Lady Deadpool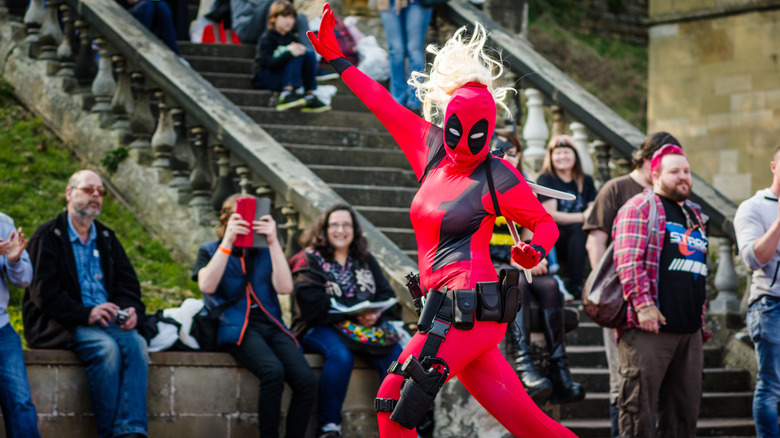 PJ_Photography/Shutterstock
"Deadpool 3" is delayed until November 2024, but the excitement to see Ryan Reynolds' Deadpool team up with Hugh Jackman's Wolverine in the MCU remains palpable. Now, imagine Lady Deadpool joining the cinematic fun, and fans on social media fancy Thorne's female version of the mouthy merc being included in future films. "Part of me hopes to see Bella Thorne as Lady Deadpool pop up in the MCU," Redditor u/MattGreg28 wrote. "I could see this variant of Wade being very fun and, most likely, as crazy as Wade."
"I would never want a Deadpool without daddy issues, lady or otherwise," u/IcePhoenix18 wrote in defense of Thorne because another Redditor, u/dorkpool, accused the actress of having such difficulties. Naturally, some want someone completely different to take on the role, so it's not surprising when Reynolds' wife gets mentioned. "If you're doing Lady Deadpool, it's gonna be Blake Lively," u/HeyItsHawkguy recommended.
Thorne's possible involvement in the MCU as Lady Deadpool dates back to 2016. It was then that the actress expressed her desire to portray a superhero. "I also like playing roles that are very rebellious and real," Thorne said in an interview with Moviefone. "So, it's good when you really show teenagers for how they actually act and how they actually talk. Honestly, if I could just play a female version of 'Deadpool' — any character that's a female version of Deadpool — I'm so down!"