The 30 Best Studio Ghibli Characters Ranked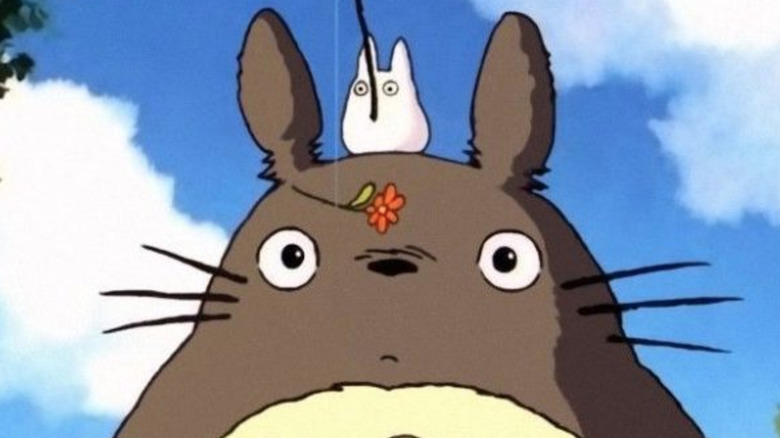 Ghibli
Studio Ghibli, the company founded by directors Hayao Miyazaki and Isao Takahata, and producer Toshio Suzuki, may be the greatest animation studio in history. Much of its films' successes can be attributed to great characters. The characters in Ghibli films tend to be more multi-dimensional and morally and psychologically complex than those in the films of Walt Disney Animation Studios, or the characters in most other anime for that matter. Their human characters are realistic and deeply relatable, while their more fantastic creations can be adorable, terrifying, or sometimes both.
With so many classics, not everyone's favorite is going to make this list, but we've assembled a collection of 30 outstanding Studio Ghibli characters from 17 of the studio's 23 animated features (apologies to "Pom Poko" and "My Neighbors the Yamadas," which were more ensemble pieces as opposed to developing stand-out individual characters, as well as to the more forgettable "Ocean Waves" and the three films of Goro Miyazaki). This list does not include characters from the studio's short films (most of which are only viewable at the Ghibli Museum in Tokyo), nor does it include projects on which Ghibli handled outsourcing work for other studios (a list that includes the likes of "Neon Genesis Evangelion," "Ghost in the Shell 2: Innocence," and somehow also "Recess: School's Out").
30. The Baron (Whisper of the Heart/The Cat Returns)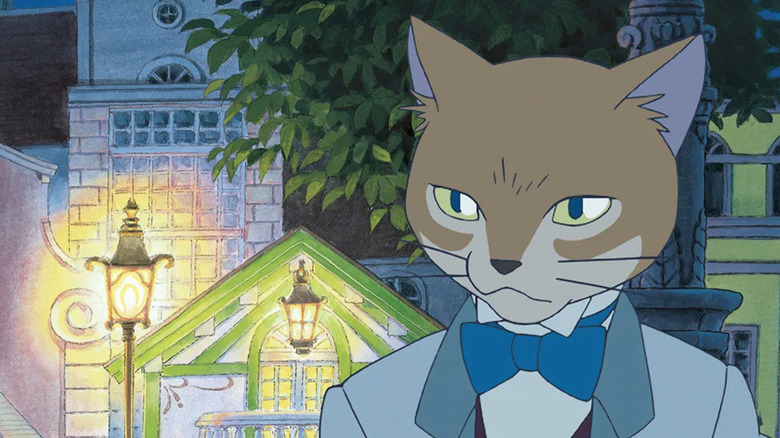 Studio Ghibli
This one's for the furries. Baron Humbert von Gikkingen is one of a small number of Studio Ghibli characters to appear in two different films from the studio. The first of these is 1995's "Whisper of the Heart," the only film directed by the late animator Yoshifumi Kondo. In this movie, The Baron is a fictional character from Shizuku's story-within-the-story, inspired by a statue in an antique shop. Shizuku's story sees The Baron seeking to reunite with his lost lover, Louise — which coincidentally parallels what happened to the antique statue set and its owners.
The Baron's scenes in "Whisper of the Heart" were so popular that he was elevated to a major character in the 2002 spinoff movie "The Cat Returns," directed by Hiroyuki Morita. In this film, The Baron and the other members of his "Cat Bureau" help the high school girl Haru Yoshioka escape from the Cat Kingdom, where she will turn into a cat forever if she stays for too long. 
29. Soot Sprites (My Neighbor Totoro/Spirited Away)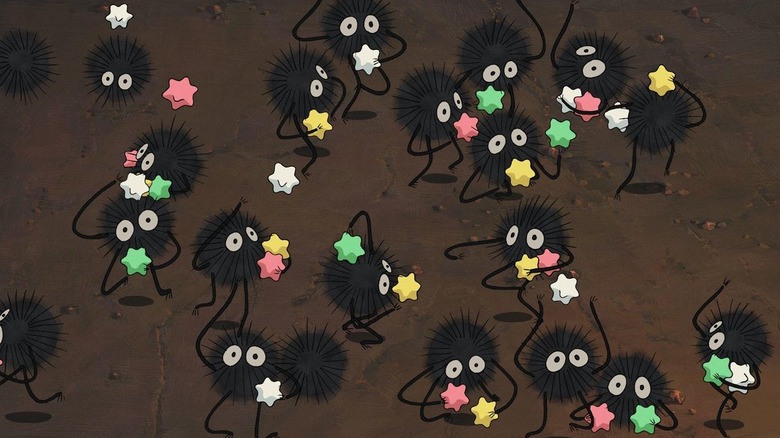 Studio Ghibli
Also appearing in two different Studio Ghibli films are the soot sprites, adorable little black balls of dust anthropomorphized with arms, legs, and big cartoony eyes. They first appear in Hayao Miyazaki's 1988 film "My Neighbor Totoro" as the first supernatural creatures Mei notices at her new house in the countryside — the exact sort of thing a young kid might imagine when entering a dusty new place. They're driven away from the house by the family's laughter, flying off to find a new place to stay.
The soot sprites return in another Hayao Miyazaki film, 2001's Academy Award-winning "Spirited Away," in which they're presented with greater personality. There, they work for the multi-armed boiler man Kamaji carrying lumps of coal much bigger than themselves into the furnace, and are fed with star-shaped candy (konpeito) as payment. Chihiro helps one particularly tired soot sprite by carrying their coal for them, which results in more soot sprites dropping their coal so that she'll do all of their work. They end up repaying her kindness by holding onto her clothes and shoes for her.
28. Robots (Castle in the Sky)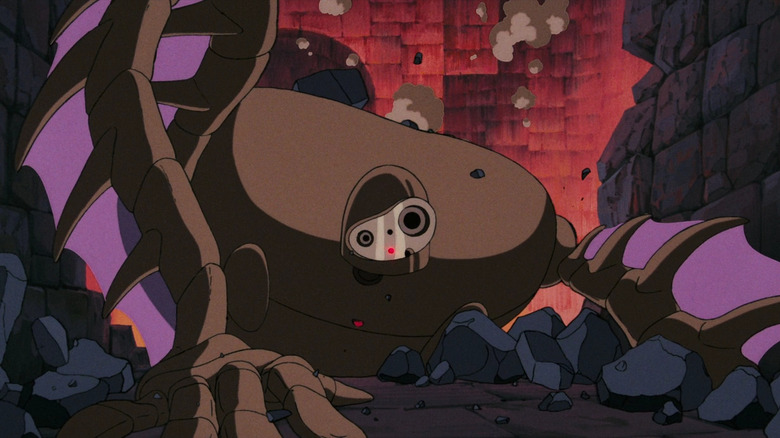 Studio Ghibli
In his review of the film "Mr. Bug Goes to Town" (collected in the book "Starting Point: 1979-1996"), Hayao Miyazaki dismissed Fleischer's "Superman" short films as "masturbatory" (via Nishikata Film Review).  Despite these harsh words, Miyazaki has paid clear homage to the robots from the "Superman" short "The Mechanical Monsters" twice: first in the "Lupin the Third Part II" episode "Farewell My Beloved Lupin," and then with the robots in the 1986 film "Castle in the Sky."
Two robots from the floating island of Laputa play a major role in the film's plot. The first is accidentally reactivated by Sheeta and destroyed by the military as it tries to rescue her. The second is a peaceful lone survivor on Laputa, caring for the plants and animals while all the humans and other robots have long since died. It's fair to assume that the likes of "WALL-E" and "The Iron Giant" might have drawn inspiration from the Laputa robots. You can take photos with a statue of one of the robots at the Ghibli Museum in Tokyo (via Truly Tokyo).
27. Lin (Spirited Away)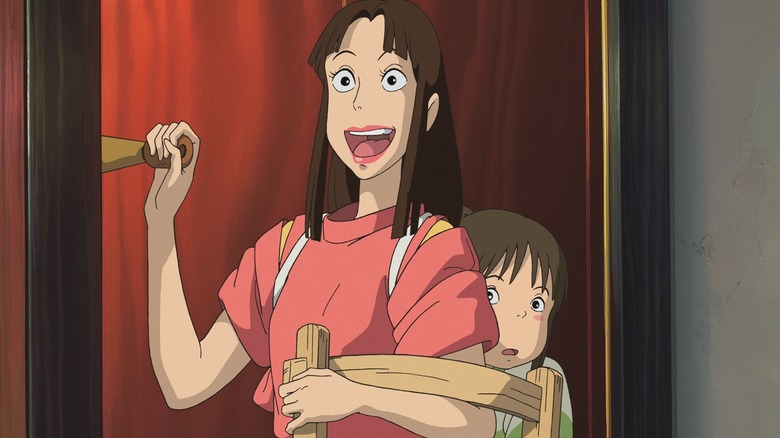 Studio Ghibli
Frequently crossing paths with Hayao Miyazaki's wide-eyed young heroines are slightly older, more experienced women who have a slightly harder edge but provide wonderful mentorship and support. Lin from "Spirited Away" is a great example of this particular character archetype, showing the human girl Chihiro the ropes for working in the spirits' bathhouse and growing increasingly protective of her.
Not human but decidedly humanoid in design, many viewers might not be sure what sort of spirit Lin is supposed to be. Concept art in "The Art of Spirited Away" book confirms she's a byakko, a creature whose name is ordinarily translated as "white fox," but is specifically translated as "weasel" in the book's official translation. Lin has a bit of a "weasel-like" trickster nature to her, and she doesn't understand humans' concepts of romantic love. Lin is also an incredibly expressive character — just look at her incredible reaction (pictured above) to the Radish Spirit joining her on the elevator.
26. Arrietty (The Secret World of Arrietty)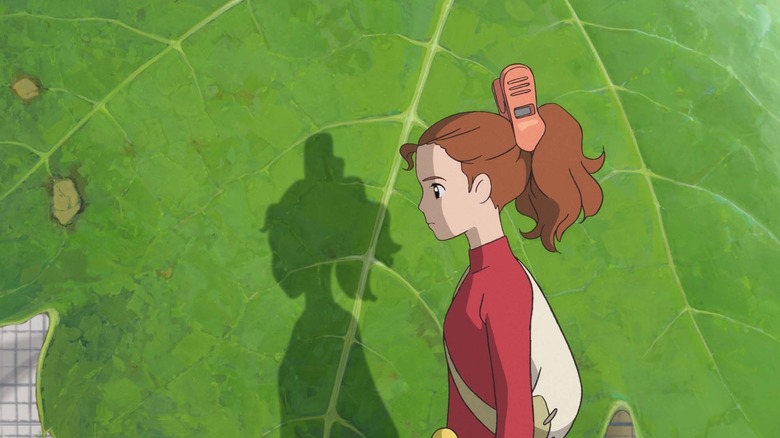 Studio Ghibli
Studio Ghibli's 2010 release "The Secret World of Arrietty," the first feature film directed by Hiromasa Yonebayashi, is based on 1952 British children's novel "The Borrowers" by Mary Norton. The movie's title character, Arrietty, is among the most resourceful of Ghibli heroines, and for good reason: She's only a few inches tall and has to "borrow" tiny objects from humans for survival while working to stay undetected.
On her first "borrowing" mission, Arrietty does end up being seen by a human boy, Sho (Shawn in the American dub). Fortunately for her and her family, the two end up becoming unlikely friends. Both characters are connected by and bond over their anxieties about death: Arrietty and the other Borrowers' survival is always on the precipice, while Sho has heart problems and is uncertain whether he'll survive the surgical operation that he needs. Arrietty's story beautifully balances whimsy with sadness in classic Ghibli fashion.
25. Ursula (Kiki's Delivery Service)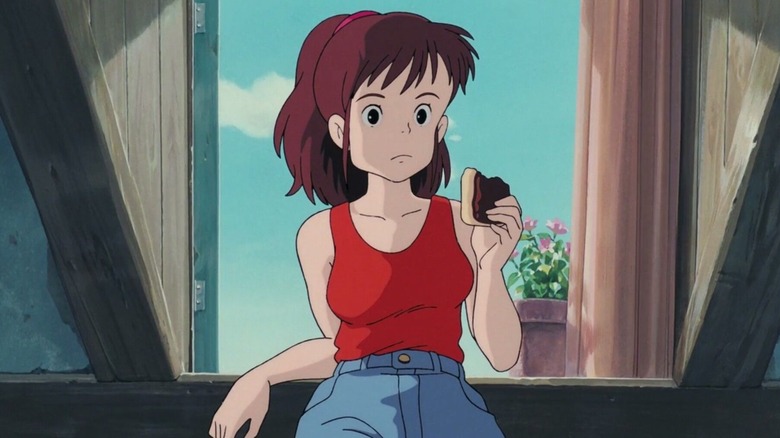 Studio Ghibli
Another example of the mature mentor figure archetype a la Lin, Ursula is an artist who lives in a cabin in the woods outside of town and becomes a friend of the young witch Kiki in Hayao Miyazaki's 1989 film "Kiki's Delivery Service." Kiki inspires one of her paintings, and when Kiki is feeling so burdened with work that she can no longer do magic, it's Ursula who helps her deal with the problem by relating it to her own experiences with creative burnout.
People often associate the works of Studio Ghibli with the "cottagecore" aesthetic, and Ursula's rustic artistic life may be about as cottagecore as you can get. She's a relatively minor character in the movie (her name isn't even stated in the original Japanese version and only mentioned in passing in the English dub), but she's an extremely memorable one thanks to both her cool style and her helpful wisdom.
24. Taeko (Only Yesterday)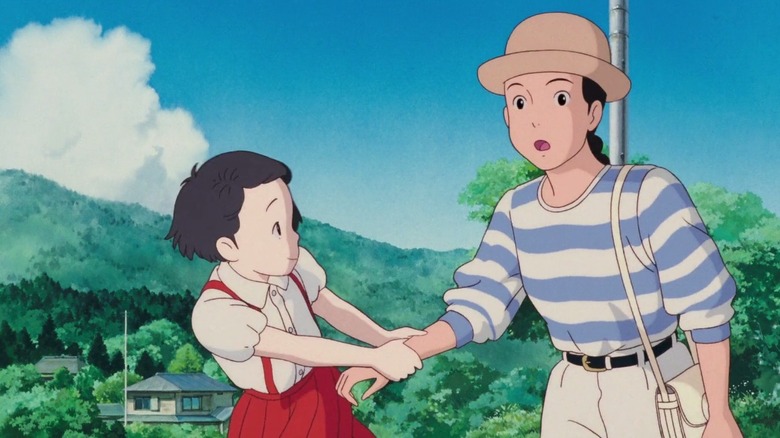 Studio Ghibli
Taeko Okajima from "Only Yesterday," the 1991 film by Isao Takahata, is unique among Studio Ghibli protagonists in that viewers get to know her at two different points in her life. At 27 years old in 1982, she's an office worker under pressure to get married. She takes a trip to visit her brother-in-law's safflower farm in part as an excuse to escape from city life. On her trip, she has many nostalgic memories of herself as a schoolgirl in the 1960s.
Hyper-detailed realistic animation is used to depict the "present" i the film, while more stylized animation is used for the past. Moving to the country has long been one of Taeko's ambitions, and taking this trip inspires her to think deeply about whether she's grown into the sort of adult she wanted to be as a kid. Getting to experience Taeko's perspective on herself at different points in life makes for a psychologically nuanced portrayal in one of Ghibli's subtler, more realistic stories.
23. Mei (My Neighbor Totoro)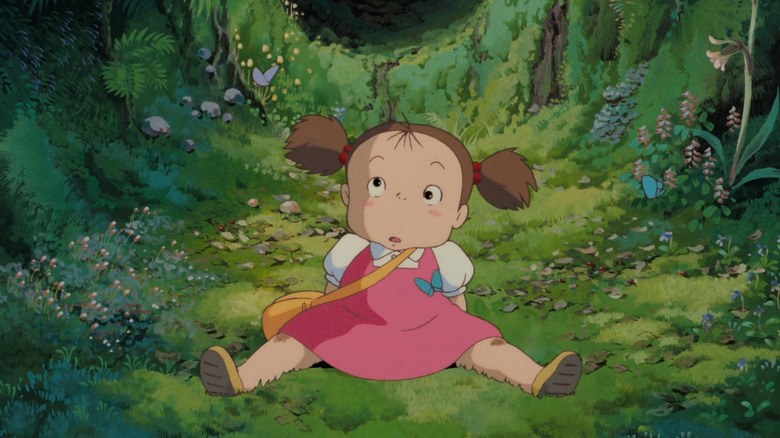 Studio Ghibli
What makes "My Neighbor Totoro" such a truly special film is how effectively it captures the perspective of childhood. Picking our favorite human character from the film is tough — with 10-year-old Satsuki carrying the film's most dramatic moments and father Tatsuo being a paragon of supportive parenting — but it's 4-year-old Mei who is our primary guide to the magical wonders surrounding the Kusakabe family's new house.
Mei is the one who sees the soot sprites and is the first to see the Totoros — her mispronunciation of the word "troll" gives the latter creatures their name. She's fun-loving, adventurous, and takes the sort of risks that feel perfectly sensible when you're 4 years old while leaving all the older kids and adults justifiably worried. She struggles with complicated big emotions around her mother's illness in a way that feels very realistic. Mei is also the subject of a 2002 sequel short, "Mei and the Kittenbus," which only screens at the Ghibli Museum in Tokyo.
22. Ponyo (Ponyo)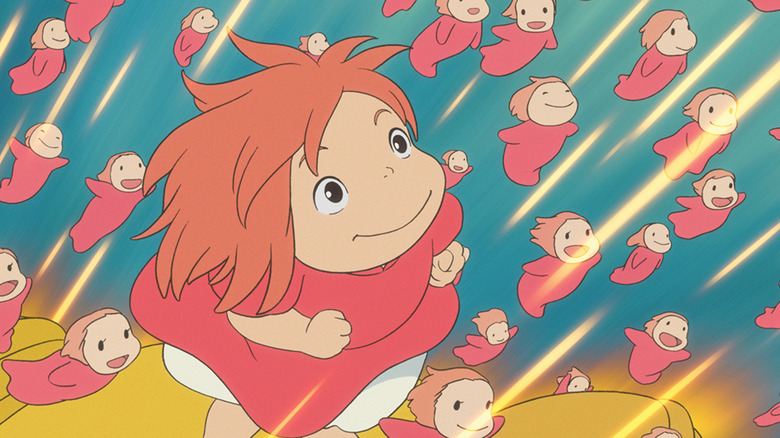 Studio Ghibli
If there are two character archetypes most directly associated with Studio Ghibli, they would be "precocious young girl hero" and "adorable hyper-merchandisable fantasy creature." In retrospect, it seems inevitable that they would eventually end up creating a character who was both of these. The title character of Hayao Miyazaki's 2008 movie "Ponyo" starts off as a fish with a human face. After tasting human blood, she's able to transform into a chicken-legged, frog-like form and eventually, into a human girl.
In all of her stages of evolution, Ponyo is extremely cute and full of positive, loving energy. You can't even get mad at her when she accidentally causes a tsunami with her magical powers. Like "The Little Mermaid" of Hans Christian Andersen's fairy tale, Ponyo is ready to leave her undersea life to get to the human world. She's partially motivated by her love of her human friend Sosuke, and partially by her love of "HAAAAAAAAAAAAAAAAAAAAAAAAAAM!!!"
21. Jiro (The Wind Rises)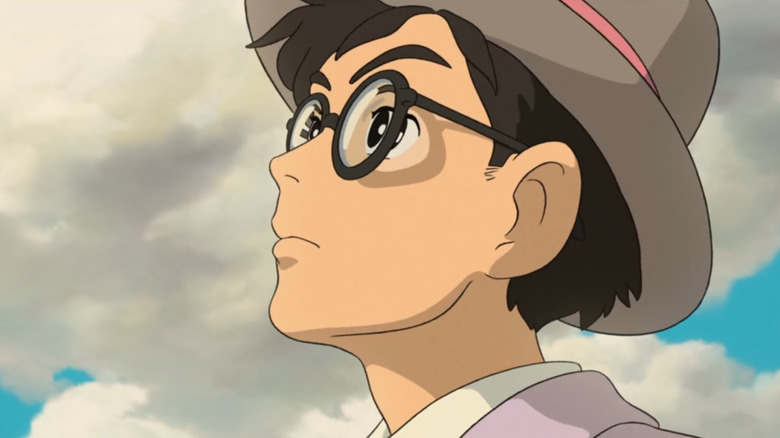 Studio Ghibli
One of only two characters on this list based off a real person, Jiro Horikoshi in 2013's "The Wind Rises" serves as an avatar for all of Hayao Miyazaki's darkest anxieties about his career and his art's impact on society. Jiro is a brilliant engineer who invents the Mitsubishi A6M Zero planes used by Japan's kamikaze pilots in World War II. While Jiro's portrayal in the film is heavily fictionalized (his whole romance subplot is borrowed from an unrelated novel, Tatsuo Hori's "The Wind Has Risen"), the weight of the horrors of history make "The Wind Rises" one of Miyazaki's most intense dramas.
What does it mean for a someone to want to make planes that will inevitably end up being used for weapons of war? Jiro is depicted as a portrait of otaku-like obsession (the casting of "Evangelion" director Hideaki Anno in the Japanese version is on-point for highlighting his nerdiness). All his self-justifications ultimately aren't worth anything in the end, but he still has to live with the consequences of his actions.
20. Shizuku (Whisper of the Heart)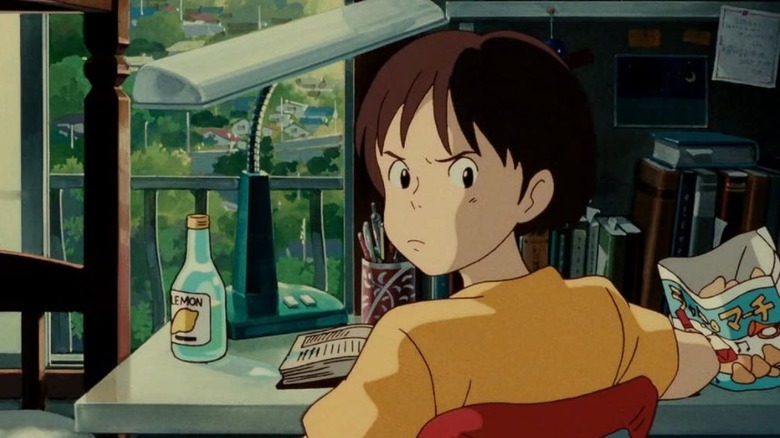 Studio Ghibli
"Whisper of the Heart" is one of the most realistic Studio Ghibli films and one of the relatively few set in the then-present day. A movie like this one needed convincing and compelling characters to succeed, and fortunately, Shizuku Tsukishima is an excellent protagonist. For viewers who are either in middle school or remember having been there, she's an easy character to identify with.
Shizuku is passionate in matters of literature, overdramatic in matters of romance, and uncertain in matters of the future. She's got her whole life ahead of her but nonetheless fears that she's falling behind everyone else. When she's encouraged to harness her love of reading to write a novel of her own over the course of two months, the obsession takes over her life, and she has to learn how to balance her different responsibilities as well as the fact she's going to have to continue rewriting her work to improve it. Like Kiki in "Kiki's Delivery Service," Shizuku's story illustrates some important things about the creative process.
19. Calcifer (Howl's Moving Castle)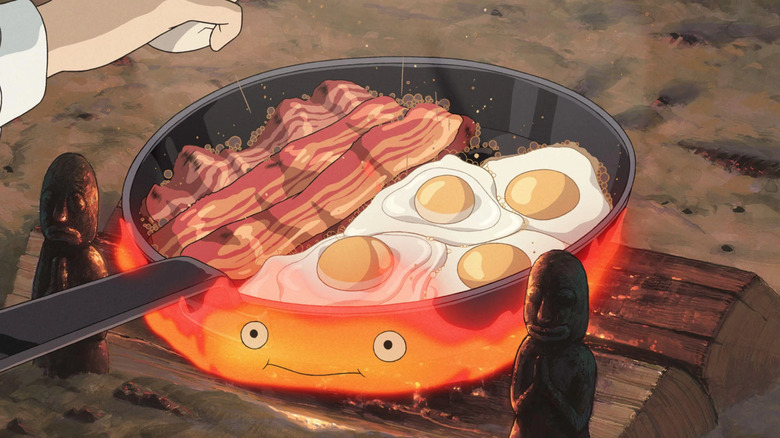 Studio Ghibli
Hayao Miyazaki's 2004 movie "Howl's Moving Castle," very loosely adapted from Diana Wynne Jones' novel, might not have the strongest story out of all the director's works, but it does have some of his strongest characters. One of the strangest and most lovable members of the film's quirky ensemble is Calcifer, the fire demon who powers the titular moving castle.
In contrast to the more typically demonic appearance in the illustrations of the book, the Ghibli animators drew Calcifer as a stylized flame with a cute cartoony face. Just watching him in motion is a stunning display of both personality and effects animation. Calcifer is among the funniest of Ghibli's comic relief sidekicks, especially voiced by Billy Crystal in the English dub, but he also has a more serious role in the story — he's trapped inside the castle because he possesses the heart of the wizard Howl as his life force.
18. Setsuko (Grave of the Fireflies)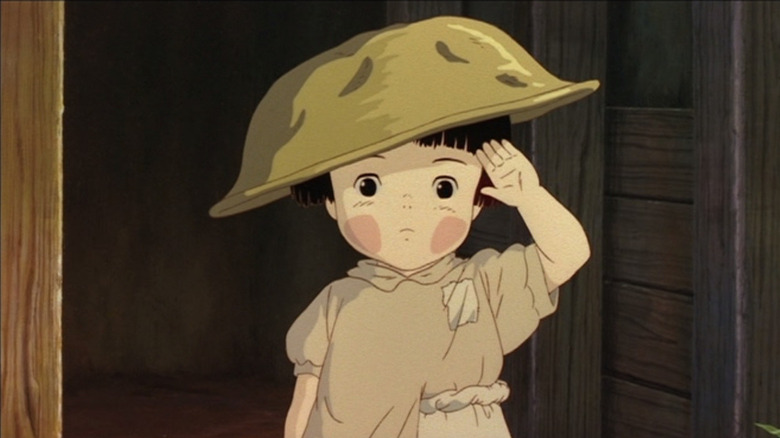 Studio Ghibli
The other "based on a true story" Studio Ghibli movie, Isao Takahata's 1988 masterpiece "Grave of the Fireflies," is infamous as one of the most depressing war films in history. Based on a short story by Akiyuki Nosaka, the story of Setsuko and Seita, siblings who starve to death due to the World War II fire bombings, is semi-autobiographical, inspired by the author's guilt over his younger sister's death.
Different viewers may disagree wildly on just how much, if any, blame or responsibility the elder brother Seita deserves for his tough decisions amidst an unspeakable situation, but one thing everyone can agree on is that the death of the younger sister Setsuko is one of if not the most gutting in all of anime history. Oddly enough, "Grave of the Fireflies" was released as a double feature with "My Neighbor Totoro," and both films do an equally excellent job portraying the perspectives of children, but in wildly different circumstances. The many moments of joy and happiness Setsuko experiences in her short life makes her ultimate fate all the more upsetting.
17. Anna (When Marnie Was There)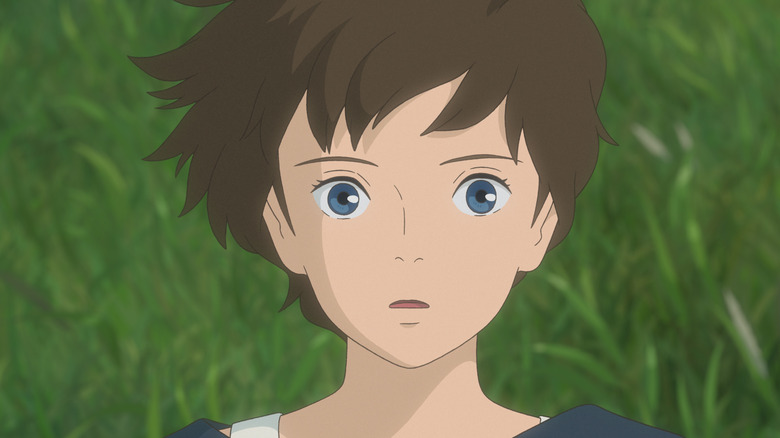 Studio Ghibli
Lots of Studio Ghibli characters struggle with self-doubt, but how many struggle with self-loathing? Anna Sasaki directly states, "I hate myself" in the opening scene of of Hiromasa Yonebayashi's 2014 film "When Marnie Was There," the last feature film animated at Studio Ghibli before a six-year hiatus (Goro Miyazaki's TV movie "Earwig and the Witch" ended the hiatus in 2020). Anna's a biracial orphan who fears her foster parents don't actually want her, doesn't have friends, and has both asthma and serious depression. Her story is one of the most emotionally hard-hitting in the Ghibli canon.
To deal with her asthma, her doctor suggests she spend the summer in the countryside where the air is cleaner. This ends up helping her with her other problems as well, because she ends up making a deep friendship with the beautiful ghost Marnie. Anna and Marnie's connection is so intense that it's easy to read it as a romance for the majority of the film, though those hoping for Ghibli's first lesbian characters got their hopes crushed by the ending reveal that Marnie was in fact Anna's grandmother.
16. Chihiro (Spirited Away)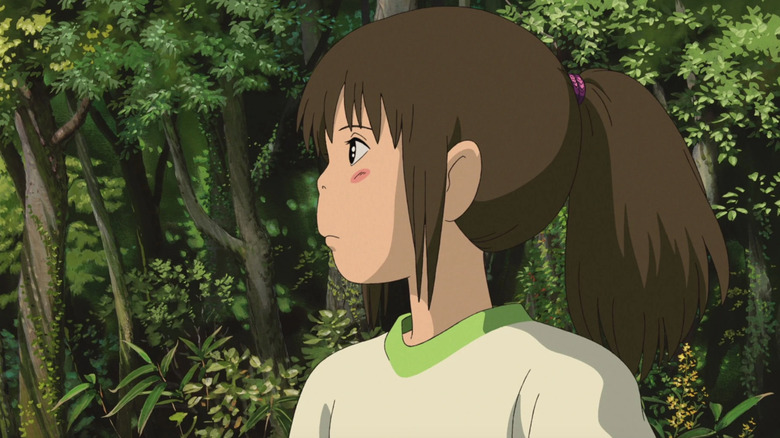 Studio Ghibli
Like Dorothy in "The Wizard of Oz" or Alice in "Alice in Wonderland," Chihiro Ogino in "Spirited Away" is an ordinary girl thrust into an extraordinary alternate world; she's the audience's grounded hook into a wild fantasy. She's first introduced complaining about moving to a new town — complaints that sure seem quaint once her parents get turned into pigs and she has to work in a bathhouse for spirits in order to save them.
A character who at first comes off as somewhat spoiled and bratty proves herself to be brave, resourceful, and kind to even the scariest of spirits. In making "Spirited Away," Hayao Miyazaki told the magazine Animage that he hoped to empower 10-year-old girls and give them something more than the romance stories that fill the pages of the popular shojo manga magazines. While some critics of Miyazaki's work, such as fellow anime director Mamoru Hosoda, have argued that Miyazaki over-idealizes his female leads, we'd point to Chihiro as a great counter-example of a female protagonist who feels like a real person, someone who's flawed by trying her best.
15. Sophie (Howl's Moving Castle)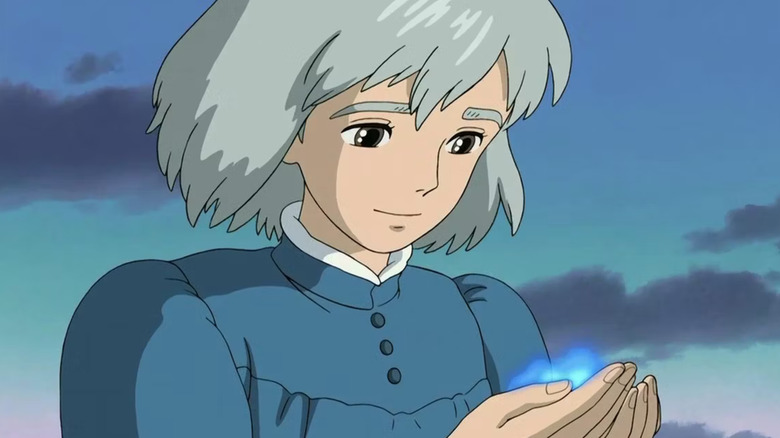 Studio Ghibli
A personal anecdote: At Anime Boston 2022 (the first AB convention in three years), it seemed like there were a lot more people cosplaying Sophie Hatter from "Howl's Moving Castle" than usual. This could just be a coincidence, but it feels like there's something about this character that connects deeper than ever for those growing up and trying to manage expectations of adulthood in times of great uncertainty, where even our experience of time itself feels skewed.
At the start of the film, Sophie is 18 years old, but she's soon cursed by The Witch of the Waste and transformed into a 90-year-old woman. While breaking her curse is her initial driving motivation, she finds she's able to adjust to being elderly relatively comfortably and in the end is more driven by saving Howl than by becoming young again. Her age and appearance fluctuate a lot under the curse, reflecting her emotional state more than anything else. When the curse is broken in the end, she becomes young again but with silver hair, reflecting how her experiences have impacted her.
14. Catbus (My Neighbor Totoro)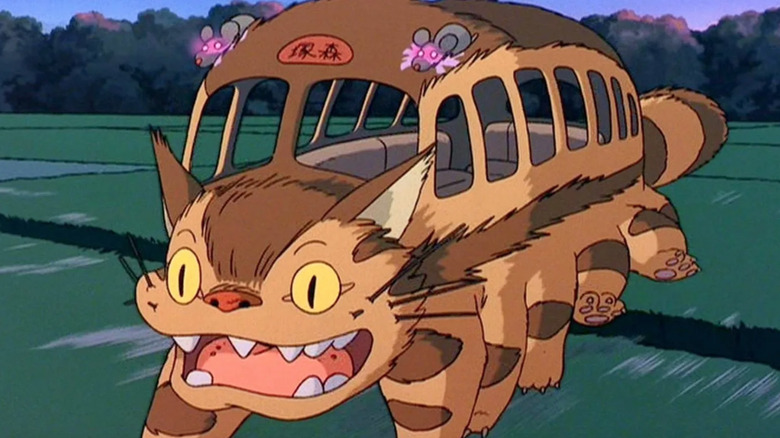 Studio Ghibli
How much do I really need to write about the Catbus from "My Neighbor Totoro?" It's a cat! It's a bus! It's got 12 legs and little mice as headlights! It saves the day in the end, helping Satsuki find Mei when she's missing and taking both of the sisters to visit their mother in the hospital! What more justification do you need for why this creature is amazing?
Though the Catbus is gleefully mysterious in the film, it's widely speculated that the Catbus is a bakeneko, a cat that's grown ancient enough to gain the ability to shapeshift (via Nausicaa.net). The Ghibli Museum has a model Catbus that only children ages 12 and under are allowed to get on, while the Ghibli Park has full-scale model adults can enter (via South China Morning Post). A smaller "kittenbus" is the subject of the Ghibli Museum short film "Mei and the Kittenbus."
13. Haku (Spirited Away)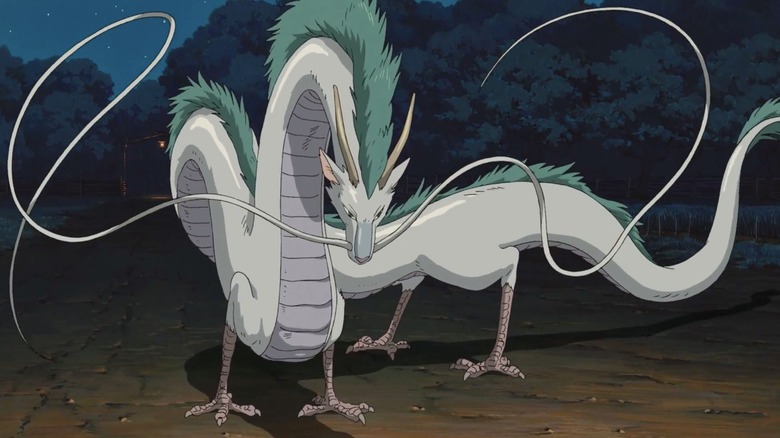 Studio Ghibli
Concern for the environment is a theme, large or small, in many Studio Ghibli films, but the story of Haku in "Spirited Away" may be the studio's most poetic expression of these themes. Haku is first introduced in a humanoid form, serving Yubaba whilst secretly helping Chihiro survive in the spirit world. He warns her to never forget her real name — for he has forgotten his own. Later, we see him transformed into a dragon, but this isn't all he is, either.
It's in the movie's tearful climax, when Chihiro is riding on the dragon Haku's back to return to the bathhouse, that she remembers his true name: the Kohaku River. Chihiro once fell into this river as a younger kid, and Haku saved her back then. Now, the river has been covered up by apartments, and that's why Haku couldn't remember who he actually is. Haku is one of Hayao Miyazaki's most tragic characters and one whose complexities keep first-time viewers guessing throughout the course of the film.
12. Kiki (Kiki's Delivery Service)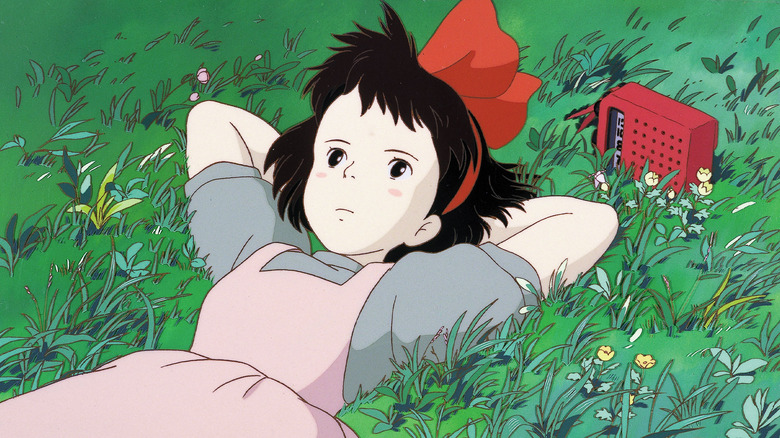 Studio Ghibli
"Kiki's Delivery Service" may be one of the best films ever made about growing up. Its main character Kiki is a witch who has just turned 13 years old, and as is custom among witches in her world, that means it's time for her to fly away from her parents and live on her own. She's self-conscious about her weaknesses, lacking any outstanding magical abilities beyond the basics of flight, but that skill is certainly more than enough to impress all of the non-magical folk in town, and she uses this skill to start up a delivery business.
Kiki's struggles to find purpose and inspiration, and to care for herself when she's so drained from work and life that her magic is gone, make for the most serious and emotionally affecting drama in a generally calm and relaxing movie. Her journey shows that independent living is challenging but worthwhile — that things can always get better despite the inevitable obstacles.
11. Kaguya (The Tale of the Princess Kaguya)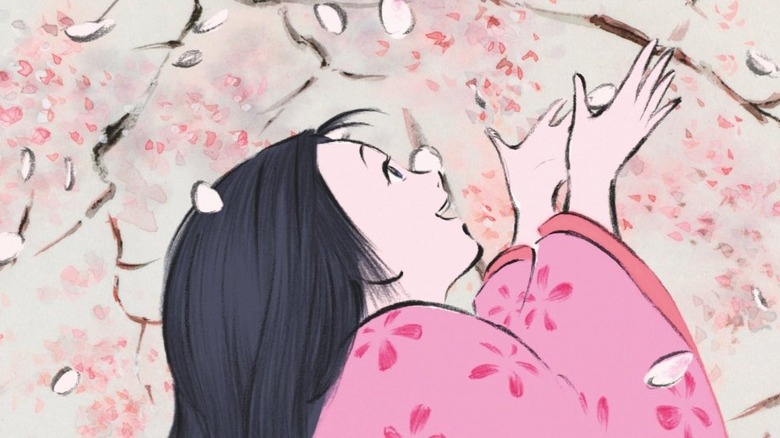 Studio Ghibli
Other Studio Ghibli films have been based on novels, manga, or historical events, but 2013's "The Tale of the Princess Kaguya," the final film directed by Isao Takahata, stems from the oldest and most famous source material of any Ghibli movie. Based on a Japanese folk tale first written down sometime around the 9th or 10th century, it tells the story of Kaguya, a girl born from a stalk of bamboo who grows up rapidly and is made into a noblewoman.
Kaguya is a free spirit who initially finds great joy in her time on Earth, but is crushed by the burdens of propriety, sexism, and marriage. The film's uniquely stylized animation gets the viewer directly into her mindset. The big twist: Kaguya is originally from the moon, who disobeyed the law to experience mortal life on Earth. Things get so rough that Kaguya ends up summoning others from the moon to take her back home, where she will lose all memories of her time on Earth.
10. Fujimoto (Ponyo)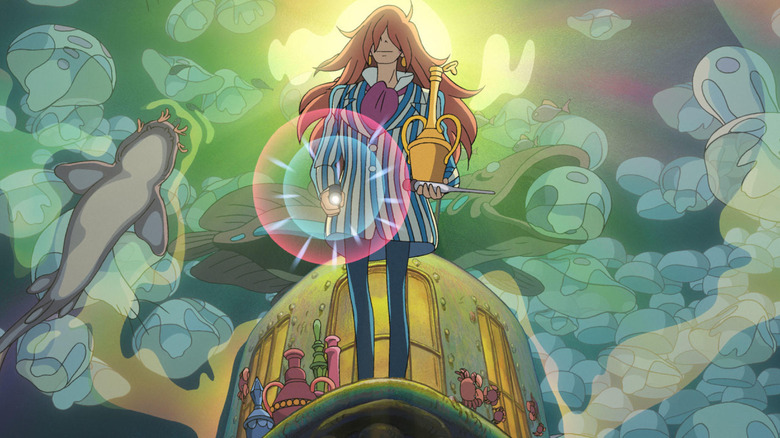 Studio Ghibli
Fujimoto, the father of Ponyo, stands out as one of the most eccentric characters in all of the Studio Ghibli films. He used to be human, but at some point renounced his humanity, fell in love with a gigantic ocean goddess, and became an undersea wizard. Now he can only walk on land if he sprays seawater on himself with one of his many contraptions. Seriously protective of his many fish daughters, he's the King Triton to Ponyo's Little Mermaid, but with the potion-making skills of Ursula and the style sense of "Life on Mars"-era David Bowie.
Miyazaki's pitch documents for "Ponyo," published in the book "Turning Point: 1997-2008," describe Fujimoto as "perpetually in a state of estrangement" between "the masculine principle" of the land and "the feminine principle" of the ocean (via CBR.com). Initially, Fujimoto is presented as hating humanity for polluting the sea, but ultimately relents to allow Ponyo to become human herself. His darker outlook is a welcome contrast in one of Hayao Miyazaki's most innocent and kid-oriented stories, and plays as a reflection of the director's own pessimistic perspective.
9. Howl (Howl's Moving Castle)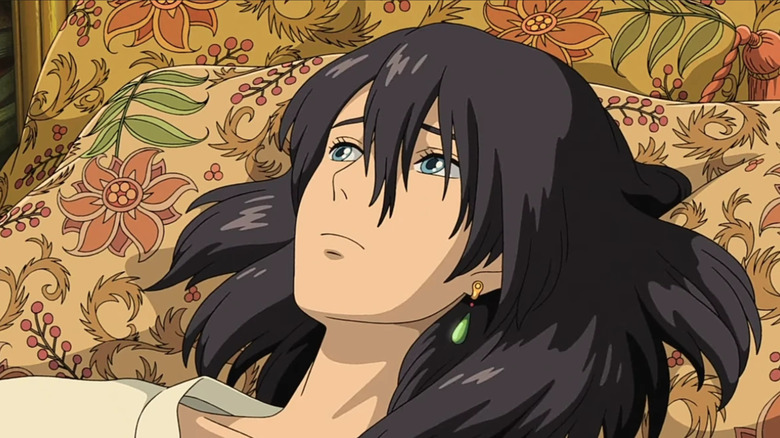 Studio Ghibli
Let's get the obvious out of the way first: Yes, Howl Pendragon is Studio Ghibli's most attractive male character. Yes, you can make arguments for Ashitaka from "Princess Mononoke" and bear-lovers have Fukuo the baker from "Kiki's Delivery Service," but survey any group of fans about the most handsome Ghibli men (as Tokyo Otaku Mode did in 2016), and Howl inevitably comes out on top.
This isn't an irrelevant matter, because the fact Howl is pretty and he knows it is a big part of his character. He's the sort of magical drama queen who fills the room with disgusting black sludge if someone messes with his hair dye (easily one of the funniest Ghibli scenes). Is he immature and narcissistic? Absolutely, though he gets better, and also the whole "giving your heart to a demon" thing would leave anyone emotionally stunted. Despite his serious flaws, he's an easy character to fall in love with and to care about as his monstrous transformation in the war threatens to slowly destroy him.
8. Dola (Castle in the Sky)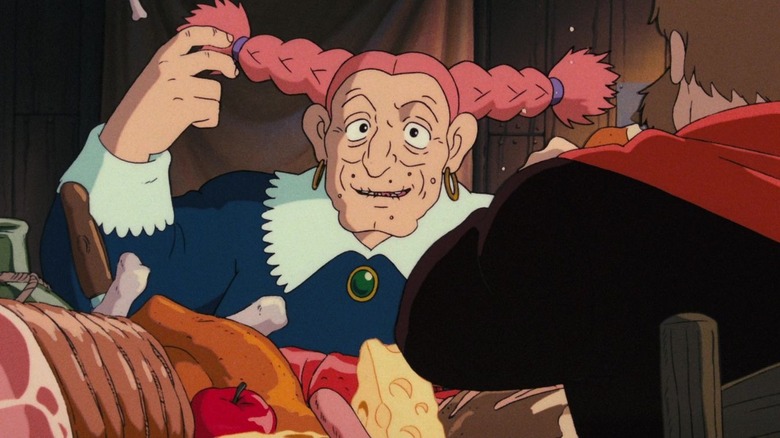 Studio Ghibli
No list of the best Studio Ghibli characters would be complete without including at least one of the studio's old ladies (and not just the age-shifting Sophie). The twin witches Yubaba and Zeniba from "Spirited Away" and The Witch of the Waste from "Howl's Moving Castle" are also great characters, but our favorite example of this archetype has to be Dola from Hayao Miyazaki's 1986 film "Castle in the Sky."
The leader of a band of air pirates, she's introduced chasing after Sheeta's crystal initially seems like a foe to Sheeta and Pazu. Surprisingly, she ends up proving an ally to the film's heroes. She might be driven by greed (she is a pirate, after all), but she's way more respectable than Muska and his soldiers, who are also trying to take the crystal. The more she gets to know Sheeta, the more she sees her younger self in the girl. Dola's crew is literal family, and her sons always do best to follow mom's orders.
7. San (Princess Mononoke)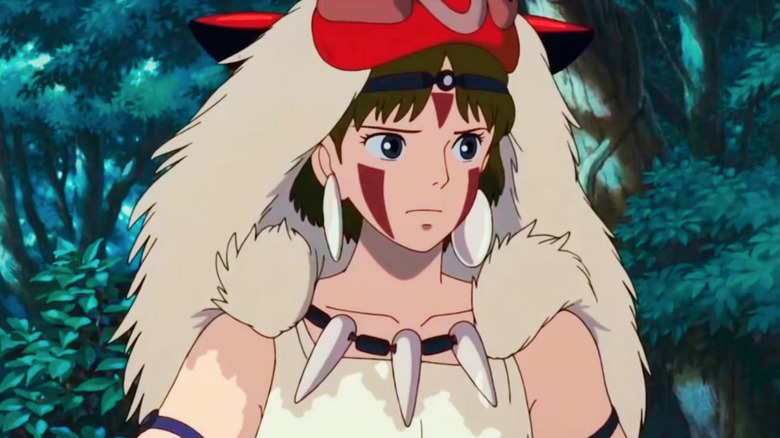 Studio Ghibli
Hayao Miyazaki's 1997 film "Princess Mononoke" is an epic about war between human industry and the forces of nature. San, also referred to as "Princess Mononoke," may be human but personifies the side of nature with all the righteous rage and violence that entails. Raised by wolves, she actively rejects her own humanity, and finds herself very confused when the human Prince Ashitaka not only wants peace between their worlds, but seems to take a genuine liking to her.
In the story's major conflicts, San's side is the more sympathetic one, but it's not necessarily something one can judge in moral terms. After all, how can one really describe the natural world itself in terms of "good" or "evil?" The film's message is ultimately about rejecting violence, with San helping Ashitaka bring peace in the end. Even so, that doesn't make the scenes of San in combat any less badass.
6. Totoro (My Neighbor Totoro)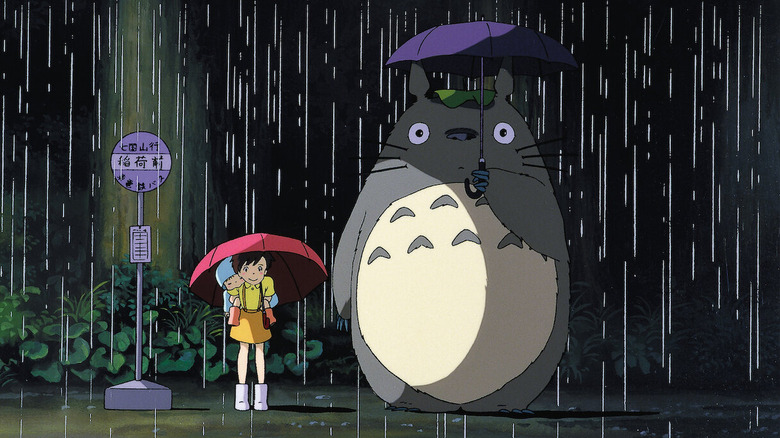 Studio Ghibli
To be specific, this entry is talking mostly about the big Totoro, who's at the center of his film's most memorable scenes, but no disrespect to the two smaller Totoros! How could you not love Totoro? If a character is so beloved that he becomes his studio's official mascot and inspires real-world conservation efforts to protect his home forest, then that character deserves a high ranking on a list such as this one (via The Japan Times).
A giant furry forest spirit resembling a combination of a cat and an owl, Totoro emphasizes and enhances the excitement over the simple things in life that Mei and Satsuki already experience. His screen time in "My Neighbor Totoro" is surprisingly brief for the film's title character, but every scene he appears in, from waiting at the bus stop in the rain to making giant trees grow, is instantly iconic and some of the best animation ever put to film.
Bonus points: Miyazaki has stated that Totoro evolved from the last surviving kodama at the end of "Princess Mononoke," so anyone who wanted those bobble-headed spirits to make this list can technically consider this a double entry.
5. Jiji (Kiki's Delivery Service)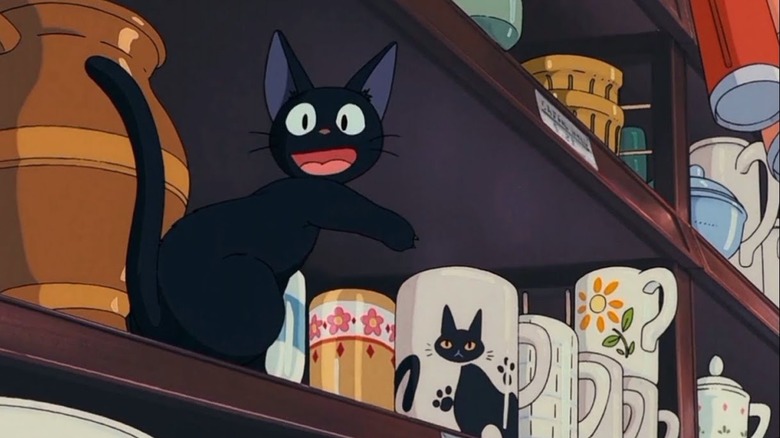 Studio Ghibli
Jiji, Kiki's black cat from "Kiki's Delivery Service," stands out as the funniest Studio Ghibli character, though the flavor of humor depends on which language you watch the film in. As voiced by Rei Sakuma in the original Japanese version, Jiji comes off as a mix of stuck-up, anxious, and generally representing Kiki's more childish side. The English dub contains many of the same jokes as the original, but as performed by Phil Hartman (in one of his final acting roles before his tragic murder), Jiji delivers these lines in a snarkier, more sarcastic tone.
Disney's first releases of "Kiki's Delivery Service" contained even more dramatic changes. Not only were more ad-libbed lines included, but the film's ending was changed so that Kiki can understand Jiji talking again at the end of the film — an ability she seemingly loses in Japanese. Disney's 2010 rerelease and all subsequent releases from GKIDS (including the versions streaming on HBO Max in America and Netflix internationally) re-edited the dub to be more faithful to the original, cutting Jiji's final bits of dialogue (via Anime News Network).
4. No-Face (Spirited Away)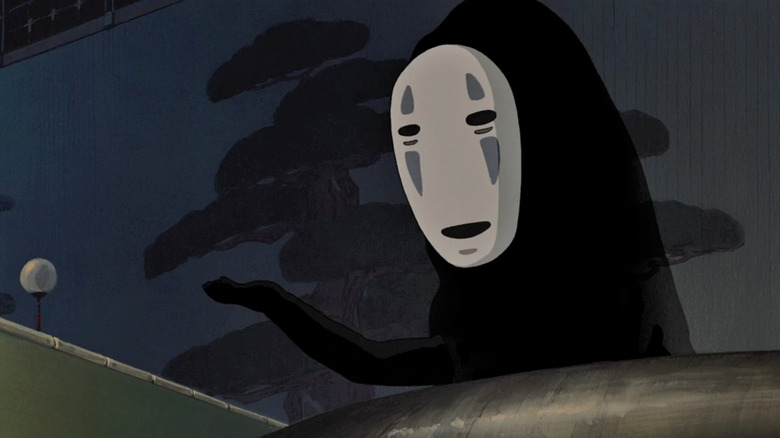 Studio Ghibli
"Spirited Away" is packed with strange and wondrous fantasy creatures, but perhaps the strangest and most wondrous of them all is No-Face. This quiet, lonely, gold-creating masked spirit acts essentially as a mirror to those around him. Those who show him kindness, like Chihiro and Zeniba, he rewards with kindness in turn. More people, however, act greedy and selfish in his presence, transforming him into a horrifying monster ready to eat others alive.
His story works as a moral fable, but one that respects young viewers' intelligence and doesn't need to be over-explained; no backstory on what exactly he is or where he comes from is needed to make a powerful impression. The sequence in which he vomits out everything he's eaten is one of the most viscerally disgusting in all of Miyazaki's filmography, yet once he's freed of the bathhouse's negative influences, he returns to being lovable and oddly cute.
3. Lady Eboshi (Princess Mononoke)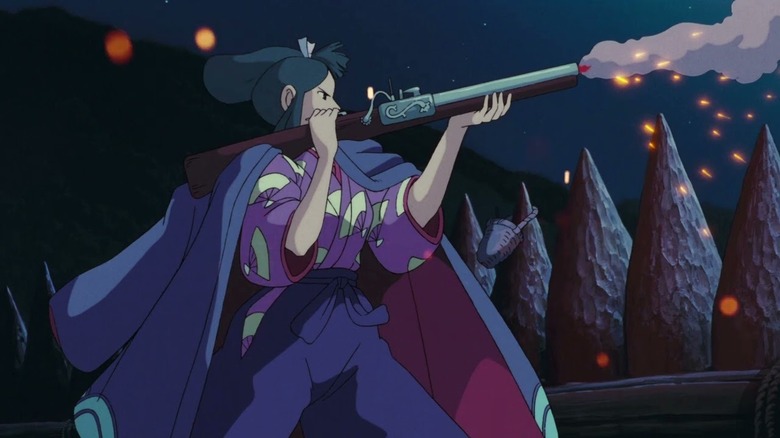 Studio Ghibli
Aside from Muska in "Castle in the Sky" and Lord Cob in the regrettable "Tales From Earthsea," Studio Ghibli doesn't really do traditional villains. Many of their films don't have a specific antagonist at all, and those that do generally make such characters morally ambiguous rather than evil. Lady Eboshi from "Princess Mononoke" is the most fascinating out of all of these antagonists, a character who could have been a hero if she wasn't also definitively in the wrong.
There are a lot of things about Eboshi which are admirable: she's a strong female leader in a patriarchal era, she's freed other women from sex slavery, she cares for lepers, she defends her village of Iron Town against invading samurai. Even her desire to mine iron from the forest for such defensive purposes is understandable, but it's also destructive, angering the gods and ruining the environment. All the sympathetic motivations in the world don't change the fact that she's the woman who shoots off the forest god's head, messing with forces of nature in ways that only destroy all that she's tried to build.
2. Nausicaä (Nausicaä of the Valley of the Wind)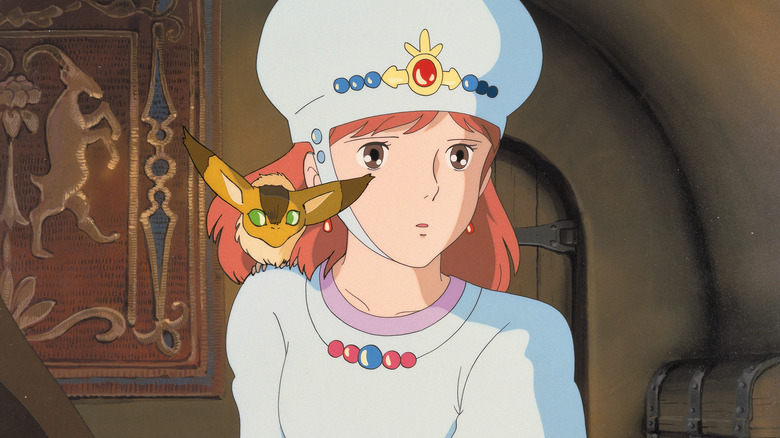 Studio Ghibli
Hayao Miyazaki's 1984 film "Nausicaä of the Valley of the Wind," adapted from his own manga series, technically predates the founding of Studio Ghibli, but has retroactively been grouped into the studio's catalog. Every film Miyazaki has made since has revisited themes and ideas from this film, and all of his strong-willed feminist environmentalist heroines owe a great deal to the character of Nausicaä.
A princess, scientist, and potential messianic figure, Nausicaä defends the people of her post-apocalyptic valley from both the enormous insects of the Toxic Jungle and from other nations invading. She wants to make peace, and develops a surprising understanding of and connection with the insects. Despite her idealism, however, she struggles with her own potential for violence — potential which she regretfully unleashes after her father is killed. Nausicaä is an overall outstanding role model while also being just flawed enough to feel real and human.
While this article is focused on the films of Studio Ghibli, it's also worth noting that the "Nausicaä of the Valley of the Wind" manga continued long after the film's release, developing its world and characters in even more complex ways.
1. Marco (Porco Rosso)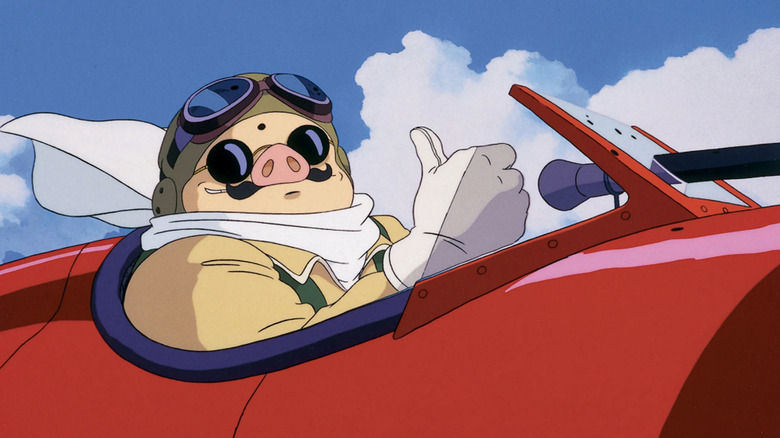 Studio Ghibli
Marco Pagot, who is nicknamed "Porco Rosso" and the star of Hayao Miyazaki's 1992 film of the same name, is a hero unlike any other in the Ghibli library. He's a grown man in his late 30s, an Italian pilot traumatized by fighting in World War I, and so utterly cynical about humanity that he chose to become a pig instead. He's probably the Miyazaki protagonist most similar in personality and attitude to Miyazaki himself — if Miyazaki actually flew planes instead of just drawing them.
Over the course of his adventure in the movie, Marco's cynicism starts to crack, finding hope thanks to the young engineer Fio and realizing that his old friend Gina is in love with him. His reluctant do-gooder nature and rebellion against a fascist government ("I'd rather be a pig than a fascist," he tells a fellow pilot) are reminiscent of Rick Blaine in "Casablanca," if Rick were a pig who fought pirates. The competition is tight, but Marco may be the overall most complex and distinctive of all of Studio Ghibli's characters.