Don't Toy With Me, Miss Nagatoro 2nd Attack - Everything You Need To Know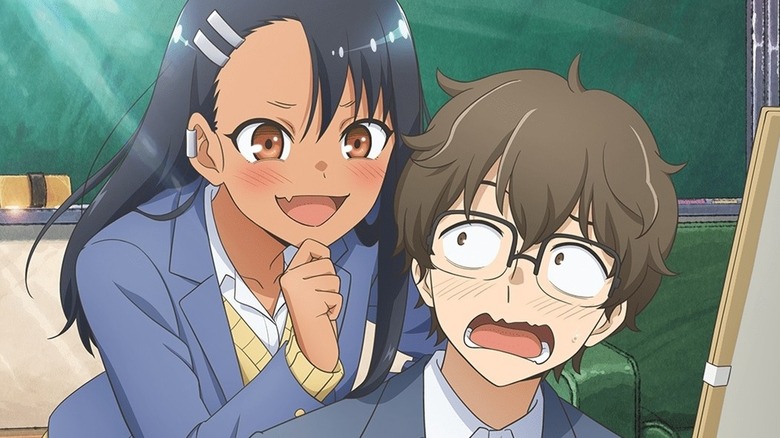 OLM
"Don't Toy With Me, Miss Nagatoro" is a popular romcom anime based on a manga series of the same name. It follows an introverted high school student who spends his time creating manga and another, deeply extroverted high school student who basically makes it her life's mission to neg the poor guy into loving her.
The original story was written and illustrated by Nanashi (that's a pseudonym; the creator's real identity is private) who put it on Pixiv, a Japanese social networking website where manga artists can share their work. "Don't Toy With Me, Miss Nagatoro" debuted on Pixiv in 2011 and slowly gained a following on the site. In 2017, it was digitally distributed by Magazine Pocket, and physical copies began releasing the following year. English language versions are published by Vertical, an imprint of Kodansha USA.
The first season of the "Don't Toy With Me, Miss Nagatoro" anime was released as part of the Spring 2021 slate, with 12 episodes airing between April and June. Fans of the source material fall for it big time. "This adaptation was flawless," said Twitter user @JamesonMozelle1. "I loved every second of this anime and I hope to god there is a Season 2." In October 2021, just a few months after the first season finished, a second season was given the greenlight.
"Don't Toy With Me, Miss Nagatoro 2nd Attack" premiered in the Winter 2023 season, with 12 episodes running between January and March. What is the follow-up season all about? And did it live up to the hype? Here's everything you need to know about it.
What is the plot of Don't Toy With Me, Miss Nagatoro 2nd Attack?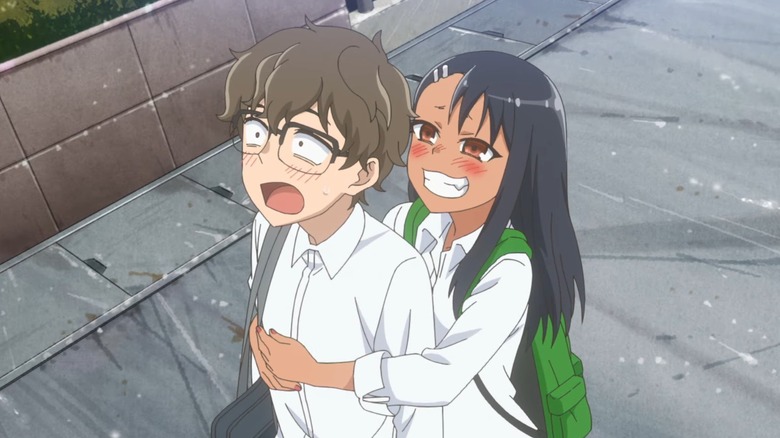 OLM
"Don't Toy With Me, Miss Nagatoro" is the story of a shy boy who is dragged out of his shell kicking and screaming by a confident — and borderline cruel — schoolmate. More specifically, the boy is Naoto Hachioji, a second-year high school student with a deep love for manga. The girl is the titular Hayase Nagatoro, a first-year who finds joy in physical sports. The first season sees the two meet and essentially follows a consistent circle of Nagatoro bullying and flirting with Hachioji until he opens up a little bit, only for that shift to be rewarded with more bullying and flirting. Every now and then, though, it pauses to allow the briefest glimpse of affection.
By the time we catch up with them in the second season, Hayase and Naoto have formed a genuine bond, with the outgoing girl spending a lot more time with her manga-obsessed senpai in the school's art room. Naoto is now more at ease with Hayase, and having her around is proving to be good for him — his previously unknown cool side comes to the surface way more often. It's now abundantly obvious to their schoolmates that they have feelings for each other, but they still seem reluctant to make them known. It's a lot sweeter, and Season 2 packs an even bigger emotional punch than the first outing, but don't worry — there's still plenty of the teasing that made Hayase Nagatoro such a popular character in 2021.
Who stars in Don't Toy With Me, Miss Nagatoro 2nd Attack?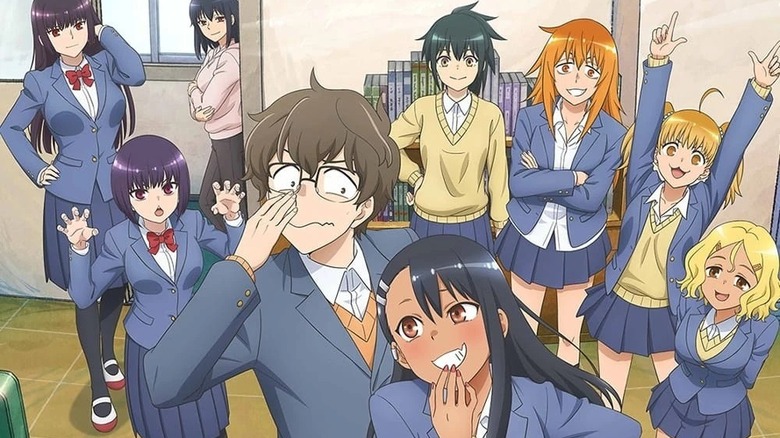 OLM
The original, Japanese version of "Don't Toy With Me, Miss Nagatoro 2nd Attack" features some voice actors who are well-known in anime circles. Titular character Hayase Nagatoro is played by Sumire Uesaka, who famously voices Chisato Shirasagi in the "BanG Dream!" franchise and Shalltear Bloodfallen in "Overlord." Her most recent role is that of Thea in the espionage fantasy series "Spy Room."
Hayase's senpai Naoto Hachioji is voiced by Daiki Yamashita, who is best-known for voicing Izuku Midoriya, the main protagonist of the hit anime "My Hero Academia." He's also famous for voicing the "Pokémon" character Go, a traveling companion of Satoshi (aka Ash) in "Pokémon Journeys: The Series." Yamashita played Go in 126 episodes of the long-running series between 2019 and 2022.
The supporting cast of "Don't Toy With Me, Miss Nagatoro 2nd Attack" is made up of Mikako Komatsu ("Ajin"), Nana Mizuki ("Boruto: Naruto Next Generations"), Aina Suzuki ("Love Live! Sunshine!!"), Shiori Izawa ("Edens Zero"), Yoshino Nanjô ("A Certain Scientific Railgun"), Sayumi Suzushiro ("Seirei Gensouki: Spirit Chronicles"), Kaori Maeda ("Sword Art Online"), and Mayu Mineda ("Monster Girl Doctor").
Is there an English dub of Don't Toy With Me, Miss Nagatoro 2nd Attack?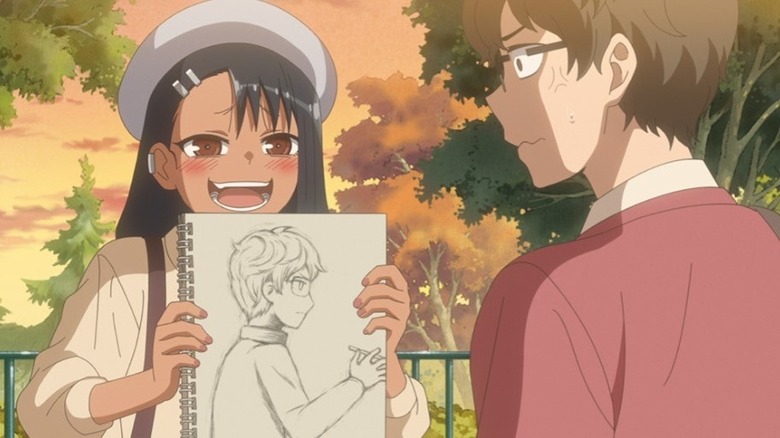 OLM
Like the first season, "Don't Toy With Me, Miss Nagatoro 2nd Attack" has been dubbed in English, and the voice cast of Season 1 reprise their roles in the follow-up. Kimberley Anne Campbell, who can be heard in projects such as "Hunter x Hunter" and "Blue Reflection Ray," plays Hayase Nagatoro. She's also known for her work in video games, having voiced Dawn in the English version of "Pokémon Masters" and Nahida in the English version of "Genshin Impact."
The role of Naoto Hachioji is played by Erik Scott Kimerer. Like his co-star, he worked on "Pokémon Masters" (voicing both Barry and Grant), and he has plied his trade on several other video games, including "Shenmue III" and "Demon Slayer: The Hinokami Chronicles." His anime credits include shows like "Magi: The Labyrinth of Magic" (Alibaba), "Your Lie in April" (Takeshi), "Berserk" (Isidro), and "The Seven Deadly Sins" (Gowther). He also worked on the record-breaking film "Demon Slayer: Mugen Train," voicing Sanemi Shinazugawa.
The dub cast is rounded out by Brittany Cox as Gamo, Kimberly Woods as Sakura, Christina Costello as Mashiro, and internet personality LilyPichu as Yoshi. Fans are split on whether the dubbed version of the show is better than the subtitled version, though the general consensus on Reddit is that the subbed version edges it. "Dub is pretty good but the sub is still superior," wrote u/mikura39. "There's a charm that Sumire Uesaka and Daiki Yamashita did to Nagatoro and Senpai that can't be replaced."
Who directed Don't Toy With Me, Miss Nagatoro 2nd Attack?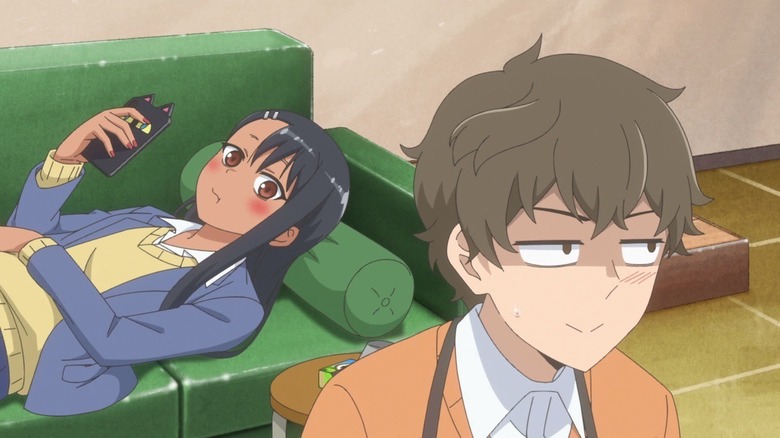 OLM
The first season of "Don't Toy With Me, Miss Nagatoro" was directed by Hirokazu Hanai, who cut his teeth as an assistant director on "Pokémon" and "Tower of God." There was a change at the top for the second season, with the more experienced Shinji Ushiro taking the reins.
Ushiro is best known for his work on "Yo-Kai Watch," a mixed media franchise consisting of video games, anime, and more. He directed the first 24 episodes of the long-running anime's first season and he has helmed a number of "Yo-Kai Watch" movies, too. He has also directed episodes of "Our Home's Fox Deity," "Girls Beyond the Wasteland," and "Magician's Academy!"
Season 1 of the English dub was directed by Julie Maddelena, a veteran voice actor with some live-action credits on her resume — horror fans will recognize her as Rachel from the 1984 adaptation of Stephen King's "Children of the Corn." Her assistant director on "Don't Toy With Me, Miss Nagatoro" was Dorah Fine (pictured above), who took over main directing duties for Season 2.
A native of New York, Fine got into the industry after a chance encounter with veteran voice actor Tony Oliver, who convinced her to take his voice acting class in Chicago. The friendship they formed led to her working on some big anime, including the dub of "Magi: The Labyrinth of Magic," which Oliver directed. She would later take over directing duties from Oliver on "Lupin III," which was her first time helming a dub. "He taught me how to direct," Fine said of Oliver during an interview with 4GQTV.
Who sings the opening song of Don't Toy With Me, Miss Nagatoro 2nd Attack?
A great OP won't make or break an anime, but having a catchy opening is important. "Unlike most Western television counterparts, anime's opening credits play a much larger role in any given show's plot," explains The Harvard Crimson. "These openings expertly introduce the anime's main characters, relevant recurring motifs, and set the tone for the anime all through visual cues." It's not uncommon for big bands and artists to provide the music for an OP, and sometimes the voice actors from the show perform them — which is the case for "Don't Toy With Me, Miss Nagatoro 2nd Attack."
Sumire Uesaka, the voice of Hayase Nagatoro, performed the OP song for the first season, titled "Easy Love." As expected, the actor and singer returned with a brand new song for the opening of Season 2, this one titled "Love Crazy." It's equally as catchy, and the lyrics give subtle hints about how Nagatoro and Hachiouji's relationship develops over the course of the second season. "I'm much more faithful than I seem," Uesaka sings. "A lot more shy, and I love like crazy. Am I out of control? With all of my being, you're the only one I want."
Uesaka also performs the ending theme song of "Don't Toy With Me, Miss Nagatoro 2nd Attack," with some help from co-stars Mikako Komatsu (Gamou), Aina Suzuki (Yosshii), and Shiori Izawa (Sakura). The song is called "My Sadistic Adolescence" and is a lot more playful, focusing on Hachiouji's constant state of embarrassment at being surrounded by Nagatoro and her female friends.
Which studio made Don't Toy With Me, Miss Nagatoro 2nd Attack?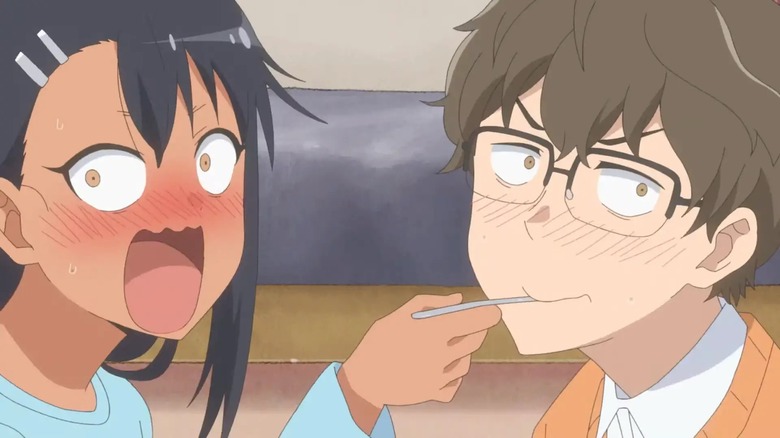 OLM
While Season 1 of "Don't Toy With Me, Miss Nagatoro" was animated by Telecom Animation Film, the second season was handled by OLM. The announcement that a new studio would be taking over the show split the fandom, with some wary of the change. "Man I don't know about this," Reddit user u/Avnemir said. "I liked the wiggly movements Nagatoro had in season one. Dunno if they will stay." However, others were excited by the idea of OLM taking charge, with u/EmilioRandomPoster citing the "absolutely gorgeous adaptations" they have worked on.
It's true that OLM has an impressive track record. It's most famous for being the powerhouse behind the "Pokémon" anime, but there's far more to this studio than cute critters. From murder mysteries like "Agatha Christie's Great Detectives Poirot and Marple" to hard-hitting seinen shows like "Berserk," this is a company that can turn its hand to anything, and it has proven that in recent years, as several Redditors pointed out. "I'm actually more hyped now that OLM is doing it," u/mikura39 said following the studio change announcement, pointing to "Odd Taxi," "Komi Can't Communicate," and "Summer Time Rendering" as recent examples of great OLM shows.
Who produced Don't Toy With Me, Miss Nagatoro 2nd Attack?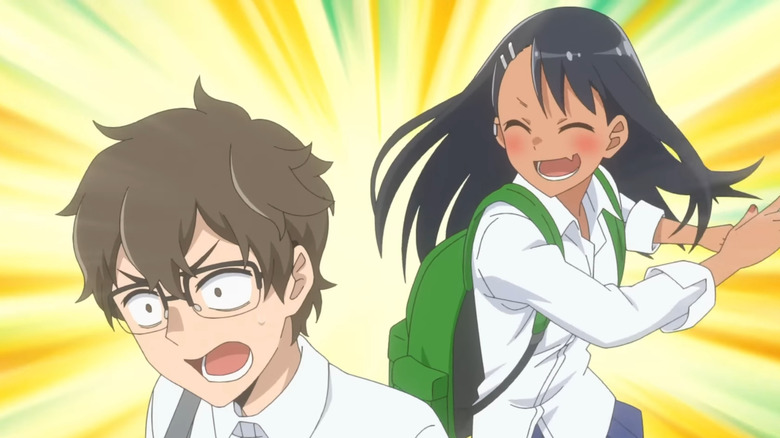 OLM
A team of four producers brought to "Don't Toy With Me, Miss Nagatoro 2nd Attack" to life: Hiroshi Kamei ("Tokyo Revengers"), Takuma Kishida ("My Master Has No Tail"), and Yutaka Suwa ("The Great Jahy Will Not Be Defeated!") all returned after working on the first season together, and they were joined by Akira Nagai. It was Nagai's first time producing on a series, though he has several assistant producer credits on shows like "Pretty Boy Detective Club," "The Iceblade Sorcerer Shall Rule the World," and "That Time I Got Reincarnated as a Slime."
Like the first season, the English dub of "Don't Toy With Me, Miss Nagatoro 2nd Attack" was produced by Eric P. Sherman of Bang Zoom! Studios, who got into dubbing anime after a live-action film he was going to direct ran into financial issues. "Right at that moment when my movie tanked, Media Blasters had a film they wanted to dub into English called 'Zero Woman,'" Sherman told Anime News Network. "We brought in actors, and a composer, and all that. So we dubbed it into English and they loved it, so they asked me if I was interested in dubbing anime. Since I had lived in Japan, and was a huge fan of anime and manga, I was like 'Oh my God! Please, yes!'"
The fledgling company's first anime dub was "Ninja Cadets," and before long they were handed bigger projects like "Magic Knight Rayearth" and "Rurouni Kenshin." Today, Bang Zoom! has over 200 anime shows and films to its name, including the likes of "Gurren Lagann," "JoJo's Bizarre Adventure," "Kill la Kill," "Sword Art Online," "The Seven Deadly Sins," and "Berserk," to name just a few.
How did critics and audiences respond to Don't Toy With Me, Miss Nagatoro 2nd Attack?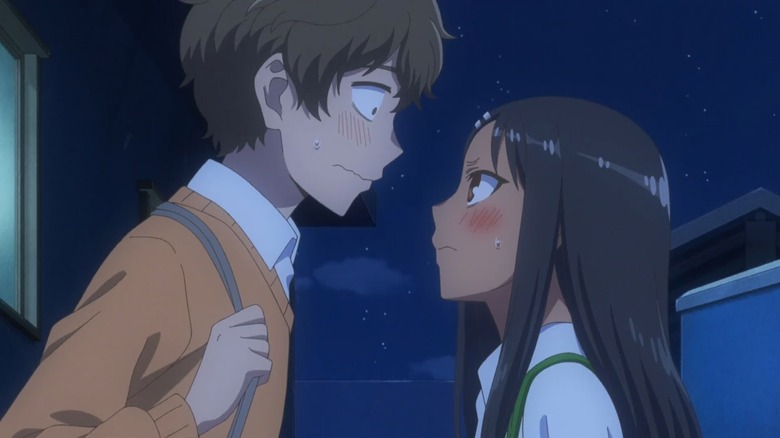 OLM
The first season of "Don't Toy With Me, Miss Nagatoro" scored a respectable 7.32 on My Anime List. At the time of this writing in 2023, the follow-up season has an even higher score, registering 7.54 on the website. The general consensus among users is that "Don't Toy With Me, Miss Nagatoro 2nd Attack" is better than the first season. "It's just a big improvement over already a great show," SaiWus said in a glowing review. "I love how their relationship is actually going somewhere and throughout the season they are growing to acknowledge their feelings for one another."
The second season is more "wholesome" according to IMDb reviewer dartanianmo, and fans over on Reddit enjoyed the fact that the Season 2 finale jumped ahead of the source material by having the two leads embrace in a heartfelt moment. "That ending warmed my heart," wrote u/Redblast12345. "Especially since it didn't happen in the Manga, it was very unexpected. I loved it." The Season 2 finale surpassed the ending of the first season according to u/KelvinBelmont. "That hug was so adorable, the music, the silence between the characters, their expressions; they're so in love I can't help but tear up a bit, how the hell did the anime give us an official hug before the manga?"
It's clear that fans adored the second season, and critics were just as moved by it. "The relationship between Nagatoro and Senpai is the focus of the anime and their foray into romance is endearing to watch in this new season," said Honey's Anime's Lewis Williamson, while Phenixx Gaming's Mike Reitemeier called Season 2 "a laugh-a-minute romp that was consistent all the way to its conclusion."
What is Don't Toy With Me, Miss Nagatoro 2nd Attack rated?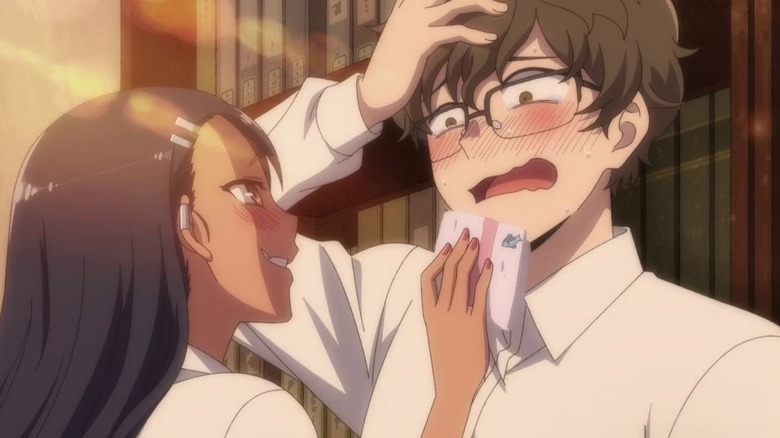 OLM
Like the first season, "Don't Toy With Me, Miss Nagatoro 2nd Attack" is rated PG-13, per My Anime List. According to the Motion Picture Association, this means that "some material may be inappropriate for children under 13" and that parents should exercise caution. In the case of "Don't Toy With Me, Miss Nagatoro 2nd Attack," this rating is for language and sexual content. On the IMDb parents guide page, the show has low ratings for violence and gore, frightening and intense scenes, and alcohol, drugs and smoking, but it's rated as "moderate" for profanity as well as sex and nudity.
Nagatoro frequently refers to Hachioji as a pervert, largely because he's into ecchi, the Japanese term for playfully erotic manga. Nagatoro attempts to disrobe so that Hachioji can draw her in the nude. Both characters find ways to "accidentally" touch each other in suggestive ways — the list goes on. While "Don't Toy With Me, Miss Nagatoro 2nd Attack" is a bit more wholesome than the first season, it still earns its PG-13 rating. Like the manga, it pushes the boundaries at times, and parents should check it out themselves before deciding if it's suitable for younger teens.
Where can you watch Don't Toy With Me, Miss Nagatoro 2nd Attack?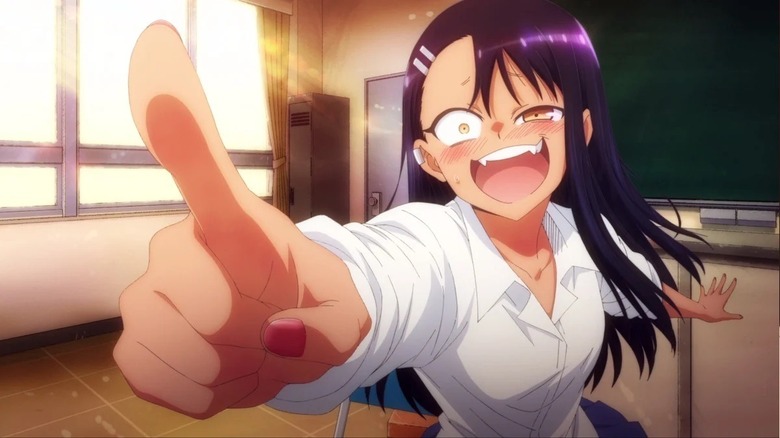 OLM
Like the first season, "Don't Toy With Me, Miss Nagatoro 2nd Attack" is available to stream on Crunchyroll. You can watch it dubbed in English, French, and German, as well as Latin American Spanish and Portuguese. If you want to see the show in its original Japanese format, subtitles are available in all of the aforementioned languages as well as Italian, Russian, Arabic, and European Spanish.
While Crunchyroll makes a number of shows free to watch if you don't mind a few ads, unfortunately, "Don't Toy With Me, Miss Nagatoro" isn't one of them. There's a 14-day free trial that you can take advantage of, but after that you'll have to pay for one of the subscription packages, which start at $7.99 a month. The Mega Fan package costs $9.99 a month, and the Ultimate Fan tier (which allows you to stream on six devices at a time) is $14.99 a month.