Weird Al Hopes Madonna Is OK With Being Featured In Weird: The Al Yankovic Story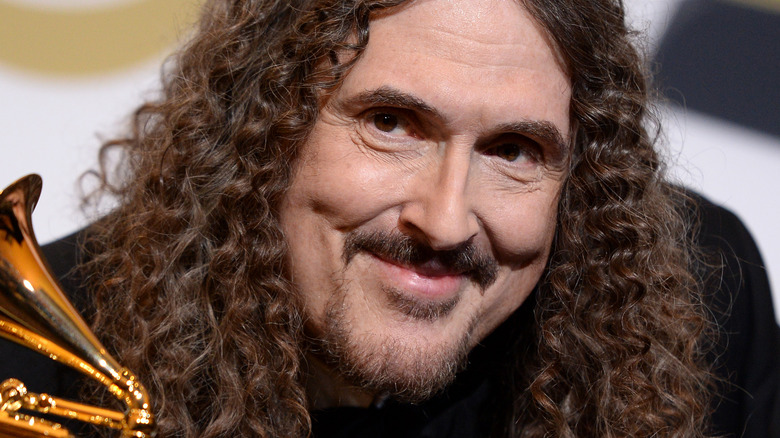 Amanda Edwards/Getty Images
Weird Al Yankovic has become a beloved entertainer over the course of his career, with a music career that began in 1979 and resulted in a best-selling album as late as 2014.
Unlike most artists, however, Weird Al is known for creating comedic parodies of songs. He has made parodies of songs by a range of artists that have included Michael Jackson, Nirvana, Lady Gaga, and Miley Cyrus. Among one of his more famous parodies is the 1985 song "Like a Surgeon," which is a parody of the Madonna song "Like a Virgin."
This has resulted in Weird Al's life becoming the subject of a comedic parody titled "Weird: The Al Yankovic Story." Al himself co-wrote the film with Eric Appel, who takes on directing duties, with "Harry Potter" star Daniel Radcliffe playing Weird Al alongside a supporting cast that includes Rainn Wilson, Quinta Brunson, and Jack Black.
Madonna is a character in the film, and Weird Al was recently asked whether he had to approach the singer to use her as a character. Here's what Al had to say.
Weird Al never interacted with Madonna for his parody
In an interview with Parade, Weird Al was asked about Madonna, whose fictionalized version plays a major role in the film, with "Westworld" star Evan Rachel Wood taking on the role.
Weird Al mentioned that the movie didn't need to get permission from Madonna to use a version of her for the film, something he checked in with the lawyers about. Al elaborated that the lawyers said he was legally in the clear because Madonna is a public figure. He did, hope, however, that she was okay with her portrayal and found it funny the way he did.
Weird Al also expanded on the circumstances around getting permission to parody "Like A Virgin," saying that because the song wasn't written by Madonna, he never had to interact with her to get clearance to use it for his parody "Like a Surgeon." Instead, Weird Al and his team got permission from Tom Kelly, who composed the music, and Billy Steinberg, who wrote the lyrics for the Madonna song. This means that he has no real idea about Madonna's sense of humor.
Weird Al concluded by saying, "I really, really hope she can take a joke. I think she can."