Bad Bunny's Limited Screen Time In Bullet Train Angered The Musician's Fans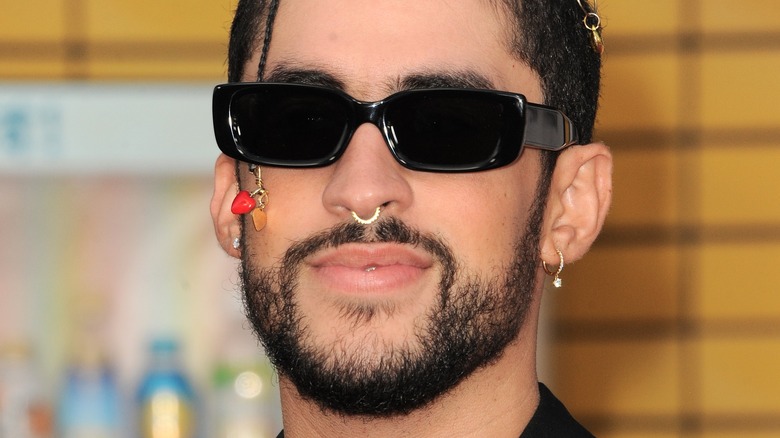 Tinseltown/Shutterstock
Director David Leitch's "Bullet Train" premiered in 2022, offering moviegoers a different kind of action flick. The film stars Brad Pitt as Ladybug, who's tired of living a violent, blood-soaked life as an assassin. However, while trying to go about a job peacefully on a bullet train, he's ambushed by a host of skilled killers. When it came to casting these numerous dangerous characters, Leitch and his team brought in a range of skilled actors to fill out the roster, but their search wasn't solely limited to those who'd built their names in Hollywood.
Branching out into the wider entertainment world, those responsible for casting "Bullet Train" enlisted El Muerto himself, Bad Bunny — credited under his real name, Benito A. Martínez Ocasio — to take part in the film. The rapper signed on to play an assassin known as the Wolf, and despite his limited acting experience (his only other cinematic credit prior to "Bullet Train" is 2021's "F9"), he did pretty well in front of the camera. Although, it is worth pointing out that he didn't spend much time on screen as the Wolf character.
With a stacked cast and a fast-paced story, Bad Bunny didn't get a whole lot of time to flex his acting muscles in "Bullet Train" — something that his fanbase didn't take kindly to.
Fans expected to see more of Bad Bunny in Bullet Train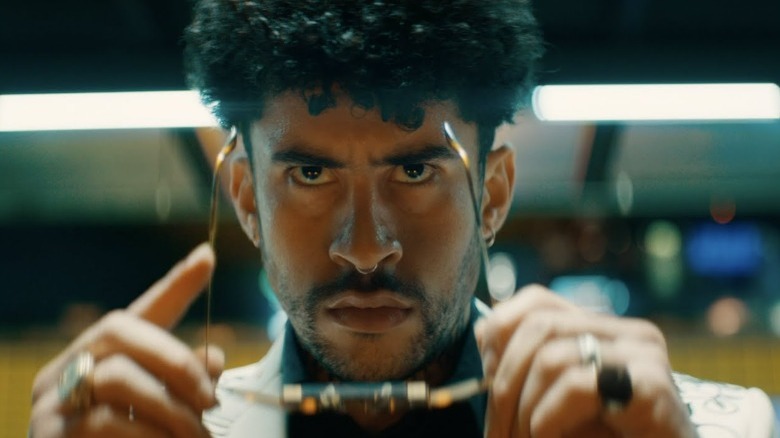 Sony Pictures
Shortly after "Bullet Train" arrived in theaters, Remezcla compiled reactions from Bad Bunny fans on Twitter who went to go see his latest film appearance. Suffice to say, a good chunk of his fanbase was incredibly disappointed with his minor presence in the feature. "Bullet Train was so disappointing. The trailers before the movie was longer than Bad Bunny's scene and I'm upset about it," tweeted @akhannn16, and @PapiHanzo wrote, "Bad bunny is only in that Bullet Train movie for 5 minutes. 95% of his appearance is in the trailer." Although, @austinmxrtinez and surely many others were more than happy to see the movie for him anyway.
Sure, it's true that Bad Bunny didn't factor too heavily into "Bullet Train," but that didn't seem to dampen his experience making the film. In an interview with Apple Music, he expressed how grateful he was for the opportunity to feature in the Brad Pitt-led production. "Yo. Increíble. I was very excited. Mocionado. Proud because the experience was so good. The movie's amazing. Brad Pitt is [an] amazing guy. He was always so respectful and nice with me," he said, admitting that filming his action sequence was no easy task. Nevertheless, he's tough, so it wasn't too much for him to handle.
Bad Bunny has proven time and time again that he's a multi-faceted talent, hence why he has so many fans across the globe. One can only hope for his sake and theirs that "Bullet Train" was just a taste of what's to come from him at the movies.