This Look At Bad Bunny As The Spider-Verse's El Muerto May Open Some Eyes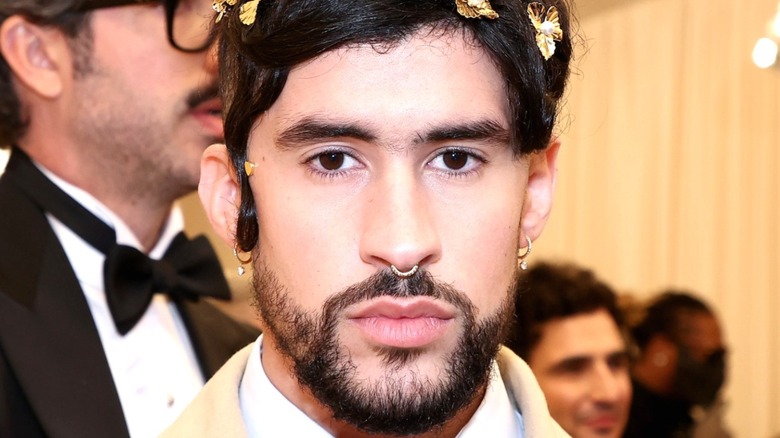 Arturo Holmes/mg22/Getty
Both Sony and Marvel Studios have been blessing "Spider-Man" fans with the ultimate gift of expanding the web of the franchise tenfold with recent projects. Since Tom Holland's Spider-Man swung into the Marvel Cinematic Universe, he's appeared in stand-alone films and made cameos in flicks like "Captain America: Civil War" and "Avengers: Endgame."
Meanwhile, Sony's Spider-Man Universe is expanding with spin-offs about secondary characters. We've seen Tom Hardy as Eddie Brock and alien symbiote Venom and Jared Leto as Morbius, and the studio plans to release films around Kraven and Madame Web in 2023. And in 2024, fans will get an in-depth look at El Muerto, a different kind of masked hero.
Sony is preparing to release a stand-alone "El Muerto" film in January 2024 starring Puerto Rican rapper and professional wrestler Bad Bunny. It will be the musician's first major acting role, although he's had small parts in projects like "F9: The Fast Saga" and "Narcos: Mexico."
Since El Muerto has only appeared in two comic books previously, the studio has plenty of room for creativity. And while we still have a ways to go before we see how the legacy hero will be portrayed, one fan has already gotten creative by imagining what Bad Bunny may look like in Sony's Spider-Man Universe.
Bad Bunny definitely looks the part of El Muerto
A digital character artist named Joel Torres uploaded some artwork to ArtStation that turns Bad Bunny into Juan-Carlos Sanchez, aka El Muerto. The image is a spot-on replica of the rapper, complete with a stern yet brave look on his face that says a lot about the character. He's in a silver armor suit with his mask pulled up over his head. However, if you look closely in the background, you can faintly see the luchador mask that is the caveat to El Muerto's powers, which have been passed down from generation to generation to Sanchez through his father.
There's still plenty of time for Sony to figure out how to tell El Muerto's story, let alone what he's going to look like. The studio can have a lot of fun with really personifying this character who begrudgingly took on the superhero role from his ancestors and is figuring out how to step up and become the true hero he can be.