How Prey For The Devil's Script Made Director Daniel Stamm Re-Think Exorcism Movies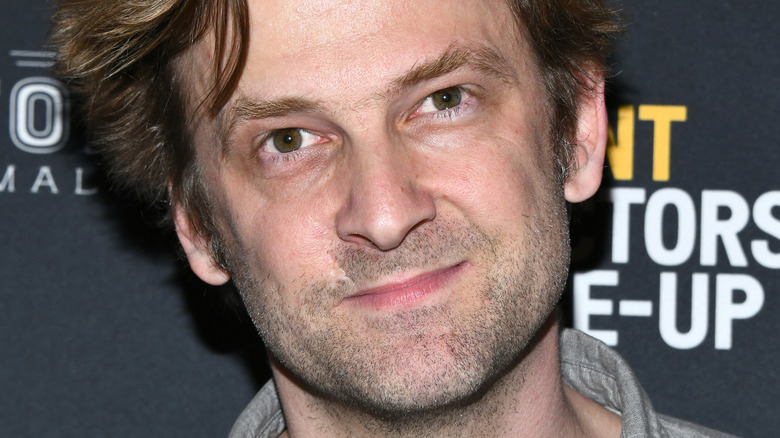 Araya Doheny/Getty Images
As the years and decades passed, October has brought with it autumn foliage, costumed revelry, and a likely surge in the sales of candy corn. It's also brought a slew of creepy new movies to multiplexes as studios seek to capitalize on viewers' proclivity for spooky movies ahead of Halloween. The latest chiller out to inspire nightmares is the possession thriller "Prey for the Devil," which follows rebellious nun Sister Ann (Jaqueline Byers) as she faces off against both the Catholic patriarchy and a literal demon from her own past. 
The new film is directed by Daniel Stamm, who's perhaps best known for helming 2010's well-enough regarded (via Rotten Tomatoes) possession flick "The Last Exorcism." Turns out Stamm was more than reluctant to make another exorcism movie even after more than a decade away from the subgenre. He stated as much during an interview with The Hollywood News, admitting, "You know, that sub-genre of exorcism was one thing that I never wanted to do again because I was like, 'I've done everything I possibly could do with it."
Stamm adds he even questioned his own agent for sending him the "Prey for the Devil" script as a possible project. Stamm's agent, however, insisted he read it. And the filmmaker indeed had a dramatic change of heart once he did. In fact, Stamm claims that the script forced him to completely re-think the exorcism genre.
A clever setup and a unique protagonist revitalized the genre for The Last Exorcism helmer
Daniel Stamm made that claim during the same The Hollywood News interview. And according to the "Prey for the Devil" helmer, a combination of tactics made Robert Zappia's screenplay wholly unique in his eyes. Per Stamm, the first thing that caught his attention was the script largely ignoring questions of the afflicted character's sanity. "You bought a ticket for an exorcism movie, so it's a possession," Stamm giddily notes, adding, "We don't have to spend 45-minutes on that."
The clever setup allowed Stamm freedom to properly indulge in the film's set pieces. More importantly, he says it allowed him to focus more on character. And he makes clear the film's primary protagonist Sister Ann is what really sets "Prey for the Devil" apart, stating, "Then with it being a female protagonist, that changes everything." As the film's trailer addresses, Nuns have not historically been allowed to study or perform sanctioned exorcisms in the Catholic church, and Stamm notes that brings a daring new point of conflict to the exorcism narrative.
Stamm goes on to say the character employing less than biblical, victim-first tactics to the central exorcism sets the story even further apart from traditional possession fare. And in that, Stamm claims Sister Ann becomes that rare strong female protagonist who isn't just doing the same thing her male counterparts would've done. "She's coming in with an almost secular therapeutic approach," the filmmaker says, continuing, "and she is challenging the patriarchy ... she's ringing in a new era." Stamm is clearly hoping genre lovers will embrace the narrative refresh as much as he did — even if critics mostly haven't (via Rotten Tomatoes).