Rumor Report: Disney+ And Marvel Reportedly Working On A Vision Series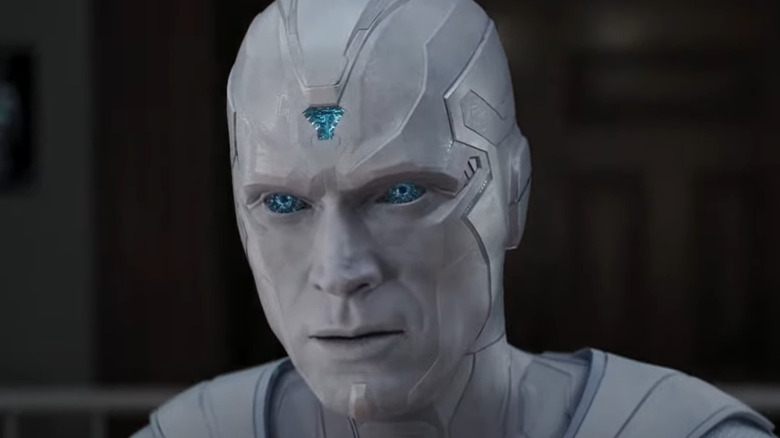 Marvel Studios/Disney+
Ever since the launch of Disney+, Marvel Studios has hit gold on the ever-growing streaming service. With the development of numerous Disney+ shows, the Marvel Cinematic Universe has grown tenfold throughout Phase 4.
Thanks to Disney+, Phase 4 of the MCU featured nearly double the content of its predecessors in a much smaller timeframe. Phase 3 lasted three years, from 2016 to 2019, and included 11 movies, starting with "Captain America: Civil War" and ending with "Spider-Man: Far From Home." Phase 4 kicked things off in the post-Endgame MCU with "WandaVision" on Disney+, ending with next month's "Black Panther: Wakanda Forever." Marking the start of Marvel Studios' Multiverse Saga, Phase 4 lasted just a year from 2021 to 2022, including seven movies, nine Disney+ shows, and two Special Presentations.
Many MCU characters received their own Disney+ shows. Things kicked off with "WandaVision," focusing on Wanda Maximoff's emotional distress following the events of "Avengers: Endgame." Marvel Studios continued to use the streaming service to introduce and expand on characters, creating shows for Sam Wilson (Captain America), Loki, Hawkeye, Moon Knight, Ms. Marvel, and She-Hulk.
It's no surprise that Marvel Studios wants to develop more shows on Disney+. It gives them a platform to explore new and old characters before transitioning them to the studio's big-screen ensemble projects. However, it seems like the studio is cutting back on the number of Disney+ series; Phase 5 is set only to include six shows. If a new rumor is accurate, we know the next character we can expect to see on streaming.
White Vision could make his return on Disney+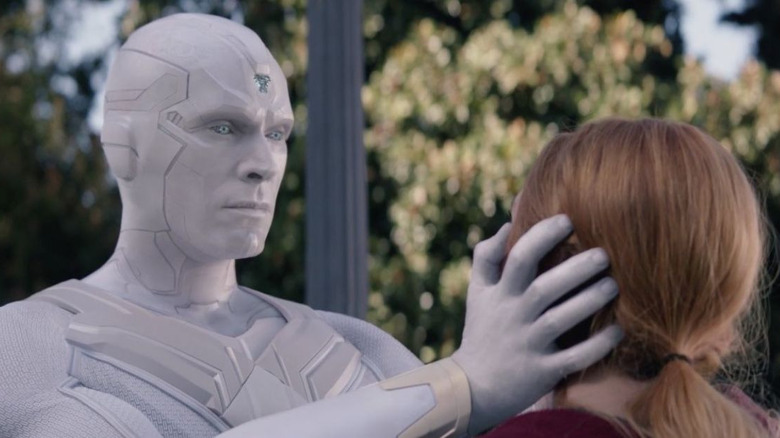 Marvel Studios/Disney+
The new rumor comes from industry reporter Jeff Sneider's live show "The Hot Mic." According to his sources, Marvel Studios is working on a Disney+ show centered around Vision, potentially titled "Vision Quest." Sneider suggested that the studio plans to open a writer's room for the show next week, marking the beginning of pre-production.
We last saw Vision at the end of "WandaVision," sporting a new all-white look. S.W.O.R.D. created this new version of the Marvel superhero, using the original Vision's body but wiping his memory. They sent The Vision into Westview to take out Wanda, but her Vision intervenes. Wanda's Vision fights The Vision, defeating him by restoring his memory. Afterward, The Vision runs away from Westview, remembering everything that Vision experienced in the MCU. The ending very much left the hero's story open-ended, making it possible for a return in the future.
Vision actor Paul Bettany commented on his future as the character in an interview with Entertainment Weekly earlier this year. He called Vision's actions in the finale of "WandaVision" a loose end in the MCU and said, "Kevin Feige is a man who doesn't really allow loose ends. So I assume at some point, I will be putting on my tights and cloak for another outing, but I don't know when that might be."
Marvel Comics featured a similar event surrounding The Vision, interestingly titled "Vision Quest." In this chapter of the "West Coast Avengers," the hero is kidnapped, has his memories erased, and is transformed into a white version. Diving further down the rabbit hole, Hawkeye actor Jeremy Renner expressed interest in his character leading the MCU's West Coast Avengers. So, could Marvel Studios secretly set up the California-based team?