Young Sheldon Fans Are Delighting In Sheldon's Struggles As A Resident Advisor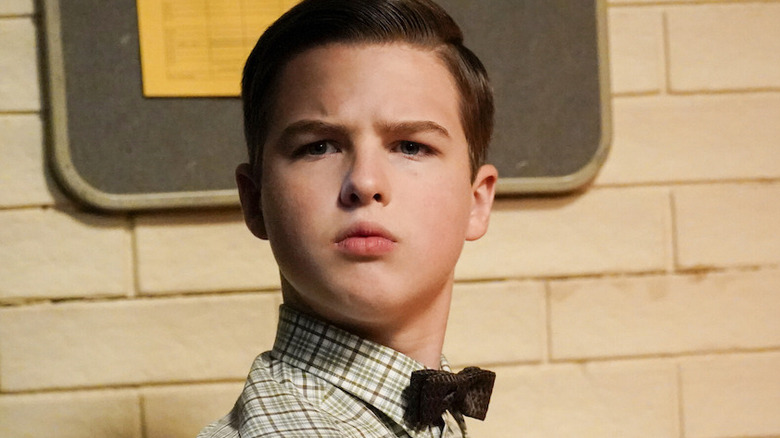 Robert Voets/ 2022 Warner Bros. Entertainment Inc.
Now in its 6th season, "Young Sheldon" portrays the titular character's (Iain Armitage) early years as he transitions through adolescence and eventually becomes the beloved quick-witted physicist we see on "The Big Bang Theory" (Jim Parsons). We've recently seen Sheldon excel as an early enrollee in college and assume more responsibility, now that the Cooper family finds themselves facing hard financial times. He expresses his independence by staying overnight in his dorm on a floor with his fellow students, who are far more preoccupied with enjoying the college experience than being studious like Sheldon.
The prequel series to the wildly successful "The Big Bang Theory" averages an astonishing number of viewers on a weekly basis. According to The Wrap, "Young Sheldon" Season 6, Episode 4 captivated an impressive 6.8 million viewers. These enthusiastic fans often take to social media outlets like Reddit and Twitter to share their favorite moments and voice how they feel about the most recent episode.
Both "Young Sheldon" and "The Big Bang Theory" have a wide variety of fans brought together weekly by laughter, comic books, and science. The diversity among viewers often leads to varying opinions but more often than not, they are united by hysterical scenes and deep pop-culture references. Season 6, Episode 5, titled "A Resident Advisor and the Word 'Sketchy,'" had fans laughing together over Sheldon's riotous escapades as a dorm resident advisor, serving as an authority figure over his older classmates. 
Sheldon's love for rules will always be his downfall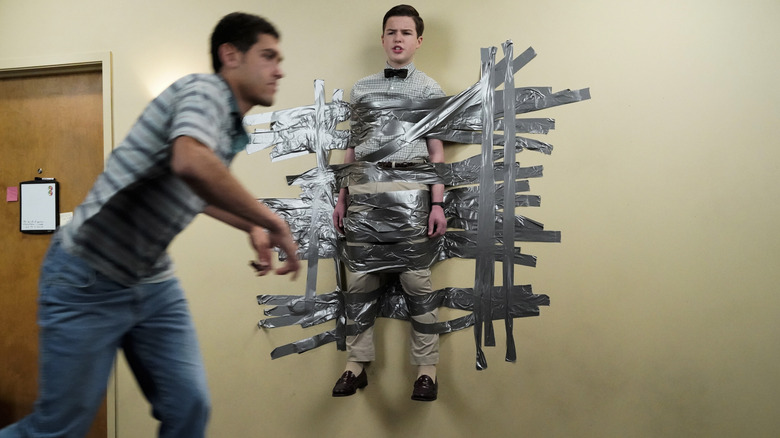 Robert Voets/ 2022 Warner Bros. Entertainment Inc.
Nobody likes a tattle-tale. Simply put and usually easily understood, however, the logistical devotee cannot comprehend any other way, which often leads to their many squabbles. Whenever Sheldon gets a taste of power over others, his egomania runs rampant and lands him in conflict with others. In "The Big Bang Theory," Sheldon frequently clashes with the free-spirited and independent Penny (Kaley Cuoco), who refuses to adhere to Sheldon's restrictions, including his rigorous bathroom schedule.
The most recent episode of "Young Sheldon" shows audiences that the scientific prodigy always had an affection for structure, which fans had an overwhelming response to. @OscarSm61194655 felt Sheldon got exactly what he deserved by tweeting, "Sheldon got his comeuppance! #YoungSheldon." Another user, @Rymar101, had some sage advice for Sheldon suggesting he change his ways while he's young. "Welcome to college life Sheldon. Being a control freak won't benefit you," they wrote. The final scene may have taught Sheldon as much, which @EarthFae306 pointed out shouldn't shock anyone. "No one better be [surprise emoji]. We ALL knew that was going to happen, you deserved that Sheldon!" they stated.
The episode fittingly ends with resident advisor Sheldon being duct taped to the wall as a symbolic strip goes right over his mouth. While the act is sometimes a rite of passage in college misadventures, it has a different purpose here by getting the authoritarian out of the way in a silly way that fans absolutely loved.