Abbott Elementary Fans Are Losing Their Minds Over This Gregory And Janine Scene In Season 2 Episode 6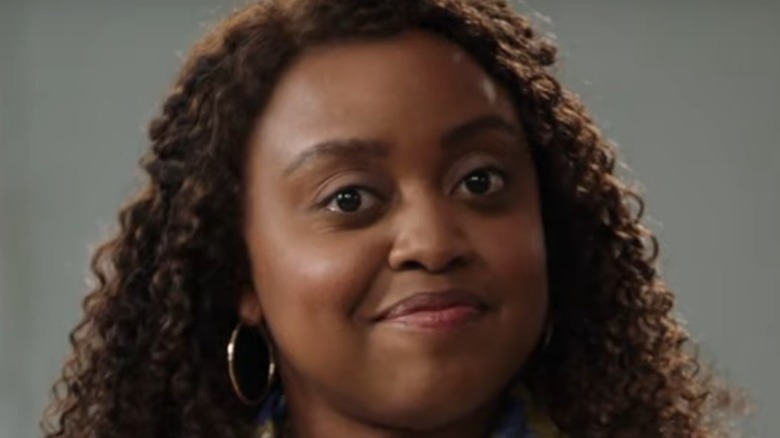 ABC/Hulu
There's a lot to love about "Abbott Elementary" — the acclaimed ABC sitcom, created by Quinta Brunson, about a group of employees at an underfunded elementary school — including the will-they-won't-they couple, Janine (Brunson) and Gregory (Tyler James Williams). In Season 1, we saw Gregory develop feelings for Janine despite the fact that she was in a long-term relationship with Tariq (Zack Fox). However, Janine and Tariq broke up at the end of the season — right as Gregory started dating Barbara's (Sheryl Lee Ralph) daughter Taylor (Iyana Halley). Luckily for fans, though, Gregory's fling with Taylor didn't last long, making way for Janine and Gregory to get together potentially.
This week's episode, "Candy Zombies," gave fans of the potential couple plenty of exciting moments to talk about — for one, Janine gets jealous when a mom of one of her students gives her number to Gregory. But it was a scene toward the end of the episode that really got friends talking.
After Janine decides to go to a Halloween party that an old high school friend invited her to, she decides to ditch her basketball player costume for something cuter; Ava (Janelle James) steps in to help, lending Janine her Marilyn Monroe costume. And when Gregory sees Janine in the Marilyn costume, he is clearly stunned and can't stop staring. When Ava tells Gregory to tell Janine she looks good, Gregory stammers, "Yeah, yeah, no you look, um, it looks great. Really form-fitting."
Naturally, fans are loving the moment — here's what they're saying about it.
Fans are in love with Gregory's reaction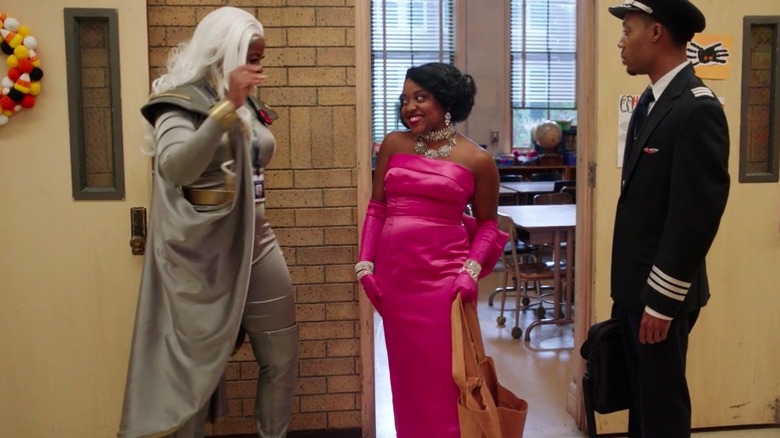 ABC/Hulu
After this week's episode aired, fans took to Twitter to discuss the adorable moment between Janine and Gregory, with plenty of users pointing out Gregory's speechless reaction. One user, @heyheedie, posted a screenshot of Gregory staring at Janine and wrote, "Gregory is GAGGED [I know that's right] janine." Another user, @ungodlywests, simply wrote, "YOU GUYS" alongside a similar screenshot.
Meanwhile, @gukmeal exclaimed in all caps that they're gonna pass out from the scene and @chanellyyyy___ gushed about Gregory being stunned by Janine's beauty. In response to the latter, @destinyvelaryon wrote, "I need them together already!" A few fans then chimed in to express similar sentiments about wanting the "will they" of the will-they-won't-they to happen soon. One fan, @shaw_2_raw, lightheartedly teased Gregory, writing, "He said it's very 'form fitting' lol."
Additionally, @lasciviouscraft praised the show as a whole for being so heartwarming. And @Joyful44 focused on Janine, writing, "Not Ava giving Janine Props! Not Gregory being speechless! Janine betta SHOW UP and SHOW OUT!!!" Similarly, @AshesWeAllFall_ wrote, "janine looked absolutely stunning as marilyn monroe and you would certainly know it from the way gregory was STARING."
We can't wait to see what happens next between Janine and Gregory when "Abbott Elementary" returns next week.