Actors Everyone Forgets Appeared In The Halloween Movies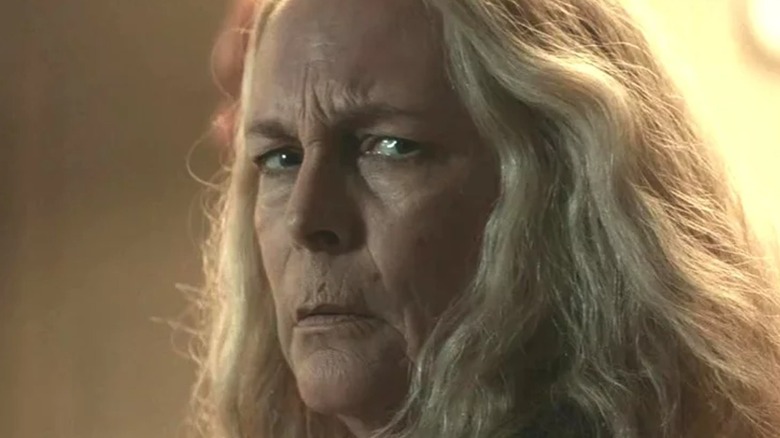 Universal Pictures
Since director John Carpenter turned out his iconic horror masterpiece "Halloween" in 1978, the franchise has grown, expanded, twisted, and turned. It's currently one of the longest-running horror franchises, with 2022's "Halloween Ends" marking nearly 45 years of storytelling. For more than four decades, the infamous masked slasher Michael Myers has been terrorizing audiences.
Following two initial movies, a third tried to spawn an anthology series, while three further sequels were ultimately erased and written over by "Halloween H20: Twenty Years Later," which essentially served as a reboot of sorts. The follow-up to that, "Halloween: Resurrection," proved a disappointment, however, and a pair of remakes from director Rob Zombie started everything over once again. A decade after that, David Gordon Green revealed his own trilogy, which wiped everything away except for Carpenter's original film.
While some of the films have garnered fame, others have been largely forgotten, and with them, a number of actors who starred in them have been dismissed from our minds. Some have gone on to have big careers, while others were big stars at the time whose parts are often overlooked today. So board up the windows and turn out the lights, because there's a madman on the loose, and he's found a list of actors you probably forgot appeared in the "Halloween" franchise.
Paul Rudd in The Curse of Michael Myers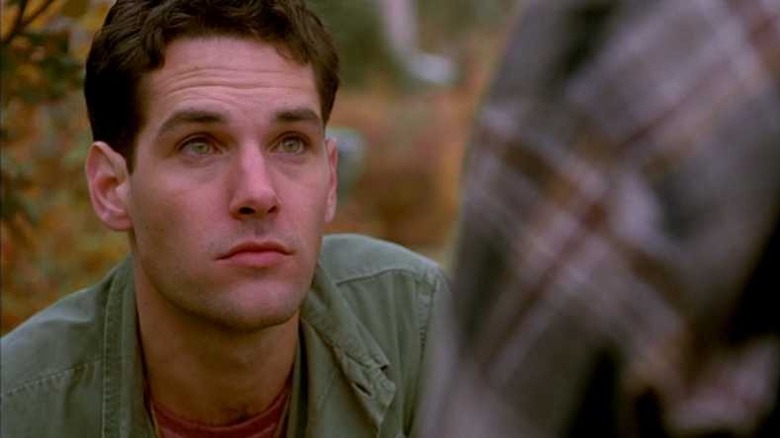 Dimension Films
A major star today, Paul Rudd is a globally recognized actor with countless big movies under his belt, from comedies and dramas to superhero epics. He shot to fame as the brother of Alicia Silverstone's Cher Horowitz in 1995's "Clueless," before appearing in other big movies like "The Ciderhouse Rules." After the turn of the millennium, he got even bigger, with a recurring spot on "Friends" and appearances in hit films like "Anchorman: The Legend of Ron Burgundy," "The 40-Year-Old Virgin," and "Knocked Up." Of course, he's best known today as the Marvel hero Ant-Man, leading his own trilogy of comic book movie adventures and even making an appearance in the multi-billion-dollar blockbuster "Avengers: Endgame."
Within months of his appearance in "Clueless," Rudd took the starring role in one of the many lackluster '90s "Halloween" sequels, "Halloween: The Curse of Michael Myers." He plays the role of an adult Tommy Doyle, a character who appears in the original 1978 film as a child. Years later, Rudd — voted 2021's Sexiest Man Alive — was offered the chance to reprise the role in the 2021 sequel "Halloween Kills," but the part was ultimately recast with Anthony Michael Hall due to scheduling conflicts (per GamesRadar+).
Tyra Banks in Halloween: Resurrection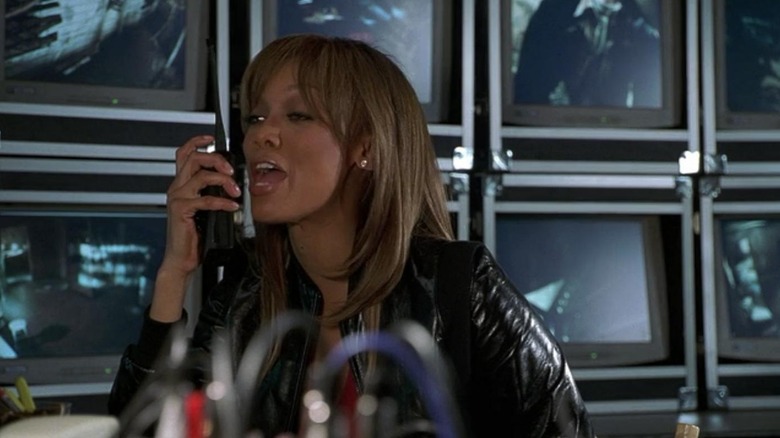 Miramax Films
Starting out as a cover model in the early 1990s, Tyra Banks soon become one of the biggest names of the decade. She was VH1's Supermodel of the Year in 1997 and seemed to be on every newsstand nationwide by the end of the decade, so it made perfect sense when she debuted the modeling reality competition series "America's Next Top Model" in 2003. Since then, she's become a reality TV icon as host of the series for the better part of two decades, and she's also accumulated an impressive number of film and scripted TV credits. As an actor, Banks may be best known for her recurring role in "The Fresh Prince of Bel-Air," but in 2002 she also made an appearance in "Halloween: Resurrection."
Ironically enough, the eighth entry in the series is all about a reality TV series called "Dangertainment." The fictional game show pits a variety of teen contestants against one another in a battle of wills as they're tasked with a stay in the broken-down home of serial killer Michael Myers. Eventually, Myers himself — who was believed dead — resurfaces and goes on a killing spree. Banks turns up as Nora Winston, the director of the reality show. Perhaps if the movie had been made even a year later they'd have cast her as the on-screen host.
Josh Hartnett in Halloween H20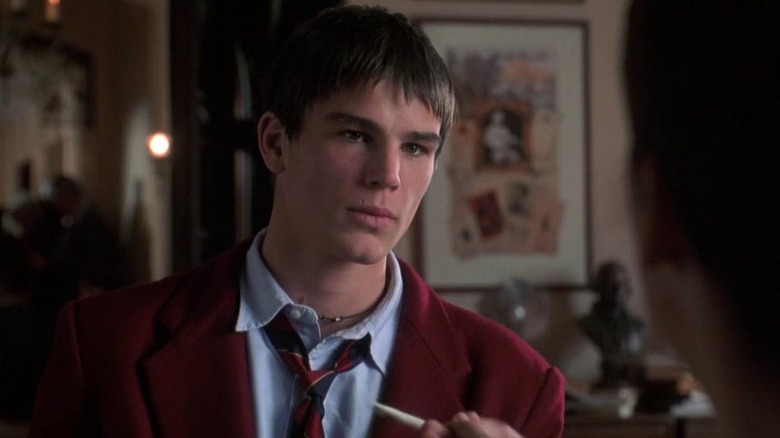 Miramax Films
In the late 1990s and early 2000s, there were few stars as big as Josh Hartnett, who seemed destined for the A-List. After films like "The Faculty," "Pearl Harbor," and "Black Hawk Down," Hartnett's career was on the rise, but it never quite reached the heights many predicted. There were a number of contributing factors, including his own decisions to step back from Hollywood and pass on starring roles in Ang Lee's Oscar-winning "Brokeback Mountain" and Christopher Nolan's "Batman Begins" (via E! Online). But what people may not remember is that it's actually the "Halloween" franchise that helped get Hartnett started.
Back in 1998, following the lackluster response to "Halloween: The Curse of Michael Myers," the series brought back original star Jamie Lee Curtis for the first time in almost two decades. Her character, Laurie Strode, is now a mother, and sure enough, in "Halloween H20: Twenty Years Later," it's Josh Hartnett who stars as her teenage son John. Though he didn't return for the sequel, "Halloween: Resurrection," it ultimately wouldn't matter, as later movies retconned his character out of existence.
Malcolm McDowell in Rob Zombie's Halloween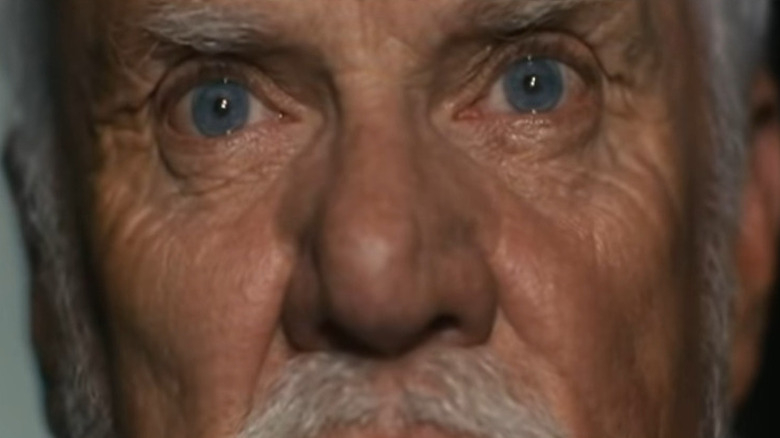 Dimension Films/Metro-Goldwyn-Mayer
If you're on the younger side, you may not recognize Malcolm McDowell, the British icon probably most famous for his starring role in the groundbreaking Stanley Kubrick masterpiece "A Clockwork Orange." Horror fans may recognize him for his role as Dr. Longtooth in an episode of the 1991 anthology "Tales From the Crypt," while Trekkies remember him from his villainous turn in "Star Trek: Generations." With a career stretching back to 1964, there's any number of famous movies and television shows we could cite from his filmography, but one that many people forget is his appearance in the "Halloween" reboot films from musician-turned-director Rob Zombie.
Zombie started from scratch with an all-new reinvention of the franchise in 2007, which is essentially a remake of the original "Halloween." For this new version, McDowell was chosen to replace Donald Pleasance as Dr. Loomis, the psychiatrist who works with the disturbed Michael Myers during his younger years. McDowell reprised the role for the sequel, "Halloween II," in 2009, though his part in the saga became like everything else in the films — erased with the release of David Gordon Green's "Halloween" in 2018.
LL Cool J in Halloween H20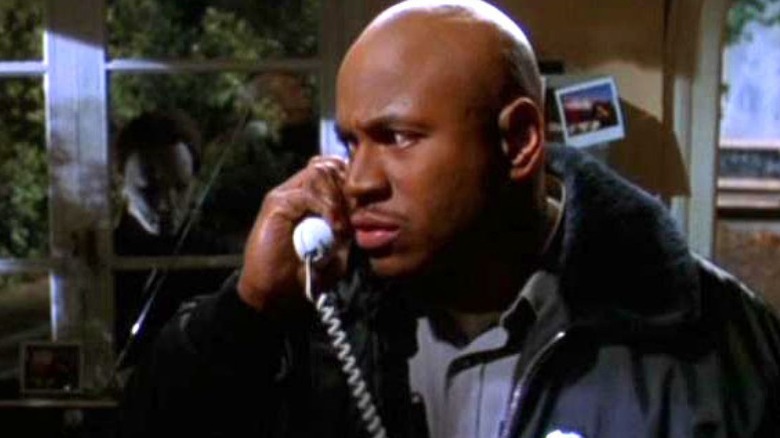 Miramax Films
In the late 1980s, James Todd Smith — better known by his stage name LL Cool J — emerged as a rap star alongside contemporaries like Run-DMC and The Beastie Boys. He hit the mainstream in 1990 with his hit single "Mama Said Knock You Out," but Cool J wasn't content to just conquer the charts and set his sights on Hollywood. He'd already had a role in "Kush Groove" alongside some other hip-hop heavyweights, but in the '90s he took starring roles in films like Robin Williams' "Toys" and the crime drama "Out-of-Sync." Today, he's known as the longtime star of "NCIS: Los Angeles," but one film many forget from his '90s acting era is "Halloween H20: Twenty Years Later."
In the film, Michael Myers discovers that Laurie Strode is still alive and comes after her and her now-teenaged son John. When Michael hunts them down, the two are in the company of a lone security guard — Ronny Jones, played by LL Cool J. But this is a slasher after all, and Ronny is shot in the climax of the film, though not by Michael Myers. Instead, he's shot by accident when a skittish school counselor mistakes him for the masked murderer. Thankfully, he survives to help save the day, even deciding to write a romantic thriller about his experience. 
Joseph Gordon Levitt in Halloween H20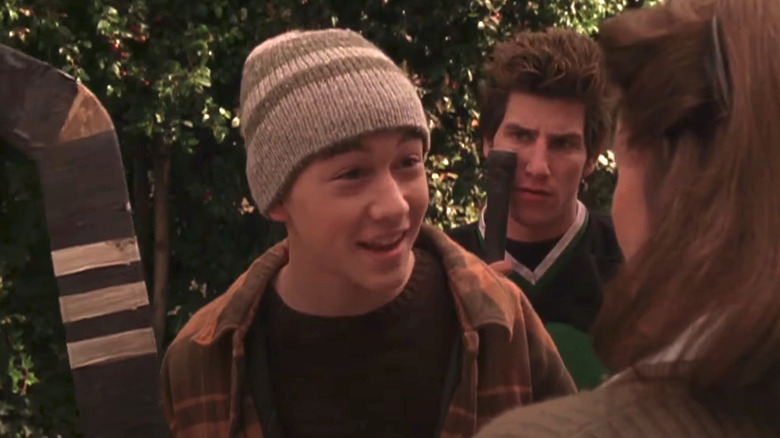 Miramax Films
Oh, did you think Josh Hartnett and LL Cool J were the only big names that people had forgotten from "Halloween H20: Twenty Years Later?" Well, we're just getting started, because the 1998 film had a bevy of big names that nearly nobody remembers. To be fair, unless you're a diehard "Halloween" fan, you probably don't remember much about the movie at all and likely haven't seen it since it came out. But sure enough, right alongside Hartnett and Cool J is future "Inception" and "Looper" star Joseph Gordon-Levitt.
At the time, the young actor was starring in one of TV's hottest sitcoms, the sci-fi comedy "3rd Rock from the Sun." He had a few minor film roles under his belt, but he wouldn't really hit it big on the big screen until after this "Halloween" sequel, in which he plays teenager Jimmy Howell — one of Michael Myers' first victims in the story. He's only in the film for a few brief minutes, so even if you do know the movie, it's understandable if you've forgotten him. But just a year later he got a much bigger and more memorable role in the teen rom-com "10 Things I Hate About You." By the end of the 2000s, he was a household name.
Tyler Mane as the new Michael Myers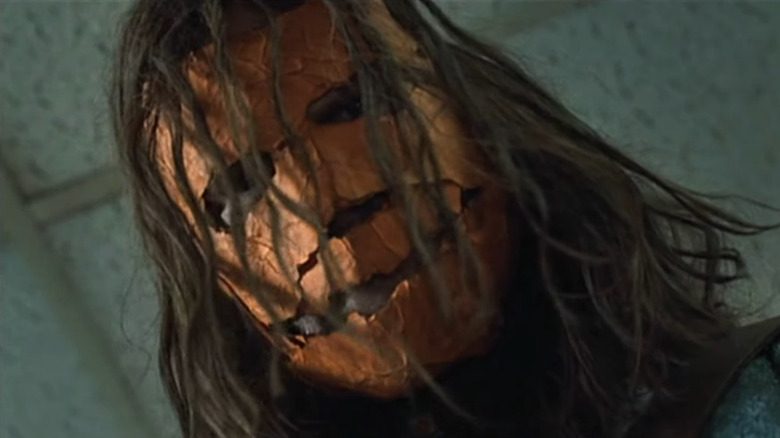 Dimension Films/Metro-Goldwyn-Mayer
A longtime wrestler in his native Canada, Tyler Mane had a long run in the ring across the globe, from Mexico to Japan.  Eventually, he made his way to the American circuit, wrestling with the WCW under the name Big Sky, but before long he had his sights set on Hollywood. He broke out as the mutant supervillain Sabretooth in the 2000 smash-hit "X-Men," which kickstarted the long-running franchise. Years later, mane got a major role in Rob Zombie's "Halloween" films.
For the film, Zombie needed an actor who could play both Michael Myers the towering, machete-wielding killer and Michael Myers the person, as the 2007 reboot explores more about the man behind the mask. Having had a bit part in Zombie's prior film, "The Devil's Rejects," Mane became the obvious choice to take on the role of the franchise's iconic villain. For the part, he kept the long, scraggly hair that he'd become known for as Sabretooth, and though it's a wildly different interpretation of the character than the original, he ended up being pitch-perfect for the part.
Michelle Williams in Halloween H20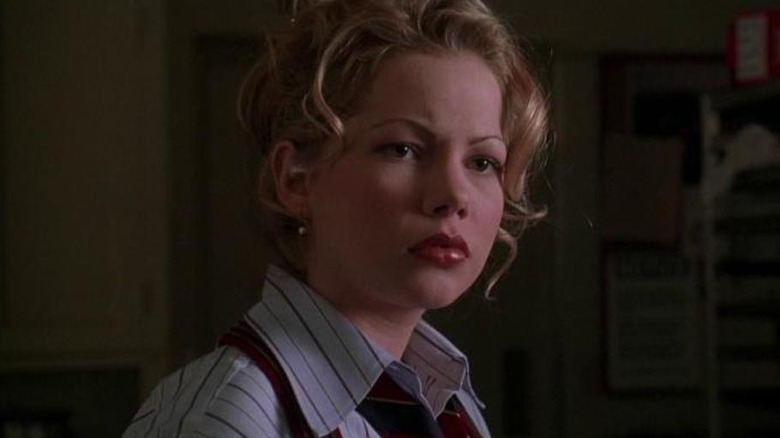 Miramax Films
As you can see by now, "Halloween H20: Twenty Years Later" was a veritable who's-who of "before they were stars," and we've got one last name that you probably forgot was in that movie. She was a main cast member on "Dawson's Creek," playing Jen Lindley, the New York bad girl who relocates to Capeside. After finding success on television, Michelle Williams transitioned to the big screen, earning an Academy Award nomination for her role in "Brokeback Mountain" — the first of many. But the same year she debuted in "Dawson's Creek," Williams also had a small role in "H20," ironically playing the girlfriend of Josh Hartnett's character, who'd later turn down a role in "Brokeback Mountain."
In the "Halloween" sequel from 1998, Williams plays Molly Cartwell, who sticks by John Tate's side even when it's discovered that Michael Myers is intent on killing them all. She's there with John and his mother Laurie when Michael shows up in the film's climax. Though she and John don't pop up in any sequels, they do manage to survive "H20" thanks to Laurie, who helps get them safely out of harm's way before the final showdown.
Katee Sackhoff in Halloween: Resurrection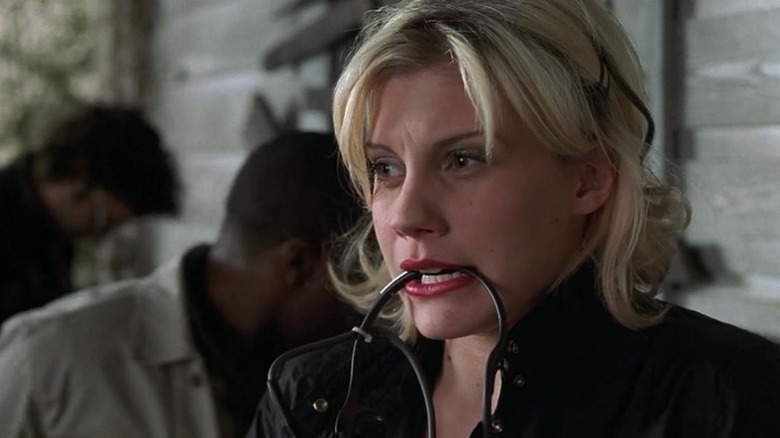 Miramax Films
In the early 2000s, there wasn't a hotter sci-fi show on television than "Battlestar Galactica," the gritty reimagining of the classic 1970s series. A dark outer space war story, one of the show's standouts was hotshot pilot Starbuck, played by Katee Sackhoff. A smug, cocksure firebrand, she became a fan-favorite character who helped elevate the series, and the role made Sackhoff a star. After "BSG," she went on to roles in hits like "24" and "Nip/Tuck" before snagging a starring role in the neo-Western "Longmire." In 2020, she even played the live-action version of her animated "Star Wars" character Bo Katan Kryze in "The Mandalorian.
But back in 2002, just prior to landing the role of Starbuck, Sackhoff had a role in "Halloween: Resurrection." You'd be forgiven for not remembering her character, Jen, as the film wasn't exactly well-received (to put it mildly). In the movie, Sackhoff plays one of the contestants on the reality TV series "Dangertainment" who must spend a night in the home of Michael Myers. If you want a real treat, though, visit the actor's YouTube channel, where on Halloween of 2020 she uploaded a video of herself watching "Resurrection."
Danny Trejo as Michael Myers' prison guard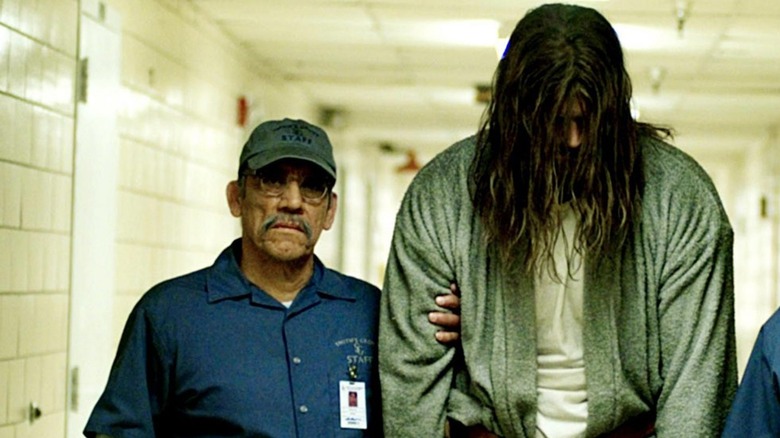 Dimension Films/Metro-Goldwyn-Mayer
There are some who might be surprised if they learned that Danny Trejo wasn't in a "Halloween" film, given his long and diverse catalog of credits. Known for his roles in violent Western action movies like "Once Upon a Time in Mexico," "Desperado," and "From Dusk Till Dawn," Trejo also appeared in family films and even voiced a character in "Minions: The Rise of Gru." But he may be best known for his signature role of Machete, who starred in his own series of films and appeared in others like "Planet Terror," and (ironically) four "Spy Kids" movies. In 2007, though, Trejo had a role in Rob Zombie's reboot of "Halloween."
In the film, Trejo appears as Ismael Cruz, a sympathetic guard at the Smith's Grove Sanitarium where Michael Myers has been held since his first childhood killing spree. As he shows Michael kindness, it's all the more surprising when Cruz is viciously slaughtered when the killer escapes — his head smashed with a television set. As Michael beats him to death, Cruz can be heard crying "I was good to you!" in a heartbreaking final moment.
Octavia Spencer in Rob Zombie's Halloween II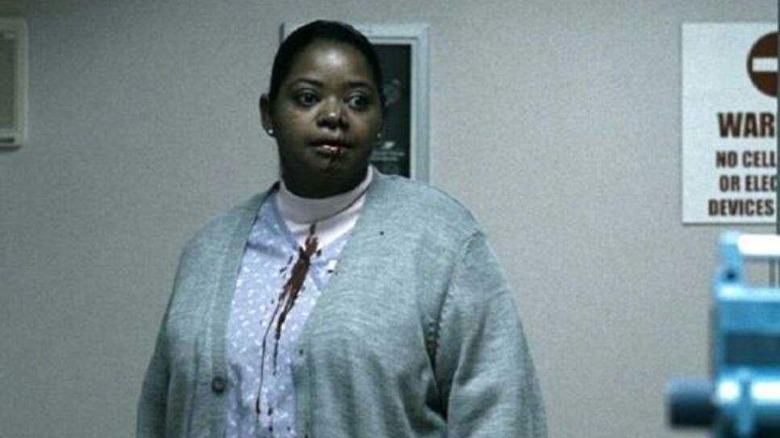 Dimension Films/Metro-Goldwyn-Mayer
At this point, Octavia Spencer has starred in so many major movies that it's hard to keep count. After years of work and eventually breaking out into stardom with "The Help," she's featured in acclaimed dramas like "The Shape of Water" and "Hidden Figures." But her resume is also dotted with small roles in horror and sci-fi projects like "Snowpiercer" and "Drag Me to Hell." What many people may not remember is Spencer's part in Rob Zombie's reboot sequel "Halloween II."
Believe it or not, thanks to Spencer's role in the movie as Nurse Daniels, "Halloween II" holds a special place in the franchise for featuring an Oscar-winning actor. Admittedly, Spencer didn't win her Academy Award until three years later for her role in "The Help," but it still counts, even if retroactively. It also makes it all the more bizarre that such a famed and prestigious star is part of Michael Myers' body count, even if it's just part of a dream sequence.
Margot Kidder in Rob Zombie's Halloween II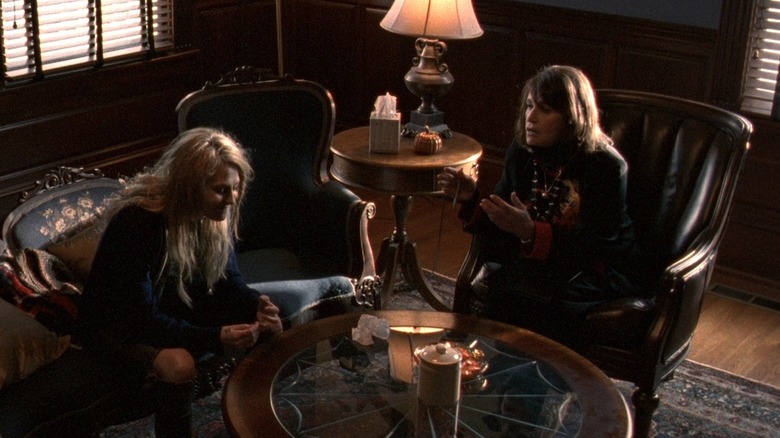 Dimension Films/Metro-Goldwyn-Mayer
Margot Kidder is most famous for her role as Lois Lane, intrepid Daily Planet reporter and romantic interest of Superman in the 1980s films based on the comic book superhero. But shortly after her first appearance as Lois in 1978's "Superman: The Movie," Kidder also starred in "The Amityville Horror," an iconic horror film. Kidder's role in the "Halloween" franchise is less famous and didn't come until much later in the series — specifically, Rob Zombie's "Halloween II" in 2009.
In the film, Kidder plays Barbara Collier, a psychiatrist who's seeing Laurie Strode (Scout Taylor-Compton) to help her deal with the trauma related to her violent encounters with Michael Myers. It's a small but memorable role, with Collier recognizing that the Halloween season can be a trigger for Laurie as it's the night that Michael came back to Haddonfield to stalk her.
Bill Fagerbakke in Rob Zombie's Halloween II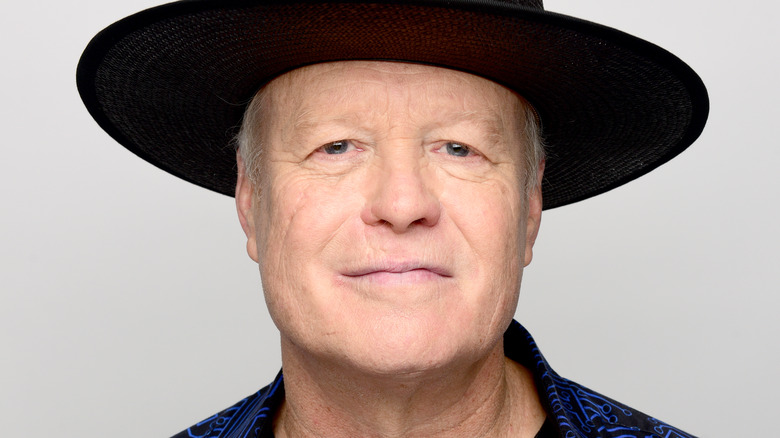 Vivien Killilea/Getty Images
While Bill Fagerbakke has dabbled in on-screen performances, particularly earlier in his career when he starred as Dauber for nearly a decade as part of the cast of "Coach," he's much more famous for his voiceover work. In the mid-1990s, Fagerbakke took to animated voice work on shows like "Gargoyles" before landing his most iconic role as Patrick Star in "Spongebob Squarepants." Since 1999, he's been the man behind the big pink friend to Spongebob, but he's also returned to live action with recurring roles on shows like "How I Met Your Mother" and "Young Sheldon." What you may have forgotten is that he also has a role in Rob Zombie's 2009 reboot sequel "Halloween II."
As Deputy Webb, Fagerbakke plays the loyal right-hand man to Sheriff Lee Brackett, who in the reboot is played by horror icon Brad Dourif ("Child's Play"). During the climax of the sequel, it's Deputy Webb who answers a 9-1-1 call that leads to the discovery of Brackett's daughter Annie, dead by Michael Myers' hand. It's also Webb who joins with the Sheriff to confront Myers in a violent standoff that concludes the film.
Busta Rhymes in Halloween: Resurrection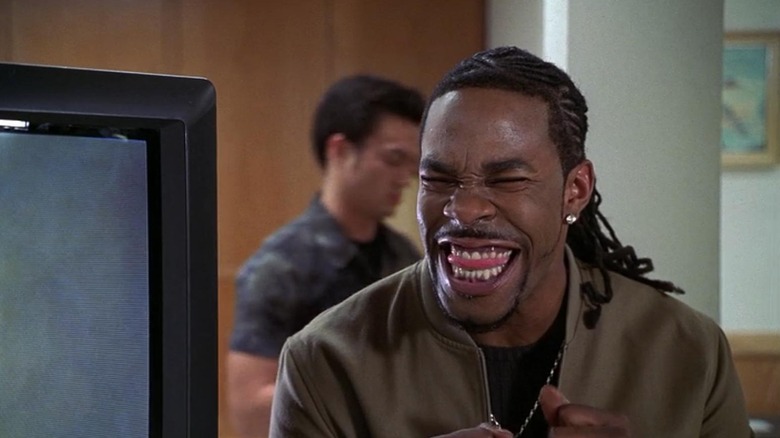 Miramax Films
LL Cool J isn't the only rap star to make an appearance in the "Halloween" franchise, oddly enough. So too did hip-hop legend Busta Rhymes, who expanded his career beyond the music industry in the early '90s by trying his hand at becoming a TV and movie star. He's still known best for songs like "Woo Hah!! Got You All in Check," but some may still know him for his brief time in the Hollywood spotlight.
His lone appearance in the "Halloween" franchise came during that period when he dipped his toes into the world of acting, making a few on-screen appearances in movies like "Higher Learning," "Shaft," and "Finding Forrester." The year was 2002, and the film was "Halloween: Resurrection," — the movie that all but killed the series before Rob Zombie's reboot. Rhymes plays sometimes creepy, always sleazy TV director Freddie Harris in the story. Though he's not hard to miss in the film, "Resurrection" is so forgettable — and bad — that few have bothered to remember it, let alone revisit it.
Janet Leigh joins her daughter in Halloween H20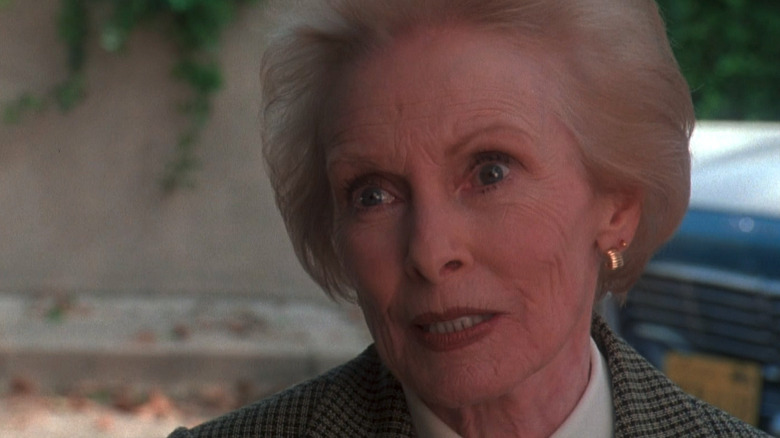 Miramax Films
Modern audiences might not recognize the name, but if you don't know Janet Leigh, that's a real shame. She starred in some of the best films of her era and is probably best known for her role as Marion Crane in the landmark psychological thriller and Alfred Hitchcock movie "Psycho," which practically invented an entirely new genre of horror. She also appeared in Orson Welles' "Touch of Evil," and the John Frankenheimer conspiracy classic "The Manchurian Candidate," among other major roles. Later in her career, she found herself taking roles in some B movies like "Night of the Lepus," which could explain how she wound up in "Halloween H20: Twenty Years Later." 
Another explanation is much simpler, though, because Janet Leigh is also the mother of franchise star Jamie Lee Curtis. In fact, Leigh had already starred alongside her daughter once before in another horror film — John Carpenter's 1980 shocker "The Fog." In "H20," Leigh turns up as the secretary at the school where her daughter's Laurie Strode works. Her character is named Norma Watson, perhaps as an ode to her role in "Psycho," whose murderous villain Norman Bates is a spiritual predecessor to the likes of Michael Myers.