Jack Ryan Is Running For His Life Again In The Season 3 Trailer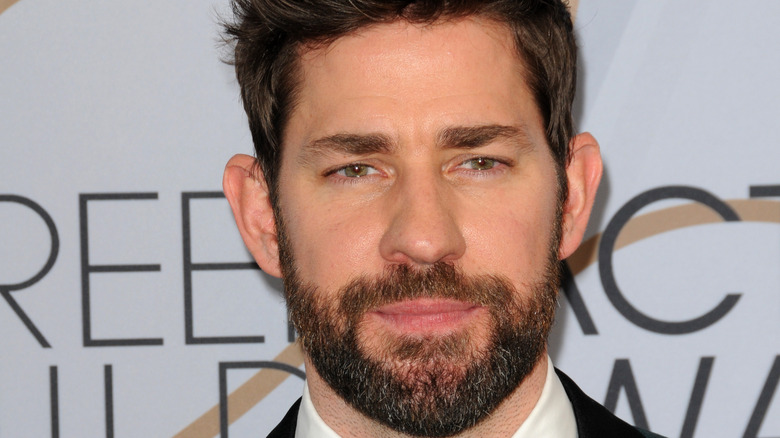 Kathy Hutchins/Shutterstock
Tom Clancy's CIA analyst Jack Ryan (played by John Krasinski on the Amazon Prime series "Jack Ryan"), who never seems to get around to doing much analysis due to a penchant for getting mixed up in international intrigue and sinister plots, both foreign and domestic, is coming back for a third season of the show that bears his name. And in a recently released trailer for the upcoming series, Ryan seems to be once again on the run, this time going rogue against his own bosses in the CIA.
Fans of the first two seasons of "Jack Ryan" should be pleased to see Jack back at it again for a third adventure, one that promises even higher stakes amid a plot to destabilize the globe by way of a nuclear attack. But, of course, the plot goes beyond just a nuke, and it will be up to Jack Ryan to solve the mystery and thwart the conspirators, even if he has to run afoul of his CIA directives in order to do it.
Jack Ryan Season 3 is coming in December
You can check out the new official trailer for "Jack Ryan" Season 3 above. Per the season's listing on Amazon Prime Video, the season will feature our hero (John Krasinski) "[racing] against time and across Europe to stop a rogue faction within the Russian government from restoring the Soviet Empire and starting World War III."
The trailer is likely a welcome relief for fans looking forward to the show's third season, which was reportedly plagued by COVID-related production delays resulting in a long period of radio silence and a three-year hiatus for "Jack Ryan." After three years between seasons, it might have been reasonable to expect that "Jack Ryan" wasn't coming back at all — but the trailer shows that it's set to come back better than ever.
As for what other surprises the show might have in store, fans will have to wait until the Season 3 premiere of "Jack Ryan" hits Amazon Prime Video on December 21.