Manifest Star Josh Dallas Was 'Devastated' By The Series' Premature Cancellation
DFree/Shutterstock
With over 200 million subscribers worldwide, Netflix remains the most popular streaming service (via IndieWire). That popularity brings with it resources, which grants the streaming giant the power to renew a series that traditional network TV passed on. Like "Black Mirror" and "Arrested Development" before it, supernatural thriller "Manifest" has since joined the club of Netflix-revived series.
"Manifest" follows the mysterious disappearance of a commercial airplane in the middle of its flight path, traveling from Jamaica to New York. The plane, crew, and passengers suddenly reappear and land safely after five-and-a-half years. The series follows the passengers as they readjust to a new life, while also experiencing strange supernatural occurrences like voices calling out to them and visions.
The show aired on NBC for three seasons before being canceled unexpectedly in June 2021 (via Deadline). Strangely enough, the first two seasons of the series had just dropped on Netflix a few days before cancellation and exploded in popularity, hitting the Top 10 in the U.S. Thankfully, however, it seems that Netflix took notice of the numbers and rescued the series, picking it up for a fourth season in August 2021, providing fans a chance to see the conclusion to the mystery of Flight 838 (via USA Today).
Any time a TV series is canceled without an explanation, it leaves those involved with a very strong emotional reaction. Recently, Josh Dallas, who plays college professor Ben Stone in "Manifest," opened up about his initial feelings about the show's cancellation and subsequent hunt for a new home.
While promoting the 4th season's premiere in November 2022, Dallas sat down with the Hollywood Reporter to discuss the upcoming season and what lies ahead for his character.
While devastated by the news, Josh Dallas never lost hope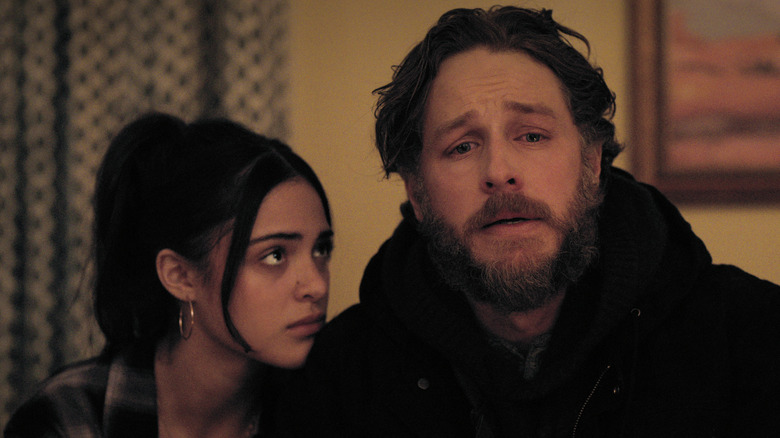 Warner Bros. Television/Netflix
During the interview, The Hollywood Reporter explained that after "Manifest" was canceled, it seemed that initial discussions to bring a new season to Netflix were proving fruitless at the time. The outlet then asked Josh Dallas if he lost faith that the show would come back amid all the uncertainty. "I didn't lose hope, but I was definitely devastated by it," Dallas intimated. "...the idea that we were going to leave these characters mid-flow, but also mid-flow in a horrible situation was just devastating. So I was pretty sad about it, but I didn't lose hope that it was all over. The further and further that it went on, hope was disappearing, but then at the same time, it just started surging on Netflix and just didn't stop. It just kept going, and it was in Netflix's Top 10 for so long. So hope started coming back in a big way."
Considering that Netflix initially seemed unlikely to renew the series, THR asked Dallas why he believed Netflix changed its mind, taking into account the numbers that the show was garnering. Dallas accepted that the numbers were likely the reason why Netflix decided on reviving the series, but was most appreciative of the fans. "They offered such support, love and passion for the show and these characters on social media," Dallas explained. "They would bombard NBC and Netflix all at the same time, or anyone that would listen, about bringing the show back, which is really only something that could happen in this day and age. So it was a beautiful, humbling experience."
Part 1 of Season 4 of "Manifest" premieres on Netflix on November 4, 2022.