Andor Episode 8 Confirms Highly-Anticipated Romance Between Vel And Cinta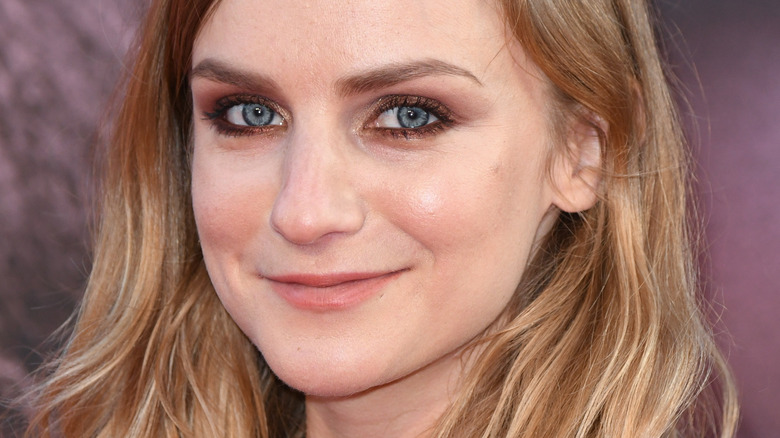 Featureflash Photo Agency/Shutterstock
Vel Sartha (Faye Marsay) and Cinta Kaz (Varada Sethu) are introduced as a pair of resourceful rebel fighters battling the evil Empire in Episode 4 of "Andor," yet another expansion of the "Star Wars" mega-franchise from Disney+. Winding the canon clock back five years before the events of 2016's "Star Wars" feature film, "Rogue One," the series centers on the exploits of that movie's thief-turned-Rebel-spy, Cassian Andor (Diego Luna). Immediately scoring with both "Star Wars" buffs and critics alike, the new show has been lauded for its deep exploration of character and its sophisticated plotting.
When we first encounter Vel and Cinta, they're part of a ragtag Rebel crew planning a major operation against the Empire. The high-risk scheme involves grabbing a huge fraction of the Empire's payroll on the planet Ahldani. With Vel as the leader of the small band of fighters and Cinta as its resident healer, the Rebels are well along in their plans to snatch the payroll when Andor is suddenly dropped into their midst as the group's newest member. None of them are at all happy with the new guy, but they have no choice but to carry on with the operation. And, while Vel and Cinta's true closeness is hinted at in this episode, further developments as "Andor" progresses leave little doubt that the two are more than just loyal comrades-in-arms.
Andor's 8th episode settles it: Vel and Cinta are lovers
As  noted above, Episode 4 of "Andor" gives us our first fan-teasing clue that Vel and Cinta have strong feelings for each other when they're seen sharing a hut. Then, much later in Episode 8, Vel reacts badly when Cinta says she's moving into a room on her own. The thought definitely upsets Vel, but after a brief, tense exchange, Cinta tells her partner that while the Rebel's fight always takes precedence, the two of them will always have each other. "I'm a mirror, Vel," she says. "You love me because I show you what you need to see." 
Fans were quick to applaud the relationship, with Twitter user @stolenblaster going all-caps to cheer, "VELCINTA WRITTEN IN THE STARS." Likewise, @vrsoandor tweeted, "I'm gonna get emotional and I wish more people would talk about vel and cinta [being] what a lot of star wars fan have been waiting for, myself included." Another user, @farawynforever1, also all-capped their feelings, saying, "DID I JUST SEE VELCINTA REUNION? MY SPACE LESBIANS I'M SO [OVERJOYED]."
The truth is, other films and TV shows in the overall "Star Wars" franchise have featured brief glimpses of gay characters before (via Pride). But the Velcinta romantic combo is the first time an LGBTQ+ love affair appears set to occupy a major narrative niche in the "Star Wars" universe as "Andor" continues to explore a galaxy far, far away.