How Yellowstone Saved The Acting Career Of Mo Brings Plenty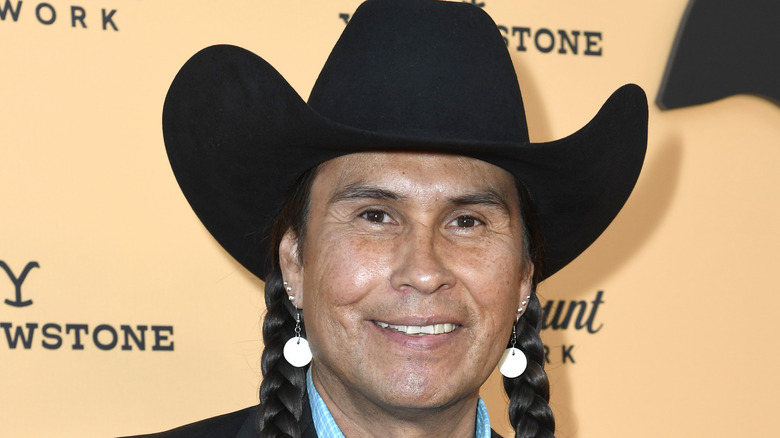 Frazer Harrison/Getty Images
Mo Brings Plenty, one of the breakout stars of "Yellowstone," has nabbed a major career upgrade as the hit show heads into its fifth season. But according to the Lakota actor, he almost didn't make it onto the series at all.
When "Yellowstone" Season 5 premieres in November, Mo Brings Plenty will officially be a series regular as part of the show's largest cast expansion ever. Up until now, the actor has only appeared in the high-rated cable drama in a recurring role. However, he will still remain American Indian Affairs Coordinator for both "Yellowstone" and its upcoming prequel series "1923," working alongside creator Taylor Sheridan.
But the thespian, who plays the loyal right-hand man, "Mo," of Chief Thomas Rainwater on the show, says that he was considering giving up acting before Sheridan offered him the life-changing role. And in the end, it wasn't even the prospect of working with Kevin Costner that reeled him back into Hollywood.
Mo Brings Plenty was ready to step away from Hollywood
Before appearing on "Yellowstone," Mo Brings Plenty appeared in numerous series including "House of Cards" and "Hell on Wheels." He also featured in the Harrison Ford western "Cowboys & Aliens" and starred as the famous Sitting Bull in the miniseries "The American West."  However, he still wasn't achieving the level of career success that he wanted.
"Just before I did take the role, I was contemplating on whether or not I was going to step away from pursuing this anymore," he said at the 2022 Reservation Economic Summit. "In fact, I talked to my family and told them what I had in mind, and that I was done with it. I called my agent, and my family and my agent all said, 'Let's just finish up the year. See what happens.' And then 'Yellowstone' came about and I got the opportunity to work with Gil Birmingham, who was an amazing Native actor ... And also, of course, Kevin Costner and everyone, all the cast members of that show are absolutely amazing."
Now, with his enviable position as the series regular of a major hit, the actor hopes to use his fame for good. 
Mo Brings Plenty wants to rip the doors down for other Indigenous performers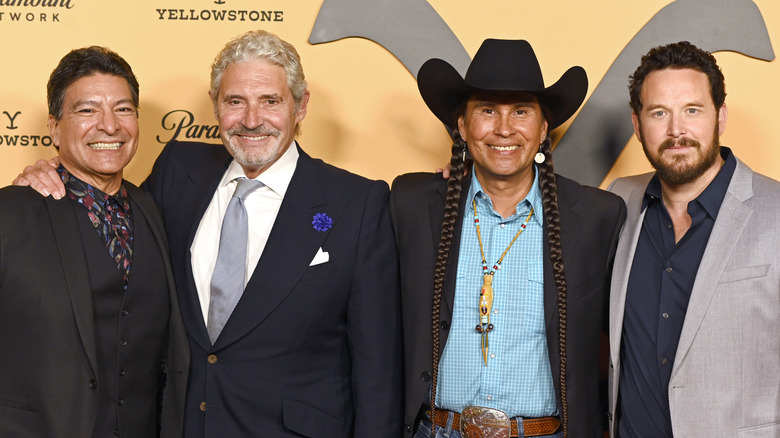 Frazer Harrison/Getty Images
Just like his character on "Yellowstone," Mo Brings Plenty grew up on a reservation — Pine Ridge Reservation in South Dakota, to be exact. But since his mother and father hail from different reservations within the Lakota Nation, the actor identifies more with the Lakota Nation as a whole rather than with any specific reservation. And to this day, he still speaks out in support of Native Americans across the United States.
"On our side, I believe that for us to really truly support one another, we have to speak in good terms and good ways about each other as Native people because there is no greater enemy than ourselves," he told the audience at the 2022 Reservation Economic Summit. "We have to be able to come back together the way that our ancestors used to be and understand and know that if we stand together, we will always be successful. We will always be stronger."
He also made no bones about his goals as an actor. In addition to hoping to become President of the United States one day, Mo Brings Plenty wants to "flat out just rip the doors down and make more opportunities for Indian country to be involved in [Hollywood]."
And with his plum new series regular role, that will surely be more attainable.