House Of The Dragon's Olivia Cooke And Emma D'Arcy Explain Those Family Dinner Toasts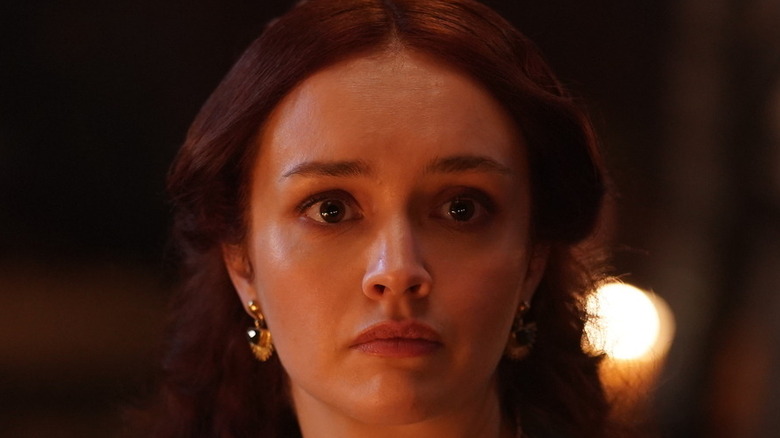 Ollie Upton/HBO
In the aftermath of "The Black Queen," the first season finale of "House of the Dragon," fans have a ton of questions about the finale — and two of the series' actors are here to provide some answers.
As Rhaenyra Targaryen and Alicent Hightower — Emma D'Arcy (who is non-binary and uses they/them pronouns) and Olivia Cooke, respectively — the two lead actors of "House of the Dragon," who took over from their younger counterparts Milly Alcock and Emily Carey in the show's sixth episode, are always at odds on screen. Offscreen, thankfully, they seem to be good friends (if this viral TikTok doesn't prove that, nothing will), and in a recent interview, they did a deep dive on the scenes they shared this season.
Before the princess and queen find themselves completely at odds over violence between their two families, they seem to make up for one brief moment in the show's eighth episode, "The Lord of the Tides," during a massive Targaryen family dinner. Here's what D'Arcy and Cooke had to say about that pivotal dinner scene, and the toasts their characters made.
The family toast was a huge moment for both D'Arcy and Cooke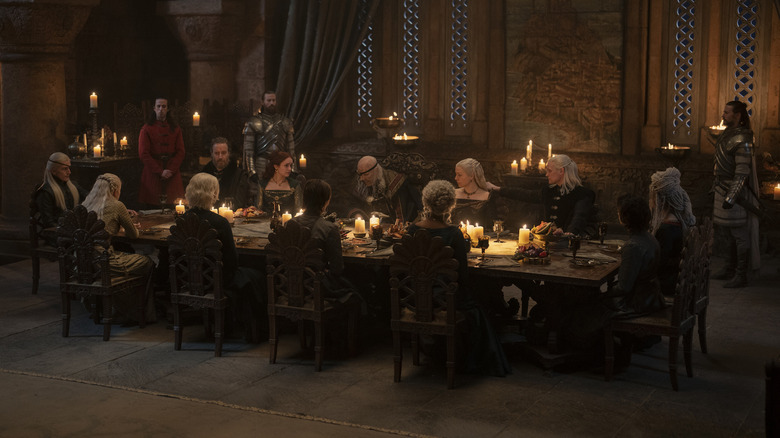 Ollie Upton/HBO
As D'Arcy and Cooke revealed to Vulture, that dinner scene was actually the very last scene that the entire cast shot for the season, which feels totally appropriate. After D'Arcy said the moments in that family meal felt "obvious" to them while shooting, they followed up.
Clarifying, D'Arcy said, "​​I was thinking specifically of the toast. If I were to read that scene at the very start of the process, maybe I would've felt concerned about whether it felt earned or warranted or would feel contrived. My big revelation was that it's an episode that pivots around death, and death does the job of reorganizing your priorities."
In case you forgot about these toasts, here's a refresher: during a large Targaryen family gathering convened by Alicent's husband and Rhaenyra's father King Viserys I (Paddy Considine), the two women praise each other despite years of tension. Rhaenyra thanks Alicent for caring for her father throughout a period of extraordinarily poor health — in fact, Viserys dies at the end of the episode — and Alicent, who will later install her own son on the Iron Throne, says Rhaenyra, the named heir, will make a great queen.
Cooke agreed: "They see each other for the first time [in years]. That's what the whole series has been about: trying to get back to each other."
Here's what D'Arcy and Cooke have to say about those toasts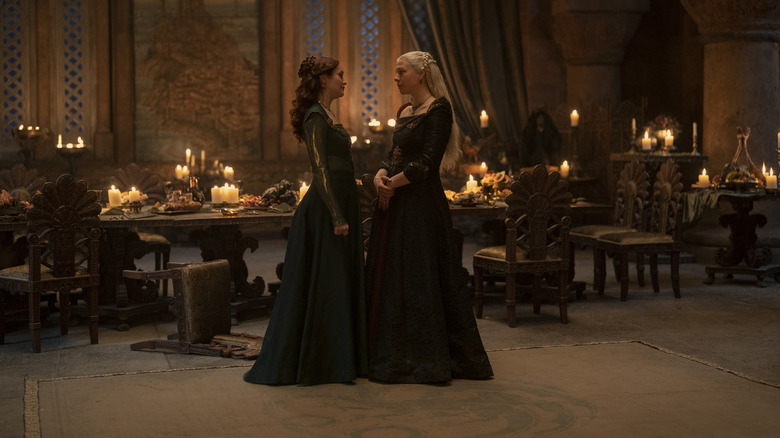 Ollie Upton/HBO
In her follow-up question, interviewer Roxana Hadidi said the toasts seemed like "love letters," but Cooke had a different take on them. "I think less of a love letter, more of a 'thank you' card. It's a step in the right direction," she said. "But to proclaim love would've felt too soon. There is love there, but definitely not at the forefront."
"Those toasts are to declare the rift exists and to name it — they start to undo the power of the thing," D'Arcy continued. "This game they are locked in, it's largely a nonverbal one, and it's bitter and silent and stony. To name it is to begin to disarm the chasm, the trauma, the difficulty, the pain." Cooke took it even further, saying, "We exist in a series of looks and chess pieces and hearsay and ravens. We don't ever get to see the words in front of us."
Ultimately, D'Arcy believes these toasts are a tiny form of rebellion for both women. "It's also, to an extent, both of them flying in the face of what the system wants them to do," they remarked. "For a patriarchal system, the rift works. To stand up in front of their whole mini-universe and offer the possibility of reconciliation is a radical act."
"House of the Dragon" is streaming on HBO Max now.