Charlize Theron Hopes Her Doctor Strange Cameo Isn't The End Of Her Time In The MCU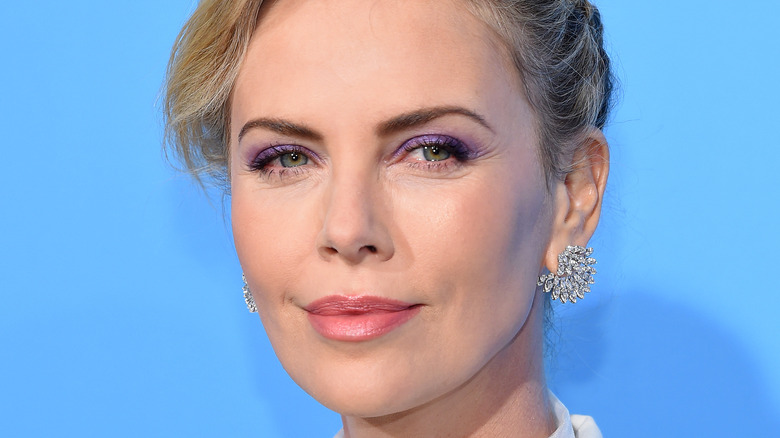 DFree/Shutterstock
Charlize Theron is making her rounds promoting her new movie, "The School for Good and Evil." However, before flexing her magic talents in the Netflix film, Theron made a quick cameo as another magic user in "Doctor Strange in the Multiverse of Madness."
Following the events of the movie, Doctor Strange (Benedict Cumberbatch) is met on the streets of New York by a mysterious sorceress who steps out of a portal to the Dark Dimension. Comic book fans immediately recognized Clea, played by Theron, but she remains unnamed in the post-credits scene. She tells Strange that his actions across the multiverse have caused an incursion, and he must come with her to prevent it. The scene ends with Strange following Clea into the Dark Dimension, setting up a potential threequel that would inevitably include Charlize Theron.
Since its beginning, fans have desired to see Theron land a role in the Marvel Cinematic Universe, the most popular fan cast being Captain Marvel before the part eventually went to Brie Larson. Regardless, the South African actress is officially the MCU's Clea, and fans can't wait to see more of her. Comic book readers understand the importance of Clea, her relation to the incursion events, and how those will tie into the highly anticipated "Avengers: Secret Wars."
Theron recently gave some insight into her potential future in the MCU.
Charlize Theron hopes Marvel Studios won't change their minds about Clea's future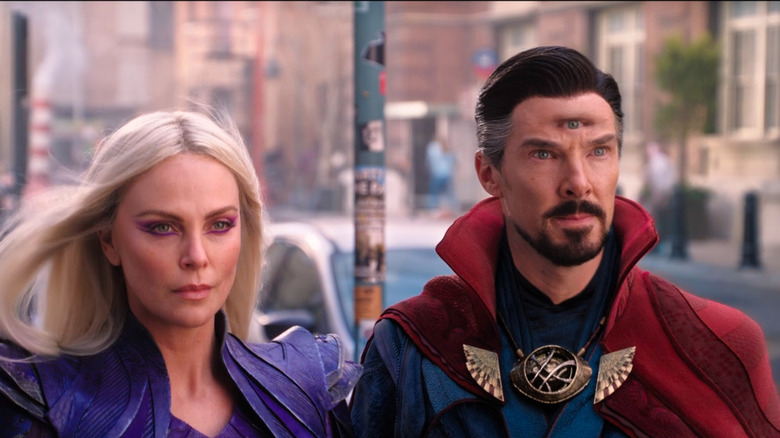 Marvel Studios/Disney+
Charlize Theron recently appeared on "Jimmy Kimmel Live," where the Academy Award-winning actress commented on her future in the Marvel Cinematic Universe.
Her response is as you would expect from any actor Marvel has sworn to secrecy: brief and vague. When asked if fans can expect to see more of her as Clea after her quick cameo in "Doctor Strange in the Multiverse of Madness," Theron responded with a simple shrug, saying, "I hope [the cameo]'s not it, but we'll see, yes ... I think I know, I mean unless, I'm sure they can change their mind, depending on what I say on this show!"
In typical talk show host fashion, Kimmel then tried to squeeze more information out of Theron, asking her what information she could reveal about her character. She gave a straightforward response saying, "I play Clea," which the audience met with laughter. Theron admitted to not knowing much about her comic book character but seemed eager to learn for any future appearances.
For those who don't know, Clea, first introduced in "Strange Tales" #126, is the niece of Marvel villain Dormammu and is occasionally depicted as the ruler of the Dark Dimension. She's a sorceress that studies under Doctor Strange before the two form a romantic relationship, which eventually leads to marriage. She is the current Sorcerer Supreme of the Marvel Universe following the "Death of Doctor Strange" storyline.
It remains unclear how significant of a role Clea will play in the MCU, but her knowledge of incursions is enough to assume she'll be an important player going forward.