9-1-1 Fans Are Fighting Back Tears Over Karen And Hen's Connection In Season 6 Episode 6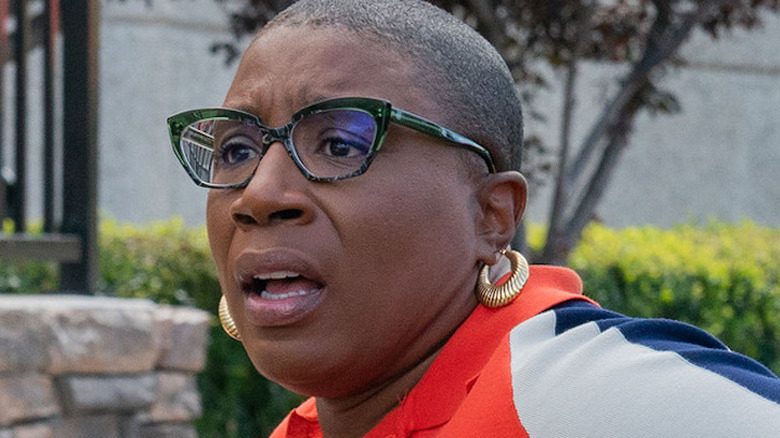 Jack Zeman/ FOX.
This article contains spoilers for Season 6, Episode 6 of "9-1-1."
FOX's "9-1-1" is currently airing its 6th season, and has not let up in its commitment to exploring poignant stories with its diverse cast of characters alongside its bombastic, boundary-pushing rescue efforts. Part of what makes this show so effective is the suspense that builds every time 9-1-1 operator Maddie Buckley (Jennifer Love Hewitt) answers the phone. Whether the call sends out to the Los Angeles Police Department, represented by Angela Bassett's Sgt. Athena Grant-Nash or the Los Angeles Fire Department led by Capt. Robert Nash (Peter Krause), we know the results will be thrilling, action-filled, and sometimes, unbearably sad depending on the outcome.
Another detail that makes this procedural drama so addictive is the relationships that have developed since the pilot episode. There is a loving bond between Athena and Robert, the rollercoaster pairing of Howard (Kenneth Choi) and Maddie, and many more compelling and romantic pairings along the way. But one show relationship that has stood the test of time since Season 1 is the marriage between Henrietta ("Hen") and Karen Wilson (Aisha Hinds and Tracie Thoms). Episode 6 of Season 6 had us on the edge of our seats with the married couple, with Hinds tweeting, "Bring my wife back 118," punctuating each word with a clapping hand emoji. But it was the connection between the characters that ultimately caused fans to get emotional.
Season 6, episode 6 of 9-1-1 explored Hen and Karen's relationship backstory
Season 6, Episode 6 of "9-1-1" titled "Tomorrow," involved a storyline that saw Karen Wilson (Tracie Thoms) assist her wife Henrietta's (Aisha Hinds) co-workers of Station 118 during a perilous rescue mission that puts Karen in a dangerous situation once there is an explosion at her lab (via Entertainment Weekly). The suspense of the episode had fans in a whirlwind since the ultimate fate of Thom's character was interrelated with flashbacks to the couple's relationship before the start of the series. Fan @sophiasmorgan tweeted, "Karen realizing she didn't wanna live in a world Hen wasn't in and hen knowing she doesn't wanna live in a world Karen isn't in they really are absolutely everything to me [three crying emoji] #911onFOX." The flashbacks between the married couple also had viewers in their feels, with @PlanetRoxy_ commenting, "Hen & Karen's relationship backstory is so good #911onFOX."
Thoms also revealed that she was happy with the story. "I'm very proud of how she handled herself," she said in an interview with TV Line. "She could have panicked, but she didn't. She had the presence of mind to know the dangers ahead of her, so she was able to save more people. She also got to see the 118 in a way she's never seen them ..." She concluded by saying Karen was lucky Bobby appeared when he did in the scene. Hen and Karen devotees everywhere can breathe easily.