Anne Hathaway Really Wants Julie Andrews To Get On Board For The Princess Diaries 3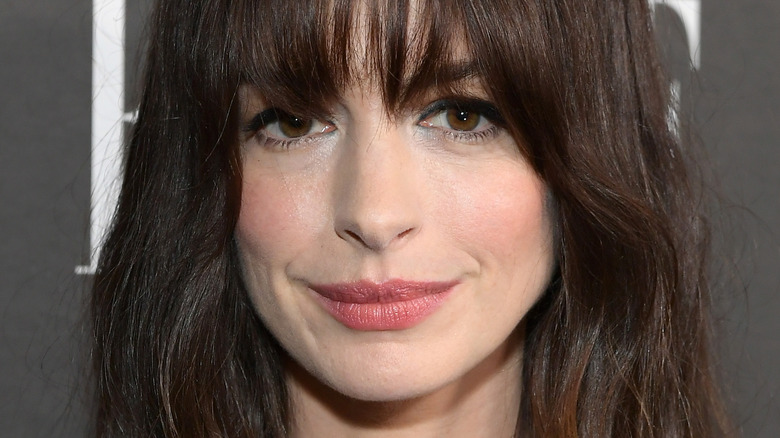 Charley Gallay/Getty Images
"The Princess Diaries" is without a doubt one of Anne Hathaway's best movies. The original film and its sequel, "The Princess Diaries 2: Royal Engagement," feature an exceptionally talented cast led by Hathaway, Julie Andrews, and Héctor Elizondo. Apart from the heart-warming bond that develops between the reluctant Princess Mia (Hathaway) and her grandmother, the films are made even better by the details of their design. Both movies are endlessly quotable and include appearances from stars like Mandy Moore, Sandra Oh, Raven-Symoné, Abigail Breslin, and Chris Pine. Whether you're there for the M&M pizza, Paulo's signature makeover style, the Genovian pear-juggler, mattress surfing, Fat Louie, or the inherent melodrama of crying in a convertible in the rain, there's a little something for everyone. 
The movies are so good that sometimes it's hard to remember that Andrews isn't actually the former ruler of a small European country. Rumors of a potential third film have been drifting around for years now, but nothing official has ever been announced. Thankfully, Hathaway wants to give Amelia Mignonette Thermopolis Renaldi a comeback and she's willing to go the distance to get a certain dame of "Mary Poppins" fame to reprise her role as Queen Clarisse Renaldi. 
Anne Hathaway would love to co-star with Julie Andrews in The Princess Diaries 3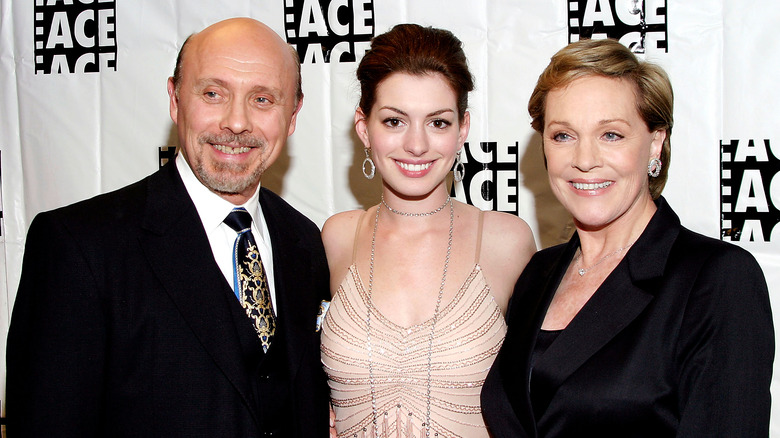 Giulio Marcocchi/Getty Images
"The Princess Diaries" wouldn't be the same without Anne Hathaway in the lead role. In an interview with Entertainment Tonight, the actor told the outlet that she'd be happy to revisit Genovia. She's even geared up to get Julie Andrews to sign on.
"I would more than entertain it, I'm pulling for it," Hathaway told the outlet. "If there's any way to get Julie Andrews involved, I think we would make it work. We would go to where she was and put a green screen behind her and just make it happen."
With any luck, Hathaway can make it happen. Viewers will recall that the sequel, "Princess Diaries 2: Royal Engagement," had a pretty open ending. While it was bittersweet to watch Clarisse step down, we finally saw Mia crowned Queen of Genovia. However, it would be great to know what Mia's been up to since she ascended the throne. Plus it wouldn't hurt to see if Lord Nicholas Deveraux (Chris Pine) is still around. 
Although the first film is based on the plot of one of the novels in Meg Cabot's book series of the same name, the second movie steps away from the source material. If we're lucky enough, "Grey's Anatomy" creator Shonda Rhimes will return to pen the third installment (per IMDb). Unfortunately, Hollywood legend Garry Marshall passed away in 2018, so a new director would be needed to round out the trilogy.