Grey's Anatomy Star Jesse Williams Boards Only Murders In The Building Season 3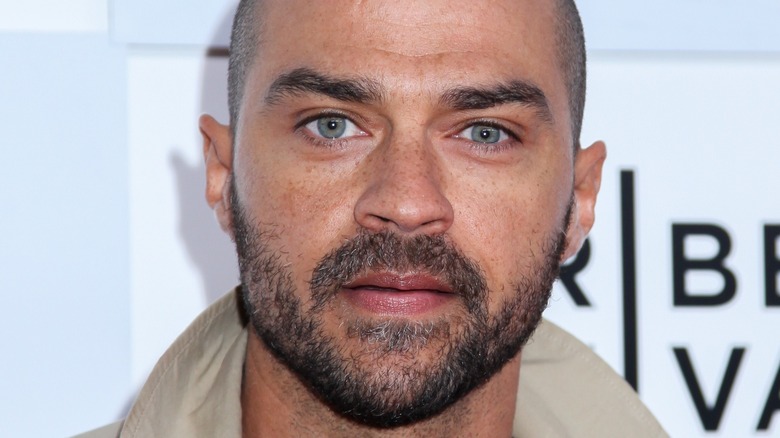 Miro Vrlik Photography/Shutterstock
Hulu's "Only Murders in the Building" is adding to its third-season cast. The comedy starring Steve Martin, Martin Short, and Selena Gomez as three friends and neighbors obsessed with true crime was a smash hit for Hulu right out of the gate, having the biggest comedy premiere for a series for the streamer, via The Wrap. Only weeks after its premiere, Hulu Originals president Craig Erwich revealed the series was the most-watched comedy in the streamer's history, per Vulture. 
That success, combined with the impressive central cast, is helping to draw some big names to the show, which follows its characters solving a different murder each season. It was previously reported that "Ant-Man" star Paul Rudd joined the cast for the upcoming third season, via Variety, having appeared in the Season 2 finale. It's also now been reported that former "Grey's Anatomy" star Jesse Williams is on board for the upcoming season.
Many will likely be seeing a new side to Williams, as the actor's filmography doesn't include a lot of comedy. Williams is best known for his long-running role as Dr. Jackson Avery on "Grey's Anatomy" and he's also appeared in other series like "Power," as well as films such as "Brooklyn's Finest." The report on Williams joining the cast of "Only Murders in the Building" Season 3 also includes some details about his character.
Jesse Williams is playing a documentarian
According to Variety, Jesse Williams is playing a documentarian in Season 3 of "Only Murders in the Building." The role will be a recurring part and Williams' character will have an obsession with the case that the three main amateur detectives — Charles Haden-Savage (Steve Martin), Oliver Putnam (Martin Short), and Mabel Mora (Selena Gomez) — are working. 
"Only Murders in the Building" Season 1 focused on the case of a young neighbor of the trio, while the second season turned towards the murder of their building board president. There is no official word yet on the plot for "Only Murders in the Building" Season 3, though Season 2 ended with the on-stage murder of an actor played by Paul Rudd — while Charles was acting alongside him. 
It's also not yet known when exactly the third season will premiere. The latest batch of episodes got the go-ahead from Hulu in September, but viewers shouldn't expect to wait all that long. The show already has a track record for having quick turnarounds in its seasons, with the first airing from September to October 2021, and the second airing from June to August 2022. Whenever it is released, it's clear Hulu is highly invested and sees the show as one of their signature series. 
"'Only Murders in the Building' is a true crown jewel of our slate," Craig Erwich announced when confirming the third season, via The Hollywood Reporter.