Harry Potter's Voldemort Actor Ralph Fiennes Is Repulsed At The J.K. Rowling Backlash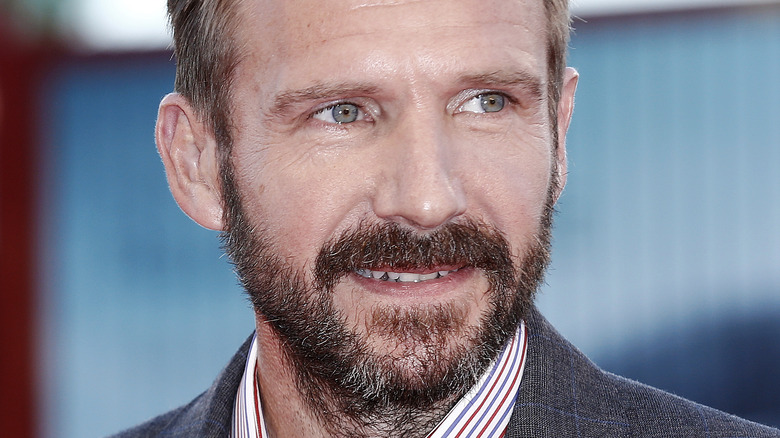 Andrea Raffin/Shutterstock
When "Harry Potter" was first adapted to the screen in 2001, the film introduced a wave of unknown child actors who would reach unparalleled levels of stardom. The "Harry Potter" franchise showcased an array of established British talent in support of the young stars, including John Hurt, the late Robbie Coltrane, and even an appearance by Julie Christie.
In 2005, Ralph Fiennes joined "Harry Potter and the Goblet of Fire" as Voldemort. Already known for his roles in movies like "Schindler's List" and "The English Patient," Fiennes was initially reluctant when he was offered the part. "The truth is I was actually ignorant about the films and the books," the actor said on "The Jonathan Ross Show" (via Digital Spy). "Quite stupidly I resisted, I was hesitant. I think the clincher was that my sister Martha ... said, 'What do you mean? You've got to do it!'" Now, Fiennes speaks fondly of J.K. Rowling's landmark series. He has also defended the author's controversial reputation.
Fiennes can't stand the vitriol against J.K. Rowling
Apparently not content with her reputation as a beloved scribe of children's literature, J.K. Rowling has spent the last few years gunning for a different sort of reputation: a stalwart of anti-transgender rhetoric. In June 2020, she published an essay defending her stance, writing that those advocating for trans inclusion are seeking to "erode 'woman' as a political and biological class."
Rowling has understandably received pushback for her claims, including from a number of former "Harry Potter" cast members like Daniel Radcliffe, Emma Watson, and Rupert Grint. In an interview with The New York Times, Ralph Fiennes has come to the author's defense against some of her more ardent detractors.
"The verbal abuse directed at her is disgusting," Fiennes said. "It's appalling." He continued, "I mean, I can understand a viewpoint that might be angry at what she says about women. But it's not some obscene, über-right-wing fascist. It's just a woman saying, 'I'm a woman and I feel I'm a woman and I want to be able to say that I'm a woman.' And I understand where she's coming from. Even though I'm not a woman." Fiennes previously came to the writer's defense in 2021 (via The Telegraph).
Per Rowling, her incendiary tweets have made her the subject of death threats. "I've now received so many death threats I could paper the house with them, and I haven't stopped speaking out," Rowling tweeted in November 2021. Incidentally, 2021 was the deadliest year on record for transgender people, who are "over four times more likely than cisgender people to experience violent victimization," according to the Williams Institute.