Ant-Man And The Wasp: Quantumania Trailer Has Fans Split Over The Cassie Lang Recast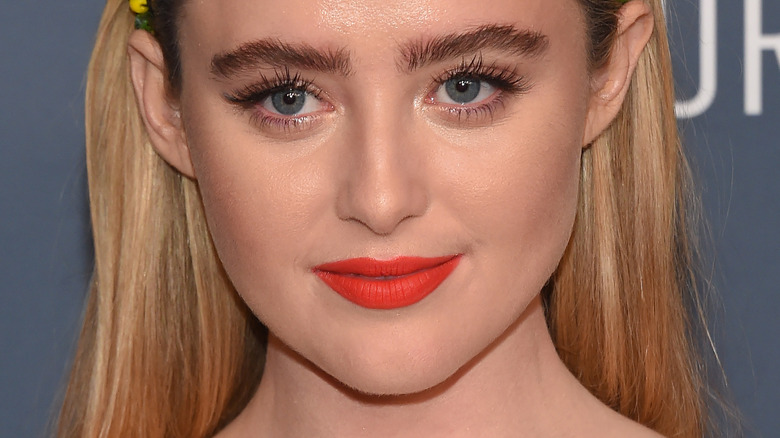 DFree/Shutterstock
The thing about the Marvel Cinematic Universe's Quantum Realm is that many things are possible due to this micro-verse at the very periphery of reality. Most notably, the Quantum Realm is where Janet van Dyne (Michelle Pfeiffer) was trapped for several decades, and the mechanism in which the Avengers time travel in "Avengers: Endgame." In other words, the Quantum Realm has barely been explored, but that will no longer be the case when "Ant-Man and the Wasp: Quantumania" premieres.
The trailer for "Ant-Man and the Wasp: Quantumania" already promises fantastic environs, bizarre characters, and Bill Murray. Not only will we see Scott Lang (Paul Rudd), Hope van Dyne (Evangeline Lilly), Hank Pym (Michael Douglass), and Janet van Dyne, but it also looks like fans will get a look at yet another version of Kang (Jonathan Majors). Speaking of alternate versions, it seems like Scott's daughter Cassie Lang (Kathryn Newton) will be joining the adventure, though fans have quickly pointed out that the actor playing Cassie is a different person from previous movies. Speaking with The Hollywood Reporter, Newton spoke about her role in "Quantumania" and said, "But it's a dream come true for me to be a part of the MCU, and I'm so honored and so grateful because I love the Marvel universe so much." There are definitely some different thoughts on this recast, with some fans enjoying the new actor and others questioning why.
Some fans wonder why Cassie Lang had to be recast
It is important to note that three different actors have now played Cassie Lang. In the very first "Ant-Man" movie, Cassie is played by Abby Ryder Fortson and then by Emma Fuhrmann in "Avengers: Endgame." The reason for the original recast is due to the five-year time jump between "Avengers: Infinity War" and "Endgame," so the character of Cassie had to be aged. That isn't the case with Kathryn Newton taking on the role for "Quantumania." Some fans have wasted no time in questioning this decision and have taken to Reddit to explain why they aren't exactly happy.
U/NerfShields brought up how many times Cassie has already been recast and said that, at this point, it is getting ridiculous. U/LostInStatic also had some strong feelings and stated, "Can't say I'm too excited if the entire movie is gonna be a green screen fest. And I'm utterly heartbroken they got rid of the girl who used to play Cassie. I get why they had to, but **** sucks. She was awesome." U/inksmudgedhands lamented the original Cassie actor and said, "I really wanted Fortson to come back. She had such great chemistry with Rudd. So, is Cassie supposed to be what age in this movie? 17-19? I guess that's too old for 14 year old Fortson. Shame." U/GladiatorJones understood why they had to recast Cassie originally but wondered why they needed to do so again, considering that the "Endgame" Cassie is a more appropriate age, though they added that even though they liked Fuhrmann's performance in the previous movie, they are sure newcomer Kathryn Newton will do just fine.
Other fans are excited to see Kathryn Newton as Cassie
However, it seems like "Ant-Man and the Wasp: Quantumania" fans were far more receptive to the newly recast Cassie Lang over on Twitter. @Willia3Mac could barely contain their excitement and proclaimed, "OMG OMG HAVE YALL SEEN THE #AntManandTheWaspQuantumania TRAILER YET??? ITS THE BEST YET!!! I LOVE THIS NEW CASSIE. She legit is my favorite actress!" @prcowboys posted a GIF of Scott and Cassie running through the Quantum Realm while multicolored explosions occur and added that they absolutely love Kathryn Newton as the new Cassie Lang and that the actor is perfect for the role.
@uknowhmm also posted a GIF, but this one is from the very first "Ant-Man" movie and shows off an exceptionally young Cassie Lang. They then said they are excited to see Cassie all grown up and not missing any teeth. @LeglessGamer is also excited for this new "Ant-Man" movie and said, "#AntManandTheWaspQuantumania looks like a lotta fun, Kathryn Newton was pretty good in Detective Pikachu and looks to be a pretty good Cassie. I am living for [Jonathan] Majors as Kang, so freaking menacing, I love it." Considering these collected comments, it seems like there are two distinct camps when it comes to Cassie Lang's recasting. Some wondered why Marvel had to bring in yet another actor for the character, while some can barely contain their excitement at the casting news. Either way, there are definitely a lot of opinions and thoughts surrounding Newton's entry into the MCU, so it will be interesting to see what her reception looks like after the movie drops in February 2023.