Interview With The Vampire Episode 5 Horrifies Fans With Lestat's Full Display Of Cruel Violence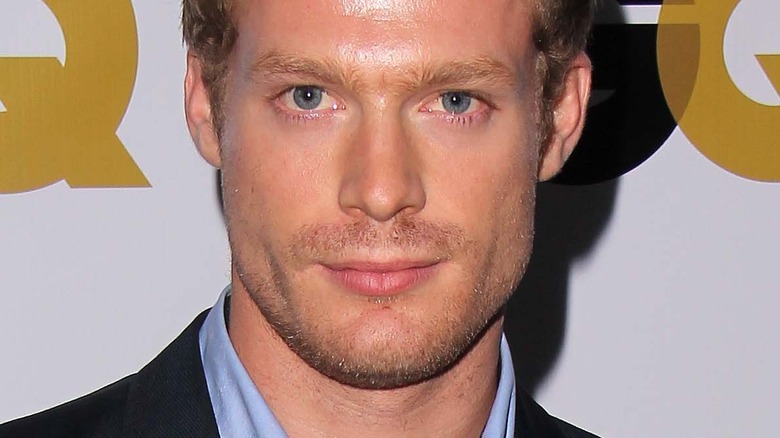 Kathy Hutchins/Shutterstock
While taking its basic narrative cues from author Anne Rice's 1976 novel "Interview with the Vampire," AMC is pumping fresh story blood into their new series, making important changes to the time-hopping tale of the immortal vampire Lestat de Lioncourt, brought to un-life on the show by Sam Reid.
Updating the approach of the novel and the original 1994 film (which stars Tom Cruise as Lestat and Brad Pitt as Louis de Pointe du Lac), this incarnation of Rice's story finds Louis, played by Jacob Anderson, as he sits down for a new set of vampiric interviews with journalist Daniel Molloy (Eric Bogosian). Discussing what appealed to him about this new take on the saga with Entertainment Weekly, Reid noted, "I'm a fan of the books. And when I read the pilot, I thought, 'This is what I want to see.'" 
Reid went on to explain his perspective on the emotionally charged romance between Lestat and Louis, saying "This is a really toxic relationship, but there's so much love and desire and tension." But Reid is talking about an undead, supernaturally-bonded pair of blood-drinking creatures here, after all, which prompted him to add, "When murder is your love language in a relationship, it's quite a challenge, but it's very deep." This being said, why does Lestat's behavior in the fifth episode of "Interview with the Vampire" have fans seeing red?
Fans are shocked by Lestat's assault on Louis in Episode 5 of the series
As the action progresses in Episode 5 of "Interview with the Vampire," the young vampire Claudia (Bailey Bass) develops into a surrogate for Louis' beloved sister who has rejected him, leaving him bitter and desolate. So, when Claudia asks Louis to abandon Lestat and go away with her, the jilted Lestat responds by unleashing a savage, jealous-lover assault on Louis, beating him and then lofting him high into the sky before dropping him to the ground.
Posting on the show's subreddit, user u/wemetonmars found Lestat's attack on Louis exceptionally cruel, writing, "I hate him. Glad Louis just told Lestat to let him go at the end be damned the consequences [of falling from such a height]." Redditor u/comfycakee agreed that the scene crossed the line, and also felt it departs in a significant way from Rice's novels, writing, "[Lestat] would never do that in the books, whoever supported it is bc [they] didn't read it." And Reddit user u/MarysonofSteve cautioned that the violent interlude could be triggering for some, but that it's also valuable to show that vampires commit terrible acts. Feeling the same way about the scene, Twitter fan @TBMalikErtotica tweeted they found it "Absolutely horrifying." And while they think the climactic battle was well-filmed, nonetheless they wrote, "The major scene at the end had so many emotions running through me from sheer horror to pure grief at what I was witnessing."