How The Black Adam Cast Really Feels About Dwayne Johnson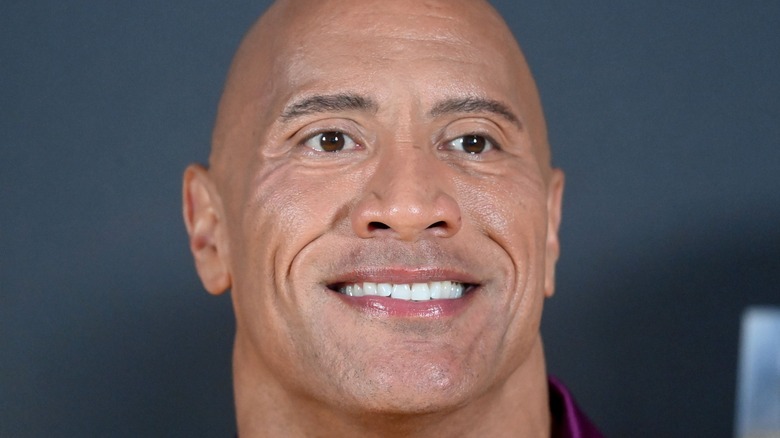 Dave J Hogan/Getty Images
The newest DC Extended Universe film, "Black Adam," was just released to theaters last week on October 21, 2022. Directed by Jaume Collet-Serra, the film stars Dwayne "The Rock" Johnson as the titular Black Adam, a former slave from Kahndaq who possesses the powers of various Egyptian gods, such as strength and speed, as well as more psychological powers such as courage and wisdom. After being imprisoned for nearly 5,000 years (about as long as he has had his powers), Black Adam finally escapes and is ready to bring justice to the world.
While Johnson leads the pack, the film also boasts an impressive list of supporting cast members. Alongside Johnson, the cast also includes Pierce Brosnan as Kent Nelson, aka Doctor Fate, a senior member of the Justice Society of America (JSA) who has sorcerer abilities; Aldis Hodge as Carter Hall, aka Hawkman, the JSA leader; Noah Centineo as Al Rothstein, aka Atom Smasher, a young JSA member who can control his size and strength; Quintessa Swindell as Maxine Hunkel, aka Cyclone, a JSA member who can control wind and sound; Marwan Kenzari as Ishmael Gregor, aka Sabbac, the militant leader of the criminal organization Intergang; and Sarah Shahi as professor resistance fighter Adrianna Tomaz, an ally to the JSA.
So how did these other cast members feel about working with Johnson while filming "Black Adam"?
Noah Centineo and Quintessa Swindell loved working with Johnson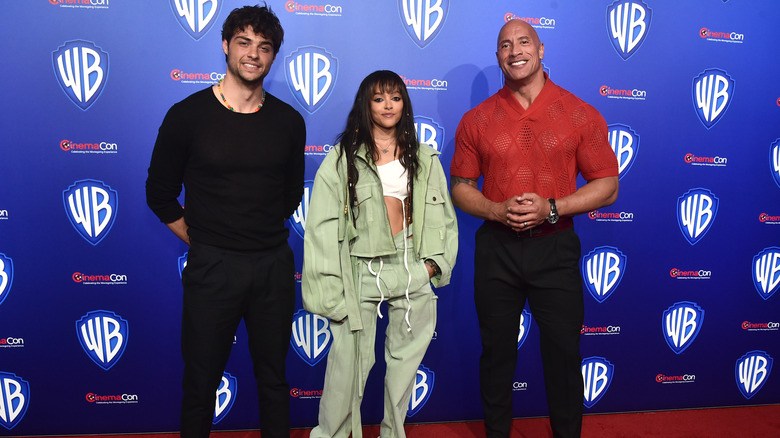 Alberto E. Rodriguez/Getty Images
In a September 2022 interview with Vanity Fair, Noah Centineo discussed "Black Adam" and opened up about working with Dwayne Johnson for the film. Centineo, for one, had nothing but praise for Johnson as an actor and a co-star — as well as a role model. Centineo said, "Dwayne [Johnson] is 99 percent more present than most people. They say don't meet your idols — not true with Dwayne." Centineo also noted that working on "Black Adam" acted as a learning experience for him, as well — thanks in part to Johnson. The actor said, "Pierce Brosnan is to the right, The Rock is to the left. I'm getting a master class."
The actor then spoke again about working with Johnson in an October 2022 interview with Pinkvilla alongside his co-star Quintessa Swindell; both stars had nothing but praise for Johnson. Swindell began by noting that he is funnier than they expected and made everyone laugh on set constantly, then added, "Also, just to work with and be around and to learn from. And he's incredibly giving."
Centineo added that one of the first things he noticed, which Swindell wholeheartedly agreed with, is that Johnson's social media presence actually matches up to what he's like in real life. Centineo said, "So, I feel like he's very honest about who he is, which is tight."
Pierce Brosnan called Johnson magnificent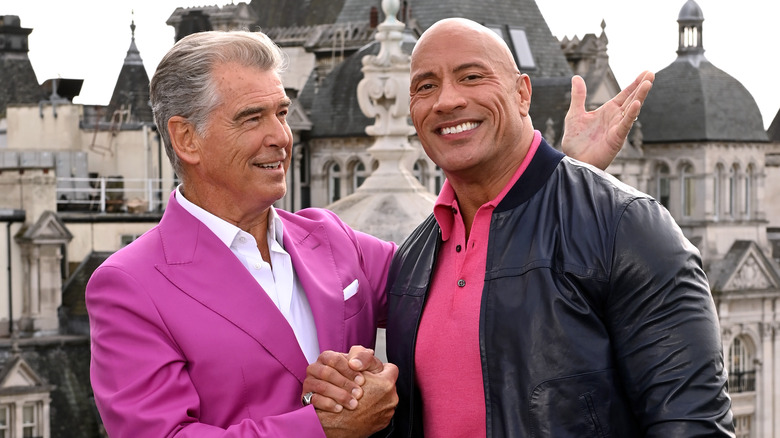 Kate Green/Getty Images
Back in August 2021, Pierce Brosnan was already beginning to publicly praise Dwayne Johnson for his work in "Black Adam" while speaking with Haute Living for an interview. Brosnan was in the midst of filming "Black Adam" at the time of the interview, so his opinions on his co-star were fresh (filming wrapped in August 2021). Brosnan noted that, due to the nature of the film, he didn't spend a ton of time on set working with Johnson but that he has respect for his co-star overall. Brosnan said, "As for Dwayne, I don't know the man, but I've got great admiration for him and what he's created for himself in life and how he conducts himself with the world at large. So we go to set and get on with the work, and that's what you have to do."
Brosnan then praised Johnson again a month later while speaking to Collider in September 2021 to promote 2021's "Cinderella." Brosnan gave fans some early insight into what to expect from Johnson's superhero performance. The former James Bond actor said, "It's an ensemble piece, 'Black Adam.' You have Dwayne, who's at the pinnacle of his fame and fortune and success and popularity. He is magnificent as Black Adam."