How A 46-Minute Documentary May Have Paved The Way For Ice Road Truckers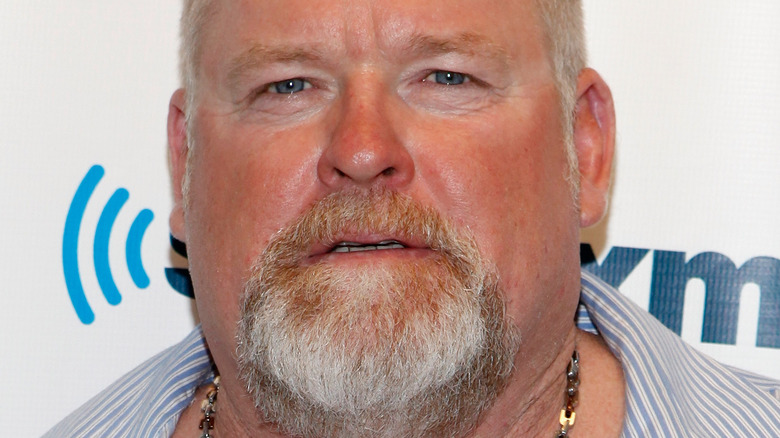 Cindy Ord/Getty Images
Plowing through 11 seasons, "Ice Road Truckers" consistently gave fans one edge-of-your-couch moment after another. The reality series managed to put viewers in the oversized driver's seat of these giant big rigs, crossing over frozen bodies of water in order to deliver payloads to remote areas. The show's debut in 2007 — which set a ratings record for History – connected fans with several fascinating drivers. Making Amazon deliveries look like a game played in preschool, the conditions these behind-the-big-wheel daredevils endured could be downright terrifying.  
Although there are plenty of viewers who followed the series from its 2007 premiere until its final episode in 2017, some may not be aware of the show's actual origins. The public — and possibly documentary filmmakers — got a taste of the subject with the successful 1974 novel, "Denison's Ice Road." The novel, written by Edith Iglauer, focused on the life of ice road engineer, John Burton Denison. With very little to be found on the topic, this book was a look into the dangerous conditions of ice road trucking, leading to the exposure it needed to catch the attention of television producers. However, it wasn't until over 20 years after the release of "Denison's Ice Road," that the topic of this dangerous profession was portrayed for TV viewers to experience at home for the first time.
Ice Road Truckers was first part of a thrill-job series
Sometimes it takes just one quality episode or film to bring a unique subject matter to a mainstream audience. Surprisingly excellent documentary films like "Super Size Me" and "Catfish" both resulted in successful TV reality shows, exploring their content much further than the original productions did. The same goes for History's "Ice Road Truckers," which originally aired as a 46-minute piece back in 2000. AllGeekToMe reminds us that back then, History aired this one-off episode as part of a collection titled, "Suicide Missions," which brought these brave drivers to cable TV for the very first time. However, it wasn't simply the airing of this mini-documentary that led directly to the series we all know today.
Just like a fine wine, sometimes shows like "Ice Road Truckers" need to age until it's time to enjoy. In this case, despite being aired as part of "Suicide Missions" in 2000, "Ice Road Truckers" did not catch the attention of producers right away. Entertainment America explains that the one-time "Suicide Missions" episode was eventually re-aired as part of the "Modern Marvels" series on History, fetching very good ratings. The strong showing by the re-airing of the documentary triggered the network to develop a full series. History brought in Thom Beers, producer of "Deadliest Catch," to help develop the series. And what a decision that was.