House Of The Dragon Fans Are Hoping To See Rhaena Targaryen Draw Some Blood In Season 2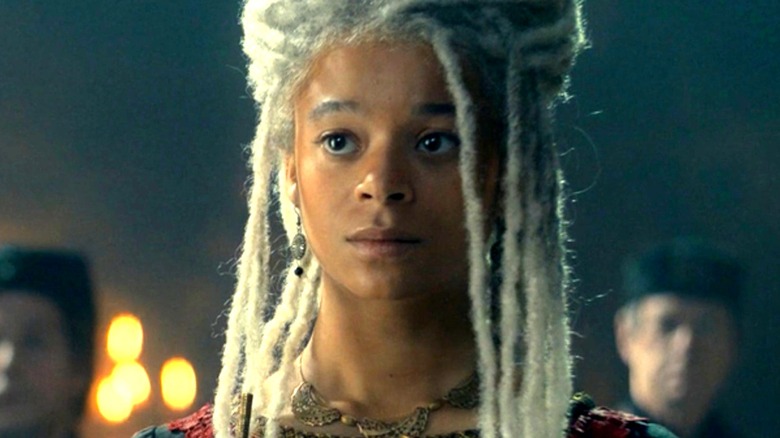 HBO
Throughout Season 1 of HBO's "House of the Dragon," we've watched the members of House Velaryon endure a myriad of tragedies, scandals, and bloodshed due to their association with House Targaryen, with the young Lady Rhaena Targaryen (Phoebe Campbell) suffering perhaps the most severe losses of all. The daughter of Daemon Targaryen (Matt Smith) and Laena Velaryon (Nanna Blondell), and the granddaughter to Lord Corlys Velaryon (Steve Toussaint), at a young age Rhaena watched her mother commit suicide by commanding her dragon, Vhagar, to burn her alive.
Following her mother's gruesome death, it was presumed that Vhagar (one of the oldest and most important dragons in Westeros' history) would pass to Rhaena — that is, until a young Aemond Targaryen (Ewan Mitchell) claimed Vhagar under the cover of night, effectively stealing Rhaena's birthright. As if that weren't enough, the finale of "House of the Dragon" Season 1 saw Aemond murdering Rhaena's fiancé, Prince Lucerys Velaryon (Elliot Grihualt), effectively scattering any plans she had for her future.
Even though Rhaena Targaryen has yet to show any desire for vengeance onscreen, fans online have made it clear that they want to see Rhaena Targaryen draw blood when she returns for Season 2.
Fans want to see Rhaena take revenge against the Greens and Aemond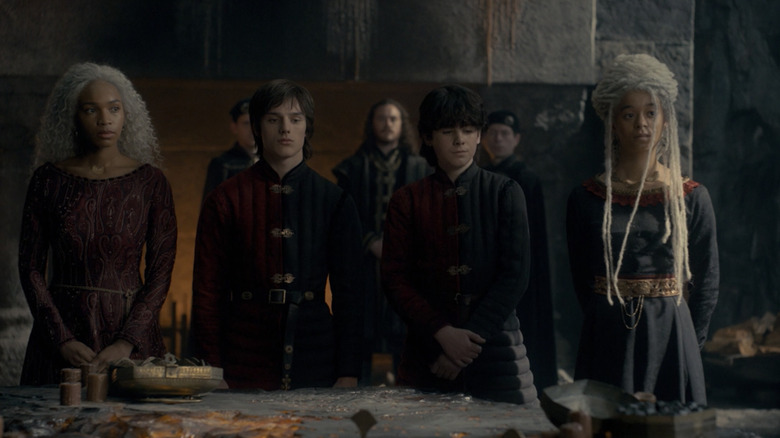 HBO
Following the shocking death of Lucerys Velaryon in the Season 1 finale of "House of the Dragon," several outraged fans took to social media to voice their desire for Rhaena Targaryen to take revenge against the Greens — and specifically against the murderous Aemond Targaryen. "That one eyed menace keeps stealing EVERYTHING FROM HER!" complained @easybakeoven622 on Twitter. "I need to see her draw blood." As of this writing, that tweet has garnered over 35,000 likes on Twitter, with plenty more fans chiming in to voice their support for a Rhaena Targaryen revenge tour.
"I just know little miss mommas is about to wreak havoc and I can't wait to see it," replied @XoticlyFoxy. "If she doesn't claim a ******* dragon next season imma be pissed," echoed @oswilu6." Although it's clear that there is plenty of support online for Rhaena Targaryen to take revenge for all that's been done to her, readers of "Fire and Blood" will know that this is somewhat unlikely — and that it will most likely be her elder sister, Baela Targaryen (Bethany Antonia), who will take the fight directly to the Greens.
In the books, Rhaena spends much of the civil war known as the "Dance of the Dragons" safely guarded in the Vale of Arryn, while Baela is often on the front lines fighting atop her dragon Moondancer (via A Wiki of Ice and Fire). That said, the series itself has not been shy about changing characters' fates from the novels, and it's entirely possible that we might see Rhaena Targaryen take her revenge during Season 2 of "House of the Dragon."