Hillary Clinton's 60 Minutes Interview In 1992 Caused Immense Regret For Many Involved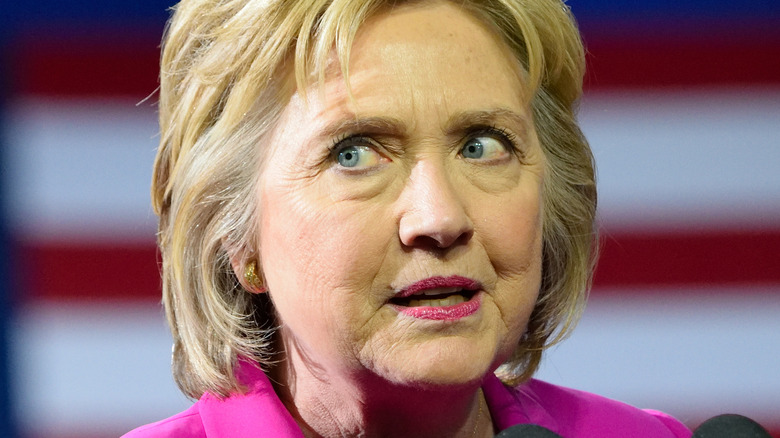 Evan El-Amin/Shutterstock
In 1992, Hillary Clinton sat next to her husband — future president Bill Clinton – on a hotel couch, speaking to Steve Kroft on "60 Minutes." At the time, Bill Clinton was the frontrunner for the Democratic presidential nomination, but he found himself the subject of misconduct allegations from multiple women. In this case, Clinton was facing allegations from Gennifer Flowers, who alleged the two had engaged in an affair (via Politico).
In a sharp, teal blazer, Hillary looked over at Bill, who was in the process of denying the allegation wholesale. Her expression was quizzical as if she were hearing his explanation for the first time. Then she cut in, saying of the women who had alleged relationships with her husband, "They've just been minding their own business and they got hit by a meteor. I mean, it's no fault of their own."
Clinton's rhetoric was a master class in redirection. In Hillary's framing of events, these women were still victims, but they were victims of the media, not of Bill Clinton. Her performance may well have saved her husband's presidential bid. As the Clinton campaign's communications director, George Stephanopoulos, wrote in his memoir, "We bet a whole campaign on a single interview." The strategy worked. Bill Clinton became the 42nd president of the United States, going on to be re-elected in 1996.
However, with all the focus on Bill Clinton, no one bothered to consider the long-term impacts of that fateful interview on the woman by his side. 
Clinton's introduction to America alienated her from the public
When pressed to give a firm denial of the affair, Hillary Clinton made a comment that would follow her for decades. "I'm not sitting here, some little woman, standing by my man like Tammy Wynette," Clinton said, referencing the country music singer. The impression of herself broadcast to the nation in that interview was of a woman independent enough to wear a business suit and disparage traditional gender roles via the Wynette comment, but not progressive enough to cut ties with a cheating husband. In other words, it alienated everyone and satisfied none.
Clinton never wanted to do the interview in the first place. Speaking to Politico, Clinton campaign advisor Patti Solis Doyle remarked, "Did she want to do that interview? Abso-frickin'-lutely not. That was survival. She was going to fight." Sure enough, while Democrats circled the wagons around their candidate and his spouse, Republicans took the offensive, with former president Richard Nixon remarking, "If the wife comes through as being too strong and too intelligent, it makes the husband look like a wimp" (via The New York Times). Jody Franklin, chief of staff on the Clinton campaign, later said of the "60 Minutes" interview and its aftermath, "I think this country wasn't ready for a professional, strong, highly competent, feminist first lady."