Black Adam's Jalon Christian Gushes About His Pivotal Role Opposite Dwayne 'The Rock' Johnson - Exclusive Interview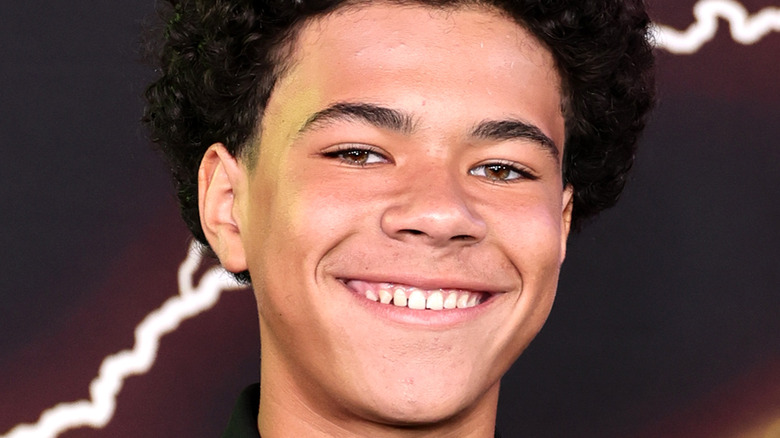 Jamie Mccarthy/Getty Images
Actor Jalon Christian's star has been on the rise since he kicked off his screen career in 2017 with the family adventure "Saving Christmas," followed by the comedy "Selfie Dad" and director Denzel Washington's drama "A Journal for Jordan." The latter of the three — released in 2021 — was particularly special for Christian in that he played the title role of Jordan in the poignant film, which is based on a true story. Making the role even more memorable for Christian was that he played the son of Michael B. Jordan's character, Charles, a soldier who pens life lessons in a journal for his son, Jordan, to follow in the wake of the father's tragic death while serving in the military in Iraq.
A year later, Christian is back with another high-profile film, "Black Adam," the long-awaited DC comic book movie starring Dwayne "The Rock" Johnson that conquered the box office in its opening weekend. Directed by Jaume Collet-Serra, "Black Adam" chronicles the origin of the DC antihero Teth-Adam (Johnson), who is awakened from his tomb 5,000 years after using his god-like powers for revenge and decimating the Egyptian-like nation of Kahndaq. Christian plays the key role of Hurut, a young boy in Kahndaq who makes a fateful choice during an uprising against the country's tyrannical ruler, King Ahk-Ton (Marwan Kenzari), which ultimately shapes Teth-Adam's destiny.
In an exclusive interview with Looper, Christian discusses his work on "Black Adam," the inspiring moments he experienced from Johnson on set, and the special words the global film star shared with him at the premiere.
Christian had no idea how pivotal his character's story was to the film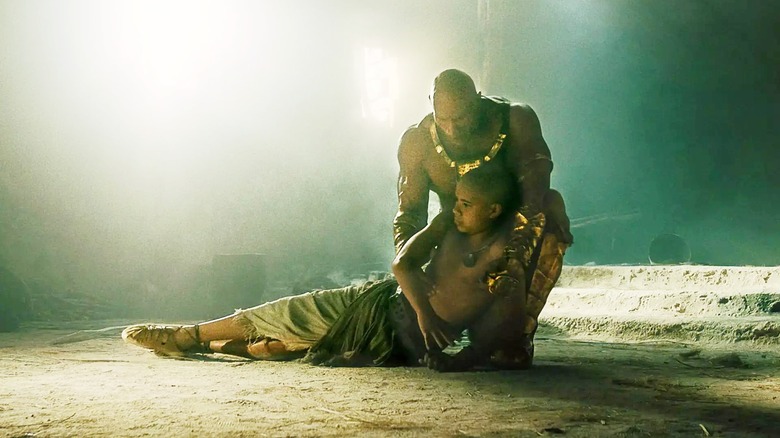 Warner Bros.
When you first auditioned to play Hurut in "Black Adam," did you have any idea how pivotal that role was going to be to the entire movie?
When I first auditioned, I didn't even know what the movie was, and when I found out it was "Black Adam," I still had no idea what the role would be. So to be graced with such an amazing and pivotal role was so honoring for me, and I'm so happy that I got to be such a big part of the movie.
When did you meet Dwayne Johnson about your role and the learn the significance of it?
The first time I met him was probably the third or fourth scene we were shooting. Since I hadn't really gotten to know him on a personal level, my first impression was, "Oh my gosh, he is so big!" He's such a massive person, but he's so sweet and so nice and funny and such a good actor, and I was so blessed to be able to work with him. ...
He was such an amazing soul. I could feel everything he did, he meant it, and I didn't feel an ounce of faking or anything. It was just who he was.
That really must help you up your game as an actor, in a way. Maybe you didn't even realize it at the time, but when you look at the film now, do you say, "Just being around the guy, his presence really got me amped up"?
Whenever I'd go to set, I always knew, "You got to bring it with everything." To be able to work with him and have his energy so high, we were both working off of each other. To be able to give each other so many moments definitely improved our performances.
Experiencing the movie magic of Black Adam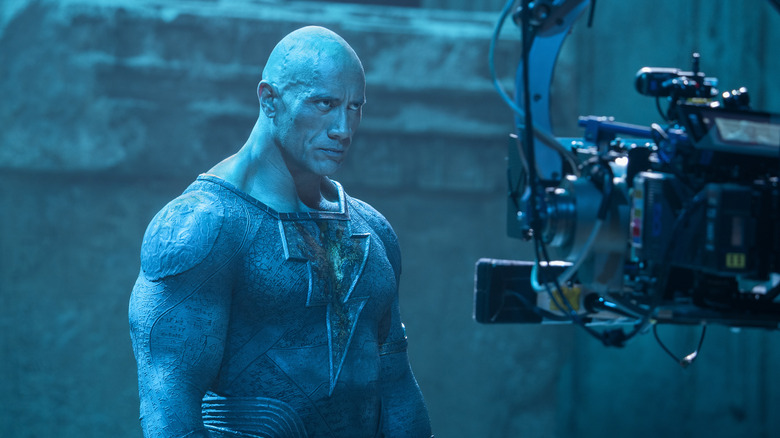 Warner Bros.
The interesting thing about most of your scenes together is the fact that he doesn't quite look like the Rock we know — but for a particular reason, which we come to learn. How did they pull that off, technically? He's a lot slimmer [than usual] in your initial scenes with him. ... Were there some motion capture suits involved?
I filmed most of my scenes with another actor, whose name is Benjamin [Patterson], and they would put white dots on his face to calibrate it. They would have him do the scene with me, then have The Rock do it so that they could calibrate The Rock's face onto his body before The Rock becomes Black Adam.
When you finally did get an opportunity to talk regular stuff with The Rock, did you seek out any career advice?
I didn't really ask for any advice, but I could observe it and get it from him. I would see [his process] even between takes. Certain times we would joke around and talk to each other, but there were also times where he was very into the character and in the moment. Some actors are very method and love to be in their characters at all times; some actors work a different way. To be able to observe his process definitely helped me be able to work on my performance.
Geeking out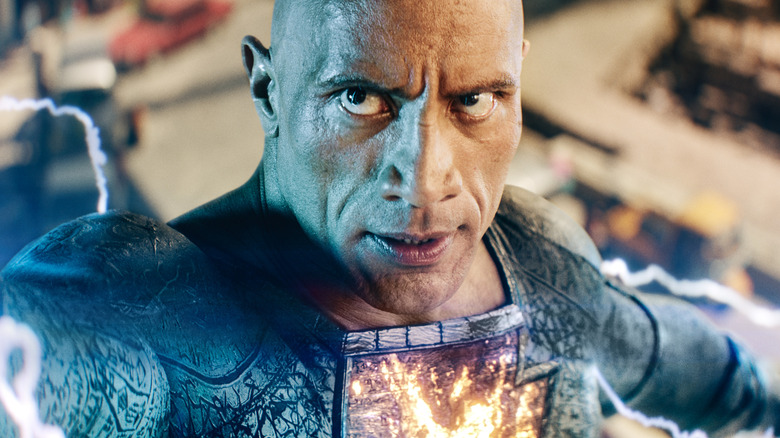 Warner Bros.
What about the geeking out factor? Did you geek out at all? Did you say, "Hey, man, I loved you in the 'Fast and Furious' movies, 'Red Notice'" ... anything that he's done?
When I first met him, I couldn't get out a full sentence between takes; I was so starstruck to be able to see him. The first sentence I probably said was, "Hey, I'm a huge fan of your movies. I'm so happy that I'm able to work with you." He was such a cool guy. I expected he would be, but he was all that and more.
On set, you never realize how things are going to look. A lot of it is imagination, especially when CGI is involved. And you're in that first scene. It's epic. It seems like thousands of people. The landscapes, the vistas are incredible; they're expansive. How much of that was real, [and] how [much of] that was CGI?
Most of it was real. The sand dunes — that whole shot was mostly real. The very, very beginning shot zooming in through the forest — I don't know how they did that, but from my experience working on [my scenes], they had actual sand dunes, and they were massive. And all the extras were real, to my knowledge. Most of it was real, but there were a few scenes where they did have CGI. To be able to be on a set with such huge, calibrated sets was so much fun.
Attending the surreal premiere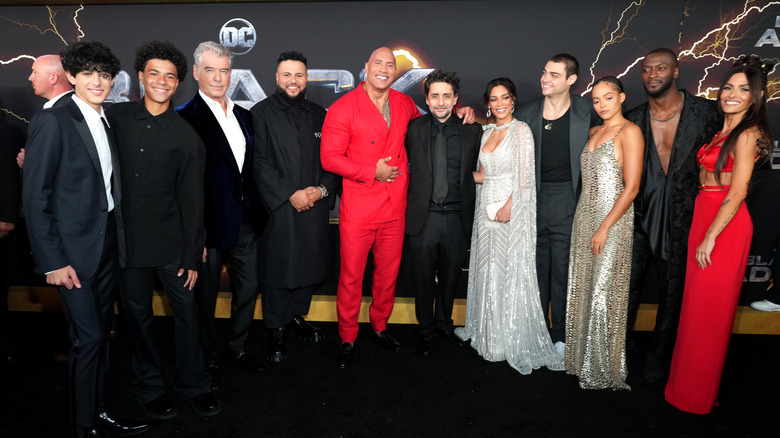 Kevin Mazur/Getty Images
I've caught some photos of you at the New York City premiere, and you're beaming with pride. It had to have been a ton of fun. Did you see the film for the first time at the premiere, and how exciting of an experience was that?
I saw it for the first time at the premiere, and I was so excited to finally see it. When we were sitting in the theater and the lights went down, my heart started racing because I was really excited to see what the audience's reactions would be, and I wanted to see how they put it together. It felt so amazing, and it was so much fun to watch because it's probably the best superhero movie I have seen in my entire life. To be a part of that is a dream come true.
You're not a stranger to the business and have been at other premieres, but this is next-level stuff now, isn't it? How surreal was it to be there with your peers?
To be at that premiere and [know] that they shut down the entirety of Times Square just for that premiere, and the amount of people that were there outside of the premiere, fans, was so, so surreal. To be a part of that, to be with them, the red carpet, the interviews, all of it was so much fun. The amount of people still shocks me because I only saw so many, but there were a few camera shots I saw after the actual premiere, and there were so many people there. It was so loud and fun, and everyone was having a great time.
Hanging out with The Rock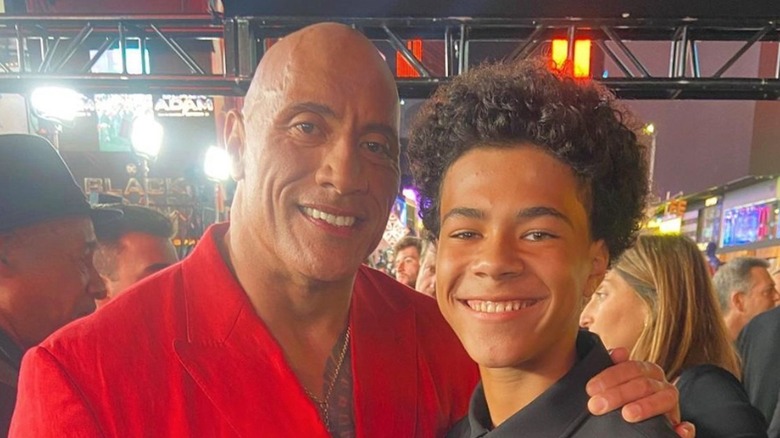 Meghann O'Brien
There are some great photos of you and The Rock together at the premiere. Is there anything that he said to you to make that evening that much more special?
When I first saw most of the actors, nobody recognized me — because I'm a bit taller now and I was bald [in the film] — until they found out my character. The Rock said to me, "Dude, you did a great job in the movie. I just want to thank you," and he went in for a hug. To hear that from him [knowing] how much work he's put into this movie and how long it's taken to get it on its feet, it felt so amazing to hear it from him. I was so grateful to be a part of that.
Since I am an action figure geek — and I know there are some very cool "Black Adam" action figures out there — you have to be hoping they produce one of Hurut that can go on your shelf. The story of "Black Adam" is rooted in your character, so there's got to be an action figure coming of you, right?
If I were to get a Hurut action figure, I would probably have a heart attack! It would be my dream come true to have a Hurut action figure. I'd probably buy 100 of them!
"Black Adam," also starring Pierce Brosnan, Aldis Hodge, Sarah Shahi, Quinessa Swindell, and Noah Centineo, is now in theaters.
This interview has been edited for clarity.