Captain Marvel May Be Making An Appearance In Avengers 4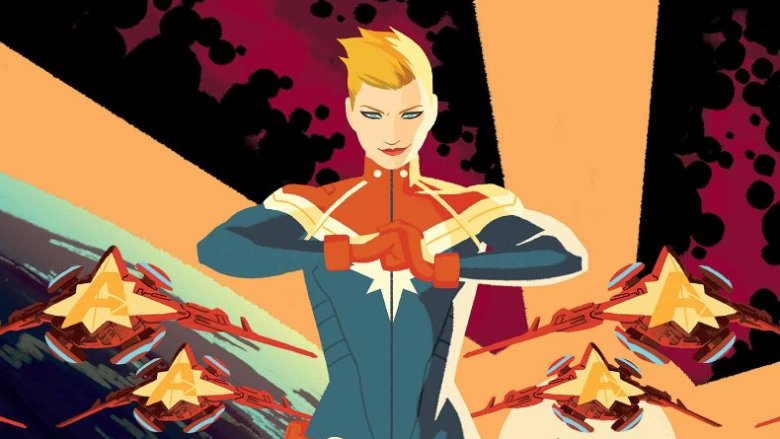 The Mighty Captain Marvel is set to make her cinematic debut next year, but according to the directors of the third and fourth Avengers movies, she might also be making an appearance as part of Marvel's massive team-up.
Joe and Anthony Russo, the Marvel directors who recently wrapped up filming on the yet-untitled fourth Avengers movie, took a break from the Sundance Film Festival in Park City, Utah to make a chummy appearance on the Happy Sad Confused podcast. While it goes without saying that the duo were unable to directly reveal any spoilers for their upcoming Avengers movies, they were kind enough to drop some major hints about the plot of their two pictures, and just who might be showing up in them.
From listening to the interview, it certainly sounds like Captain Marvel, aka the Air Force Captain Carol Danvers, will be making an appearance in the fourth Avengers movie as part of a time-travel plot following the events of Avengers: Infinity War.
While the directors never went right out and confirmed anything, they did leave more than enough hints between the lines to make a Carol Danvers appearance in at least one of the upcoming Avengers sequels seem highly likely. 
"We may be depicting Carol Danvers," said Anthony Russo, correcting host Josh Horowitz who introduced the idea as a given. "It's interesting when you get to play with characters in this universe, because you are dealing with actors who have been playing parts for almost a decade. It's interesting to bring new energy into the mix, especially when you're doing this massive mosaic of a story. There will be massive surprises in these stories, we won't confirm or deny, but there's certainly going to be some curveballs thrown at the audience."
The podcast conversation largely danced around set photos that recently emerged of Brie Larson, Danvers' actress, strolling around on a film set in Atlanta. Some reports have suggested that she was on set shooting for her own movie, an idea bolstered by a reported sighting of Captain Marvel co-director Ryan Fleck. Other commentators, however, picked up on the fact that Captain Marvel's production will be set in California, not Georgia, where the Avengers sequels were filmed. Additionally, in the past, directors for future Marvel projects have been known to show up on other movies' productions for the sake of shooting the post-credit scenes that tease their upcoming films.
Additionally, Samuel L. Jackson and Cobie Smulders were spotted on set as well, and while Jackson is reportedly appearing in Captain Marvel, it also stands to reason that he and Maria Hill would show up in the fourth Avengers movie. In fact, it seems more likely that Maria Hill would appear in an Avengers sequel than Captain Marvel, especially since the timeline would suggest the character would be a young kid at the time Captain Marvel is set. 
More evidence for Captain Marvel appearing in at least Avengers 4 revolves around what the sequel is allegedly about. While never outright saying it, the directors did allude to a rumored time travel plot during the interview, which would be a sensible way for Carol to enter the narrative, perhaps being sought out by Avengers from the future who need her help to challenge Thanos. (Carol's own movie is set to take place in the 1990s.)
Joe Russo has already flatly stated that Carol Danvers will not be making an appearance in Avengers: Infinity War, which would probably be for the best, considering the overstuffed roster we already have to deal with in that movie. If Infinity War were to, theoretically, make some room in its massive cast by doing away with a few heroes, it would clear the way for newcomers like Carol to make their first appearances. If she enters the narrative thanks to time travel, it may help to explain why she wasn't part of the fight to begin with. And if the Avengers were to be soundly defeated and even killed by Thanos in Infinity War, time travel could be the only way the surviving members of the team can get a second shot.
Ultimately, we're not going to find out about this stuff for sure until the movies are out in theaters, and the first piece of the puzzle is falling into place soon. 
Avengers: Infinity War will be out in theaters in the US on May 4, with Captain Marvel following on March 8, 2019. The untitled fourth Avengers movie is set for release on May 3, 2019. Check out the Infinity War trailer here, or listen to the Russos talk Avengers 3 and 4 on their Happy Sad Confused appearance here.