Where You've Seen The Cast Of Ticket To Paradise Before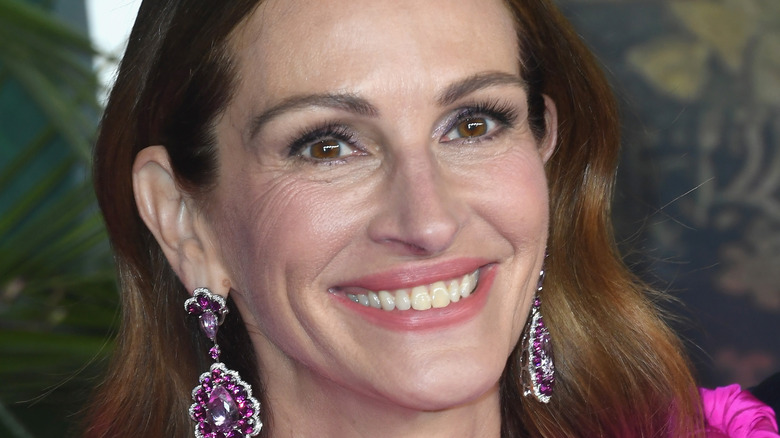 Albert L. Ortega/Getty Images
While seeing their son or daughter get married is one of the happiest days of many parents' lives, it's an occasion marked with far less joyful feelings for others. That's exactly the situation that divorced couple David (George Clooney) and Georgia (Julia Roberts) find themselves in after they learn that their daughter Lily (Kaitlyn Dever) is on the verge of getting married. They haven't even given her boyfriend Gede (Maxime Bouttier) a chance yet, but feeling that their daughter is too young to get married — and looking back on their own rocky past — the pair decide to try and sabotage the wedding. What the two don't expect, however, is just how much easier said than done their mission is. Nor do they predict that their own relationship might see a few changes of its own.
"Ticket to Paradise" is the latest release from feel-good director Ol Parker. In addition to the aforementioned stars, the quirky comedy finds room for plenty of other talented actors and actresses sprinkled throughout, some of which have acting histories that might surprise you. Let's look back at some of the most memorable films and television shows that the cast of "Ticket to Paradise" have been in.
George Clooney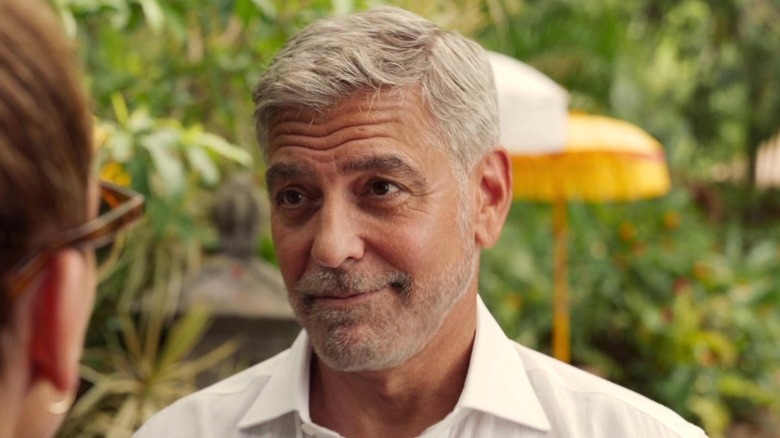 Universal Pictures
Superstar George Clooney has been in quite a few motion pictures and television series over the years in his well-established Hollywood career. The Kentucky-born actor made his very first appearance as an extra in the 1978 television miniseries "Centennial," but it would be another 15 years before he landed his first major role as Dr. Doug Ross on the long-running medical drama "ER." Soon after, he appeared alongside director Quentin Tarantino in the 1996 horror film "From Dusk Till Dawn" as bank robber Seth Gecko. Other major roles throughout the late '90s included his starring role as the Dark Knight in "Batman and Robin," as well as Jack Foley in "Out of Sight" and Captain Bosche in "The Thin Red Line."
Moving on to the 2000s, Clooney enjoyed some of his best roles to date. His role as Ulysses in the well-received "O Brother, Where Art Thou?" got the decade off to a great start, which was made even better with the lead role in perhaps his best film to date, "Ocean's Eleven." By now, Clooney was at a point in his career that afforded him frequent lead roles, as evidenced by his powerful title performance in "Michael Clayton." Clooney's storied filmography also included a lead voice in 2009's "Fantastic Mr. Fox" and, in the 2010s, the sympathetic Matt King in "The Descendants." More recently, performances in "Gravity," "The Ides of March," and "The Midnight Sky" have rounded out Clooney's extensive list of roles.
Julia Roberts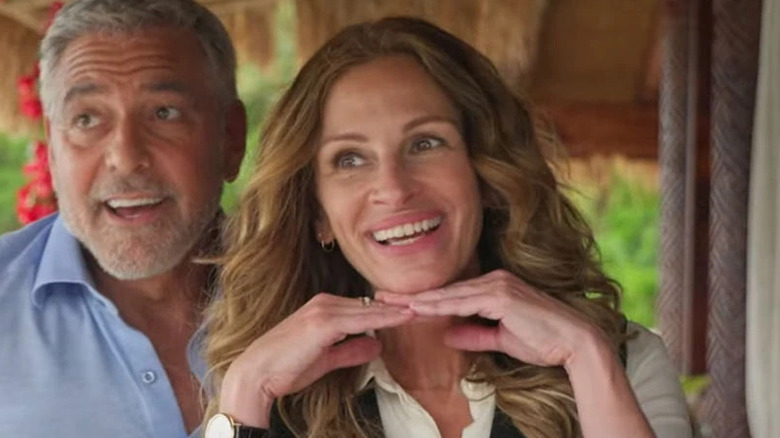 Universal Pictures
Appearing alongside her "Ocean's Eleven" co-star George Clooney in "Ticket to Paradise," Julia Roberts is perhaps the only star in this one to have a filmography rivaling his. Like Clooney, she got her first screen role in a short-lived television series, this one titled "Crime Story," before moving on to bigger and brighter things. Roberts' first role worth remembering was in a rom-com from 1988 titled "Mystic Pizza," in which she starred as the fun-loving Daisy Araújo. She was cast soon after in "Steel Magnolias" as Shelby Latcherie, in a role that persists as one of her best even now, before finally getting her breakout role in "Pretty Woman" just a year later.
Roberts departed from more lighthearted fare and delved into horror immediately afterward, portraying the lead role of Dr. Rachel Mannus in Joel Schuumaker's 1990 cult favorite "Flatliners." The '90s saw her cast in such films as "Hook," "Michael Collins," and "My Best Friend's Wedding," before closing out the decade with a great performance in "Notting Hill" as famous actress Anna Scott.
The turn of the millennium marked a shift, with Roberts taking on some more serious roles in films like 2000's "Erin Brokovich" and 2004's "Closer, and winning a Best Actress Oscar for the former. More recently, Roberts has proven she can tackle some of the most hard-hitting films of her career, with standouts "Wonder" and "The Normal Heart" proving that there's no project too difficult for this accomplished actress to shine in.
Kaitlyn Dever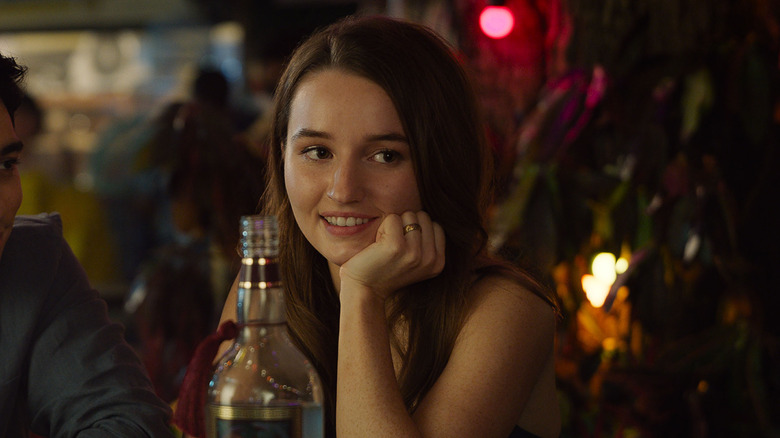 Universal Pictures
Portraying Lily, David and Georgia's daughter — and cause of their newfound grief — in "Ticket to Paradise" is Kaitlyn Dever, who's had a pretty accomplished career for such a young actress. She first appeared as Gwen Thompson in the TV movie "An American Girl: Chrissa Stands Strong." Afterwards, she enjoyed several one-off TV appearances in shows like "Make it or Break It," "Party Down," and even an episode of the incredibly popular sitcom "Modern Family," as Bianca Douglas.
It took a little while for Dever to truly take off on the big screen, as most of her efforts in the 2010s saw her land supporting parts in films like Clint Eastwood's "J. Edgar," as well as "Short Term 12," "Detroit," and "Beautiful Boy." It wouldn't be until 2019 that her most recognizable movie to date finally hit theaters, with her portrayal of Amy Antsler in the comedy "Booksmart" becoming a career highlight.
Going back to television, Dever is perhaps best known for her time as Eve Baxter on the sitcom "Last Man Standing," as well as her portrayal of Marie Adler in the true crime limited series "Unbelievable." Additionally, she played Loretta McCready on the hit crime drama "Justified," and was nominated for an Emmy and a Golden Globe for her work in the acclaimed opioid crisis drama "Dopesick." Although she's already got quite a list of performances under her belt for such a relatively young actor, Dever is likely to have plenty more memorable roles to look forward to in the future.
Billie Lourd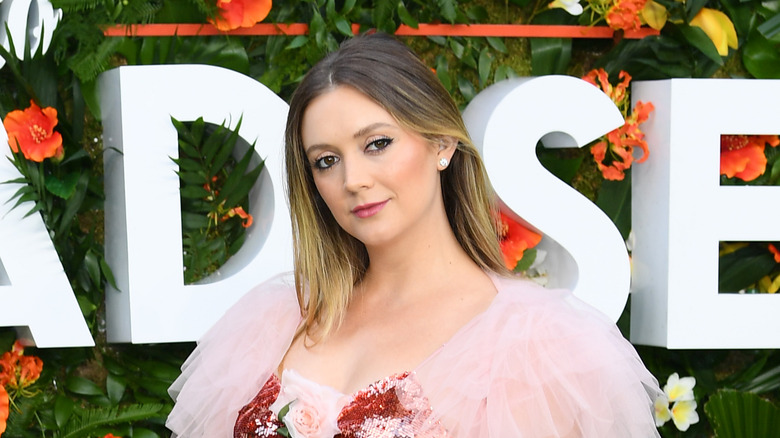 Joe Maher/Getty Images
"Ticket to Paradise," in which she portrays Lily's best friend and maid of honor Wren Butler, is actress Billie Lourd's first foray into rom-com territory. Though it's Lily's romance that's at the center of the movie, Wren serves as a worthy supporting character that we wish we could have seen a little bit more of. Though her acting career is still in its early years, Lourd came onto the scene in a big way back in 2015 with her role in "Star Wars: The Force Awakens." Portraying Resistance lieutenant Kaydel Connix, she made further appearances throughout the sequel trilogy in "Star Wars: The Last Jedi" and "Star Wars: The Rise of Skywalker." Being that she is also the daughter of none other than late, beloved "Star Wars" legend Carrie Fisher, it certainly seemed that both performing and "Star Wars" were in her blood.
Recent space operas aren't the only thing on Lourd's resume. On television, she's appeared in roles such as Chanel #3 on "Scream Queens," as well as various characters on the ever-popular series "American Horror Story," including Winter Anderson, Mallory, Montana Duke, Lark Feldman, and Dr. Hannah Wells. She also appeared in the 2018 crime drama "Billionaire Boys Club" as Rosanna Ricci, and even had a supporting role alongside Kaitlyn Dever in "Booksmart" as Jared's party-loving friend Gigi.
Maxime Bouttier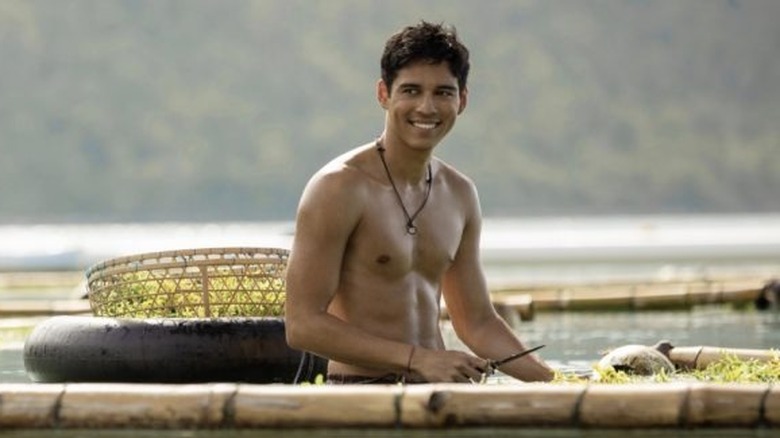 Universal Pictures
Playing Lily's love interest Gede in "Ticket to Paradise," French-born Indonesian actor Maxime Bouttier has stayed within the Indonesian market for the majority of his acting career, making it likely that few of his past works will be instantly recognized by casual film fans. Nonetheless, with "Ticket to Paradise" being his first internationally released romantic comedy, that likely won't stay true for much longer.
Bouttier started his career back in 2013 as Oliver in the romantic drama "Refrain," before quickly switching things up and giving the genre of horror a try with "After School Horror" and "Kamar 207." Further roles included the lead in "Dilarang Masuk!," Vino in "Meet Me After Sunset," and Matthew in "Matt and Mou." On the television side, he's best known for portraying Abi and Rangga in the series "Rewrite" and "Unknown," respectively.
Perhaps returning to his early horror roots, Bouttier even tried his hand at directing with the 2019 horror flick "Kain Kafan Hitam," in which he also starred as Bimo. Since his career as an actor is only now receiving worldwide attention, we'll be interested to see what the future has in store for him.
Lucas Bravo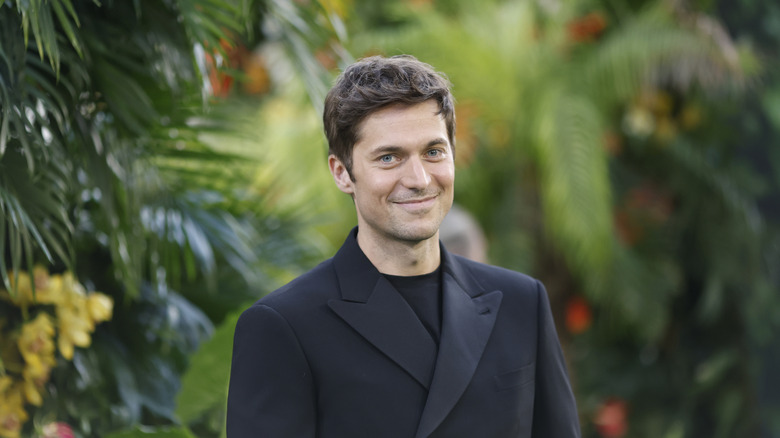 John Phillips/Getty Images
Portraying Georgia's younger boyfriend Paul in "Ticket to Paradise" and a relative unknown until now, Lucas Bravo has one of the smaller filmographies in the cast. The French-born actor has been seen in a number of short films over the years, with a short titled "Subtitles" marking his first onscreen appearance back in 2013. Soon after, he was cast in the French comedy "La Crème de la crème" as supporting character Antoine. Other appearances include an episode of the long-running French series "Plus belle la vie," as well as other short films over the years such as "Cracs," "Iwaa," "Beautiful Injuries," and "Fantasma."
But Bravo is easily most recognizable to audiences now from his major role in the Netflix rom-com series, "Emily in Paris." He plays Gabriel, a restaurant worker and the object of Emily's unrequited affection. On the big screen, he portrayed André Fauvel, the accountant for fashion house Dior in the 2022 film "Mrs. Harris Goes to Paris." With those recent experiences, it becomes pretty clear why he was chosen to play Paul in "Ticket to Paradise."
Ling Cooper Tang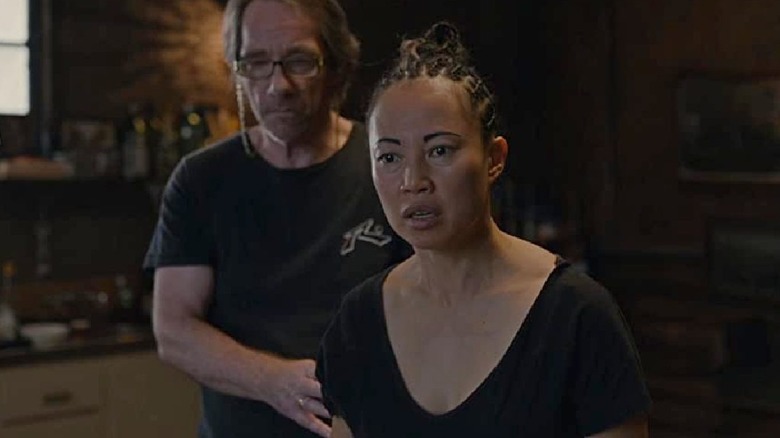 Sundance Channel
Appearing in a bit role as an auctioneer in "Ticket to Paradise," actress Ling Cooper Tang has a long history when it comes to TV appearances, going back to the late '90s. Some early and less noteworthy titles include performances in "Big Sky," "Fallen Angels," and the Australian series "Breakers." In 1999, she would begin acting in her longest-running role to date as Dr. Kylie Preece on the medical drama "All Saints," appearing in an impressive 89 episodes. Other recurring roles worth mentioning include KC on the small town drama "Fireflies," Mei Lin Blake on "The Doctor Blake Mysteries," and Sergeant Carrie Hench in the ongoing series "Troppo."
Though TV is where most of her experience has been, Tang has also been in a handful of films over the years, starting off with a bit role in "Strange Planet" as Verna. Years later, she would portray an unnamed reporter in Nicolas Cage's divisive "Ghost Rider" and most recently took on a supporting role in the heartwarming "Sit. Stay. Love." She'll also be seen in the upcoming adventure series "Nautilus," based on Jules Verne's classic novel "20,000 Leagues Under the Sea."
Sean Lynch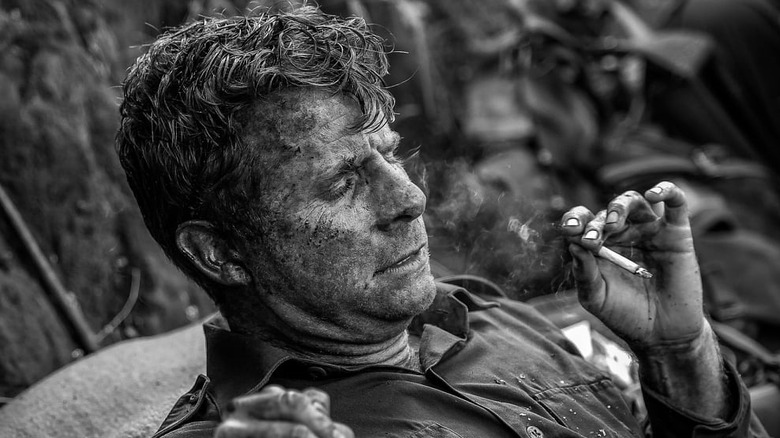 Transmission Films
Before playing Rob in "Ticket to Paradise," actor Sean Lynch had brought various characters to life across his 30-year career. Early projects included a supporting role as Jaco in the grim sci-fi film "Habitat," as well as a brief stint on the long-running soap opera "Shortland Street," which follows the goings-on at a New Zealand hospital.
Some later appearances included an episode of "All Saints" as Darcy Thompson, as well as minor roles in films in "Cedar Boys." Some of the most memorable entries in Lynch's filmography have surfaced over the past few years, however, as the actor portrayed characters like Popeye in Mel Gibson's gritty war film "Hacksaw Ridge," Martin in the 2021 horror film "The Possessed," and a British soldier in "Pirates of the Caribbean: Dead Men Tell No Tales."
While not known for many major roles, Lynch's talents as an actor have been enough to grant him appearances in some surprisingly memorable films over the years, with more likely to come.
Arielle Carver-O'Neill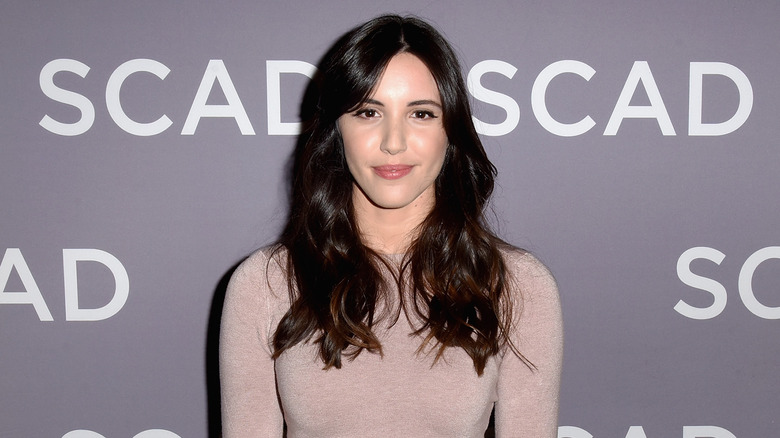 Vivien Killilea/Getty Images
Australian actress Arielle Carver-O'Neill plays the character of Kimberly in "Ticket to Paradise." Known best as a TV actor, the rom-com marks only her second outing on the big screen, with the first being an unnamed role in 2014's sci-fi thriller "Predestination."
With a career just over a decade in the making, Carver-O'Neill has already been a part of some pretty memorable shows. She got her start in 2011 on an episode of Australian soap opera "Neighbors," before playing Tamara in a handful of episodes on the crime drama "Conspiracy 365." Not long after, she portrayed characters like Sloane Valiquette in the series "Suburbs," Samantha King in the teen series "Worst Year of my Life, Again!" and, perhaps most noteworthy, Brandy Barr in the hit series "Ash vs. Evil Dead." Carver-O'Neill doesn't appear to have worked very much since her time on "Ash vs. Evil Dead," a hiatus that was finally ended by her performance in "Ticket to Paradise."
Romy Poulier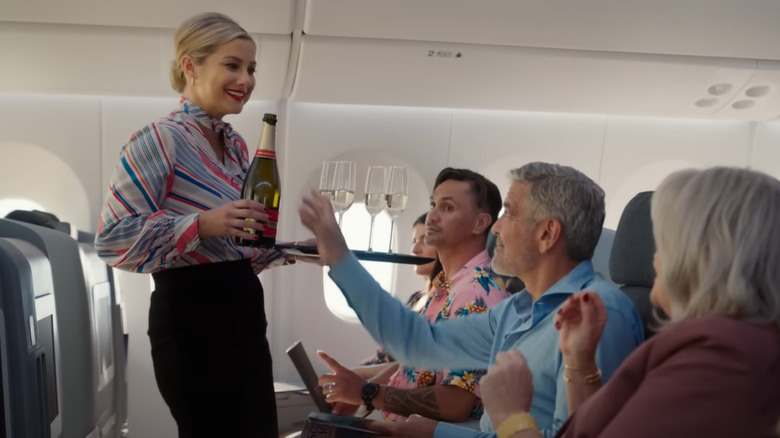 Youtube/Universal Pictures
With a brief cameo in "Ticket to Paradise" as a flight attendant, Romy Poulier makes just her third feature film appearance in the 2022 rom-com. After debuting in the small role of Chickenwing in the Australian horror film "Beast No More," she went on to appear in "The Possessed" — alongside fellow "Ticket to Paradise" cast member Sean Lynch — before boarding "Ticket to Paradise" for her Hollywood feature debut.
Even though Poulier's film career is relatively small, the Australian actress has made a few appearances on television over the past decade as well. A one-off appearance on Aussie police series "The Strip" got it all started in 2008, and was later followed by regular appearances as Gemma on "The Elephant Princess," which told the story of one girl's journey to the throne in the fantasy land of Manjipoor. A few less memorable TV roles followed, with the actress appearing in the short-lived 2011 sci-fi series "Terra Nova" and a single episode of "Home and Away."
Francis McMahon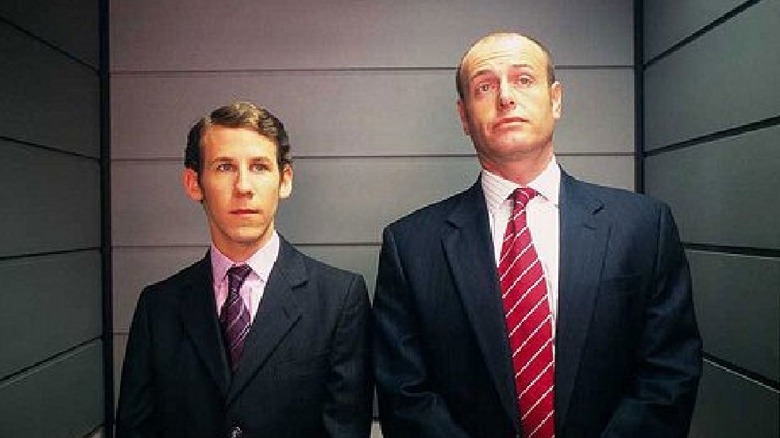 Moviehouse Entertainment
Playing an unnamed artist in "Ticket to Paradise," Francis McMahon launched his career back in 2001 with a small role in the Australian made-for-TV drama "My Brother Jack." With less than two dozen film and television credits on his resume, it might be tricky for all but the most devoted cinephiles to pick out McMahon from one title to another. Nonetheless, here's a quick look at everything he's done so far.
In the years that followed "My Brother Jack," McMahon tackled some of the roles that are still among his most important, including Anton in the 2003 comedy "The Rage in Placid Lake." It was just his second film role two years earlier, as Dirk in "He Died with a Felafel in His Hand," that became his most memorable, however. The unique film follows the character of Daniel Kirkhope (Noah Taylor) as he navigates the tiresome life of sharing various apartments with new roommates throughout Australia. McMahon had a small but important part, playing one of Daniel's roommates in his third and final apartment. McMahon later took on parts such as the lead in "The Life o'Simon," Governor Philip in the period comedy "Bruce," and John Morris in "Troppo."
Dorian Djoudi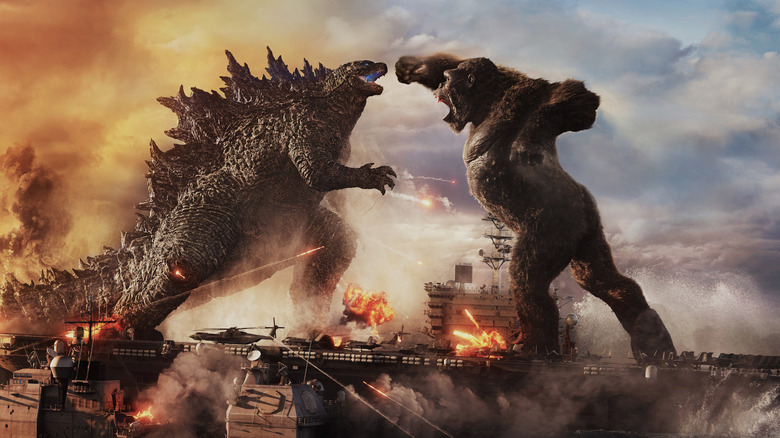 Universal Pictures
Dorian Djoudi makes just his second film appearance as an actor with the minor role of Komang in "Ticket to Paradise." That might be a bit misleading, however, as in truth he's been in more films than you might expect — just not as a thespian. 
The professional stuntman, camera operator, and stunt rigger has worked behind the camera in the lighting deparment on films like "Thor: Ragnarok," "Pacific Rim: Uprising," and even "Aquaman." He's been a stunt performer or rigger for shows like "Reef Break" and "The Witcher," while also working as a stunt performer or diver in films such as "The Shallows" and "Godzilla vs. Kong." He's doing more of the same for the upcoming Disney+ series "Nautilus," based on "20,000 Leagues Under the Sea." His face might not be front and center on camera, but he's the type of guy that gets called in to do the crazy stuff that the actors can't.