What The Cast Of Notting Hill Is Doing Today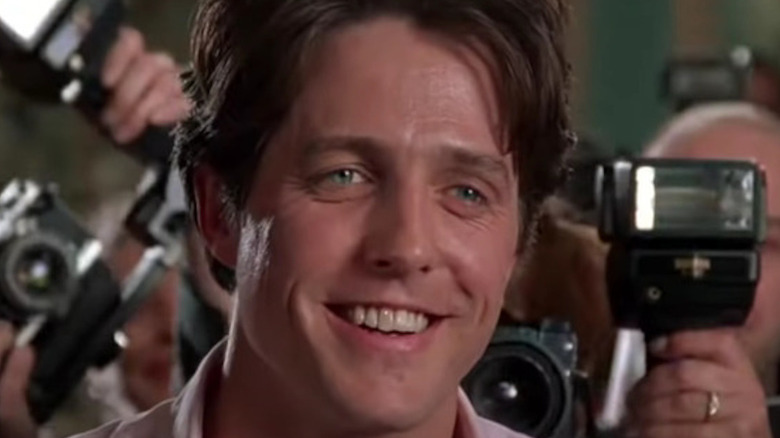 Universal Pictures
From the late '90s through the 2000s, there may have been more romantic comedies produced than at any other period in filmmaking history. That said, the sheer frequency of duds was something to behold. When Rotten Tomatoes ranked the worst rom-coms of all time, seven of the top 10 (and 17 of 30) were films released from 1997 to 2007. However, 1999's "Notting Hill" not only bucked the trend — it became an all-time classic of the sub-genre.
In the film, a bookshop owner, Will Thacker (Hugh Grant), from the titular West London district, has a meet-cute with the most famous actress in Hollywood, Anna Scott (Julia Roberts), while she's in England filming a movie. What begins as a chance encounter at the former's shop, followed by the two bumping into each other again on the street — and Anna getting dowsed with Will's orange juice — unfolds in hilarious fashion as an unlikely romance.
But "Notting Hill," formulaic though it may be, is hardly a by-the-numbers rom-com in comparison to what was coming out at the time. Wrote Roger Ebert in his three-star review of the film: "There are moments of truth in the middle of this comedy that bring the audience to that kind of hushed silence you get when truths are told."
One of the most memorable aspects of the lauded film was its characters, which were buoyed by the collective performance of an incredible cast. Here is what the members of that cast are doing today.
Julia Roberts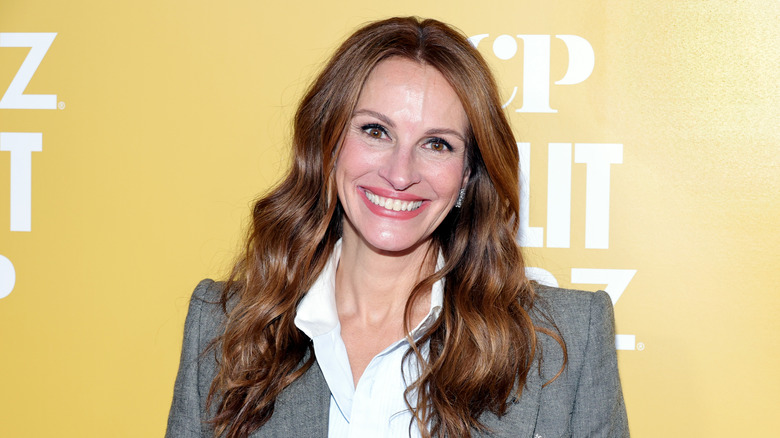 Theo Wargo/Getty Images
The crossover between Anna and the actress who played her is as impossible to ignore now as it was then; Roger Ebert referred to the former, quite intentionally, as "the Julia Roberts character" in his review. There's no doubting that this played a role in the film's incredible reception — by the time she did "Notting Hill," Roberts was already America's sweetheart, having owned the screen in "Pretty Woman," "My Best Friend's Wedding" and "The Pelican Brief."
Of course, the Academy Award-winning actress didn't rest on her laurels after making us swoon alongside Grant. "Runaway Bride," "Erin Brockovich" and "Ocean's Eleven & Twelve" weren't far behind "Notting Hill," and she continued to be a bona fide leading lady until 2018 when she decided to take an extended break from show business (via The New York Times). However, 2022 has ushered in something of a Julia Renaissance.
Her first full-length motion picture release in four years, "Ticket to Paradise" — co-starring George Clooney and Billie Lourd — is slated for an October '22 theatrical release. Meanwhile, her Starz series, "Gaslit" — which tackles the Watergate scandal through a modern lens– just aired its first season finale. 
Hugh Grant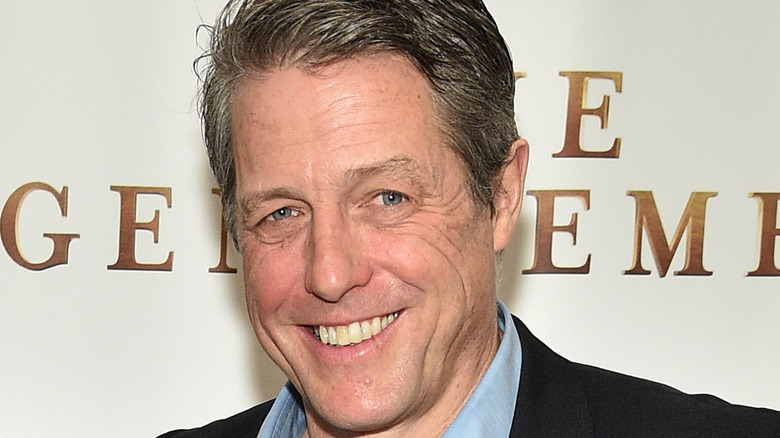 Theo Wargo/Getty Images
Critic James King has credited "Notting Hill" as the film that made Julia Roberts and Hugh Grant the "Queen and King of rom-coms," and with that in mind, the film is far from Grant's only hit in the sub-genre. Before starring in that film, he also delivered the goods in "Four Weddings and a Funeral," "Nine Months" and "Micky Blue Eyes." And he remained on his throne for years to come, whether he was playing the lout in the "Bridget Jones" series or showing up as a historically rad prime minister in "Love Actually."
As the years have gone by, though, the Golden Globe winner has broken away from his rom-com roots to show off his underrated range as a thespian. In 2012's "Cloud Atlas," he played no less than six different characters, one of which was the terrifying chief of the cannibalistic Kona tribe in a post-apocalyptic future. In 2017, he was the villain who framed the titular bear in "Paddington 2."
More recently, he was aged up slightly to portray academic Tennyson Foss in the Netflix mockumentary specials, "Death to 2020" and "Death to 2021," in which characters cracked wise about things like the COVID-19 pandemic, the U.S. presidential election, and big tech. He also has the Guy Ritchie-directed "Operation Fortune: Ruse de Guerre" in the can.
Rhys Ifans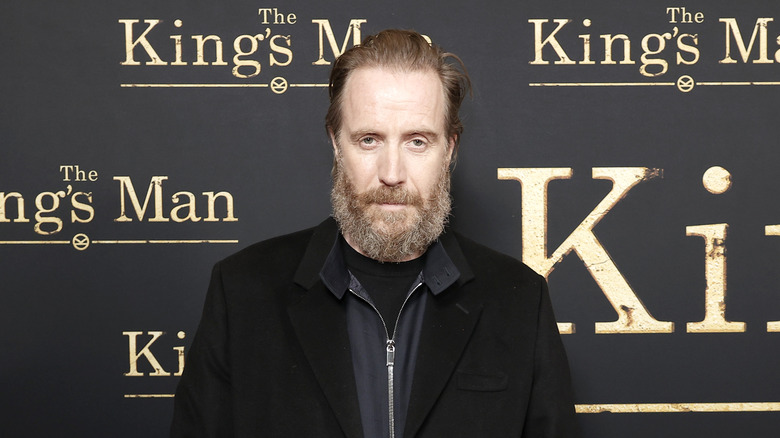 Arturo Holmes/Getty Images
Any rom-com worth its salt has to have a goofy sidekick or quirky best friend to add comic relief and help ensure that our romantic leads hit a plot point or two along the way; in "Notting Hill," that job fell to Rhys Ifans. The Welsh star played the wild roommate, Spike, who stole scenes with his one-liners and famously posed in his skivvies for the paparazzi who were hounding Will and Anna.
Although his credits span genres, screens big and small and even the stage, younger audiences, bookworms, and geeks may know him best for his work as Xenophilius Lovegood (dad to Luna) in 2010's "Harry Potter and the Deathly Hallows –- Part 1," in which he and Evanna Lynch performed the strangest tandem, daddy-daughter dance you'll likely see.
In 2021, Ifans made his second appearance as the Lizard in "Spider-Man: No Way Home," following up on the Andrew Garfield-starring "The Amazing Spider-Man" nine years earlier. More recently, he acted as Grigori Rasputin in Mathew Vaughn's "The King's Man."
Gina McKee & Tim McInnerny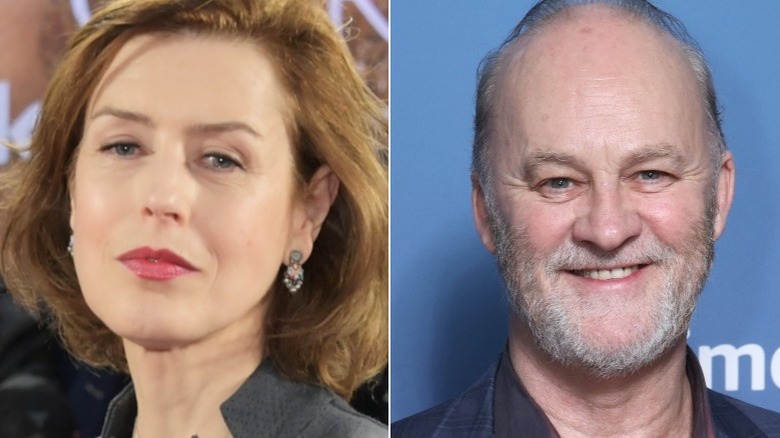 David M. Benett & Tim P. Whitby/Getty
While Anna's "I'm just a girl, standing in front of a boy, asking him to love her," plea and Will asking her to forgive him before a gaggle of reporters at a press conference definitely tugged at some heartstrings, one could argue that the sweetest moment in the film actually occurred between two side characters. 
When Will realizes he needs to get across town to profess his love to Anna, he enlists his best friend Max (Tim McInnerny) to drive him. Upon realizing that his wheelchair-bound wife, Bella (Gina McKee), isn't coming along for the ride, though — Max stops everything and carries her out into the car so they can share in Will's big moment together.
For his part, McInnerny — who famously portrayed Lord Percy Percy and Captain Darling in the iconic BBC One comedy series "Blackadder" – appeared as Simon Gould in the Amazon Prime series "Ten Percent," which debuted in 2022 and chronicles the wacky goings-on at a London-based talent agency. McKee, meanwhile, will star with Harry Styles in "My Policeman" — the story of a police officer in the 1950s who marries a female schoolteacher while having a gay relationship with a museum curator.
Hugh Bonneville & Richard McCabe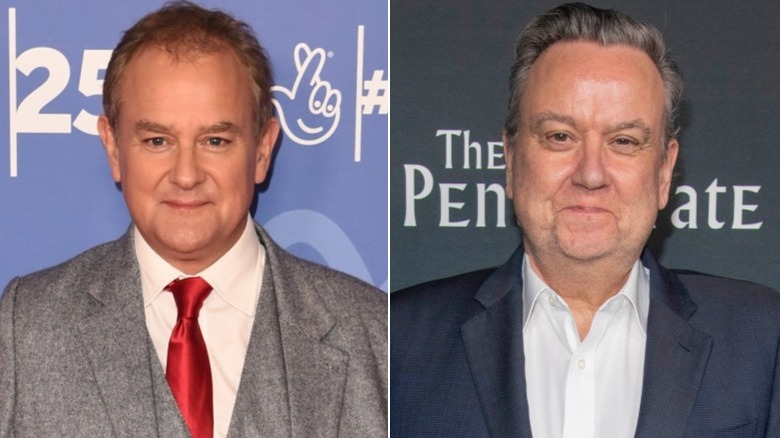 Featureflash Photo Agency & Eugene Powers/Shutterstock
One of the more memorable moments from "Notting Hill" is the dinner party scene where Will introduces Anna to his closest friends. Unsurprisingly, they're floored by the fact that he's somehow managed to snag a Hollywood A-lister after a lifetime of romantic failures. Hugh Bonneville's Bernie is the lone exception. A Square Mile man through and through, Bernie doesn't quite understand the gravity of the situation until he asks Anna how much she was paid for her last picture and she responds, "$15 million."
Although he was already a veteran of British TV by the time he landed "Notting Hill," the film was actually one of Bonneville's first big-screen ventures. Since then, though, he has appeared in a veritable bonanza of movies, including "The Monuments Men," both "Paddington" films, and "Breathe." However, he is perhaps best known for his work as Robert Crawley, Earl of Grantham in "Downton Abbey," which just made its big-screen return in 2022 with "A New Era."
Richard McCabe, meanwhile, played Tony — an architect turned restaurateur and another of Will's friends — who, at the beginning of the film, is coming to grips with the closure of his eatery. By the end of the film, though, he's seen putting the finishing touches on Anna and Will's incredible wedding cake. McCabe most recently appeared as Exalted Pikeman Higgins in the Mike Myers Netflix series, "The Pentaverate," which was inspired by conspiracy theories mentioned in his 1993 movie, "So I Married an Axe Murder."
Alec Baldwin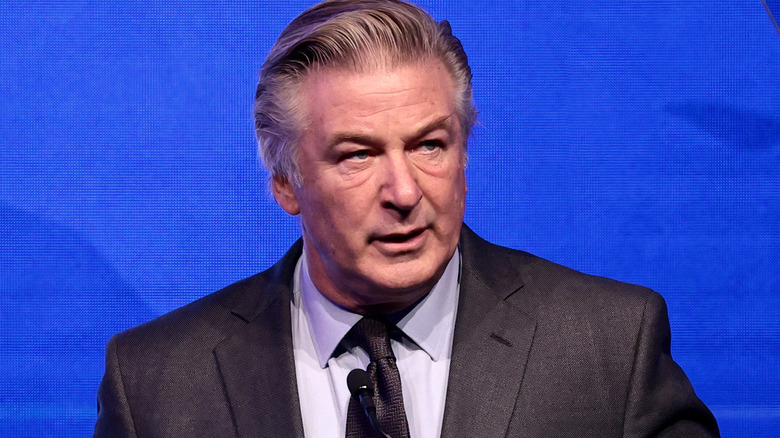 Dimitrios Kambouris/Getty Images
Alec Baldwin's actual screen time in "Notting Hill" is sparse, but the star of films like "Beetlejuice," "The Hunt for the Red October," "Along Came Polly," and the "Mission: Impossible" series plays a pivotal role from a story standpoint. Baldwin appears as Jeff King, Anna's movie star boyfriend, who all but pushes her into Will's waiting arms with his bad behavior, which had reduced the two of them to tabloid fodder.
In real life, Baldwin — who won two Emmy Awards for his efforts on "30 Rock" — found himself embroiled in controversy of a different kind when, in October of 2021, he discharged a prop revolver on the set of the forthcoming Western, "Rust." The shot resulted in the accidental death of the film's cinematographer, Halyna Hutchins, who was just 42 years old at the time. Director Joel Souza was also injured as a result of the fired shot, and production on the film was suspended indefinitely.
Three months later, Baldwin returned to work on the Timo Vuorensola film "97 Minutes," which he described as a "strange" experience, as noted by The Hollywood Reporter.