Quintessa Swindell Drew Major Inspiration From Star Wars When Playing Cyclone In Black Adam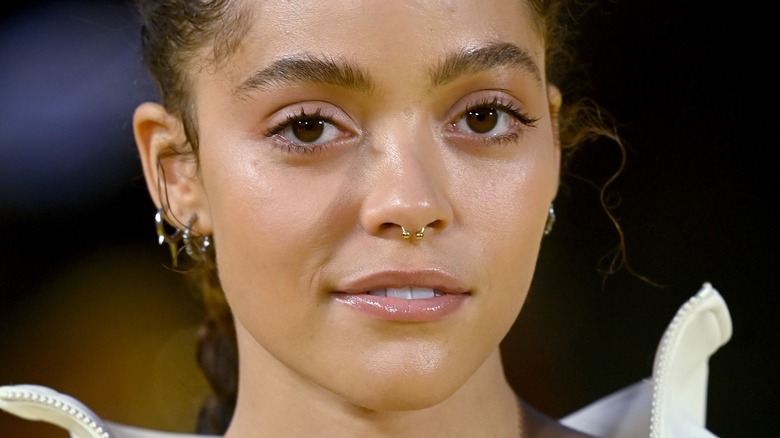 Dave J Hogan/Getty Images
While all eyes are on Dwayne Johnson to change the hierarchy of power in the DC Extended Universe with the release of "Black Adam," audiences should be paying attention to the Justice Society of America. The first superhero team to ever exist in comic books, the team is making the jump to live-action alongside Black Adam in his titular film. The DCEU will expand considerably with the appearances of Dr. Fate (Pierce Brosnan), Atom Smasher (Noah Centineo), Hawkman (Aldis Hodge), and Cyclone (Quintessa Swindell). While it remains to be seen how prominent the JSA are, it's difficult to deny how powerful they are. 
The actors portraying the Justice Society of America are varied and diverse, though none have previously appeared in superhero films. Brosnan is best known for his stint as James Bond, while Centineo won the hearts of millions with his appearance in the "To All The Boys I've Loved Before" trilogy. Aldis Hodge, meanwhile, made a splash with films like "The Invisible Man" and "Straight Outta Compton." Swindell, a rising star, is best known for headlining Netflix's "Trinkets."
Every actor has their own unique way of finding inspiration to immerse themselves in a new role. In the case of Swindell, stepping into the role of Cyclone meant watching lots of movies, including those from the "Star Wars" franchise, which managed to inspire them in a unique way. 
Quintessa Swindell focused on films like Star Wars to learn how to interact with the CG enviornment
While speaking with SYFY, "Black Adam" stars Quintessa Swindell and Noah Centineo opened up about their powerful characters. One benefit of portraying established characters is that actors have the opportunity to pore through potentially decades worth of material to help shape their take. Swindell naturally invested time in the comics to learn more about Cyclone. However, the actor also revealed that they took inspiration from a specific type of film.
"I was also looking at other films that incorporated a lot of CGI or VFX to understand how an actor would either fully realize their environment or just focus on the character interaction and let the green screen do its thing," they said. Swindell is certainly accomplished, having appeared in the critically-acclaimed "Euphoria" and Paul Schrader's "Master Gardener." What is missing from their CV, however, is a visual-effects-heavy project, making it crucial to study up on films and television shows that have succeeded in that right. "So I was looking at 'Lord of the Rings,' 'Star Wars,' and 'Game of Thrones,'" they admitted.
Centineo, who has mostly appeared in romantic and comedic fare, pressed Swindell to reveal what they learned from watching VFX-focused films, like "Star Wars." "With 'Star Wars', it was like they're not really focused externally, like if they're on Naboo you know, they're looking out and realizing where they are and embracing that and letting that inform the vibe," the actor revealed.