Are Tom Felton And Daniel Radcliffe From Harry Potter Friends In Real Life?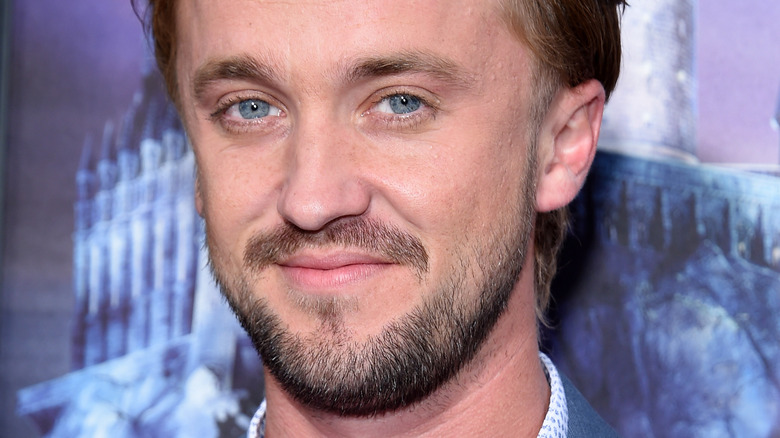 DFree/Shutterstock
Whether it's for a massive studio flick or a low-budget independent film, there is a unique type of bonding that both the cast and crew experience throughout the entirety of the production. For professional cast members, developing an off-camera relationship usually goes hand-in-hand with the gig. However, just like any other short-term job, that connection can either fade after it's all said and done, or continue on in the real world. But, how different it must be for child actors! For them, being part of any type of film production must be such a heightened experience, compared to their adult counterparts. And to take it all to an even more difficult-to-relate level, it's near impossible to truly understand the level of bonding the child actors of the "Harry Potter" franchise must've felt, spending over a decade of their youth together.
With the majority of these robe-wearing performers spending a significant chunk of their childhoods on set together, it's interesting to wonder how their character's on-screen interactions compared to their real-life ones. For example, with Daniel Radcliffe and Tom Felton, who played bitter rivals Harry Potter and Draco Malfoy, their characters despised each other for almost the entire run of the eight films. But, how did that translate with their everyday hang-outs when they weren't in front of the camera? Were they friends? Real-life enemies? Better yet, now that we are over a decade past the final film's release, what's the status of their highly-unique connection today?
Tom Felton and Daniel Radcliffe were friends back then, and that hasn't changed
Actors Daniel Radcliffe and Tom Felton, from a very young age, found themselves representing one of the most well-known fictional rivalries in (both literary and movie) history. But, when Felton recently spoke to CBS Mornings, he commented on the actor's real-life friendship. "I love the man dearly," he quickly replied. "I don't see him as much as I'd like to — that's the same for all of us, really. But I consider him a brother, definitely. Huge amounts of respect for him." This continuing friendship may have been helped along by how Felton viewed the underlying connection the fictional rivals, Harry and Draco, actually had. "You have one boy who has no parents, no money, no status, but he has everything that is good with the world," explained Felton. In contrast, he saw Draco as the exact opposite. "And the other side is the slightly darker one with very powerful parents ... but also a bully and someone that can't find a way of expressing his light, because he hasn't been shown any his entire life," he said. 
Felton was being interviewed about his new memoir, "Beyond the Wand: The Magic and Mayhem of Growing Up a Wizard," in which he offers a first-hand account of what it was like to be a child actor on the "Harry Potter" set, for as long as it lasted. In addition to discussing his past and present-day friendship with Radcliffe, he said that the book gives fans some inside scoop about what it was like to film the franchise. For example, Variety points out a part of the memoir where he recalls Radcliffe using a printed picture of Cameron Diaz to know where to look when filming green-screened broomstick scenes. Definitely, an embarrassing fact that only a guy pretending to hate another guy, while being friends with him in real life, would say.