Grey's Anatomy Season 19, Episode 3 Has Fans Impatiently Waiting For Lucas' Secret To Be Spilled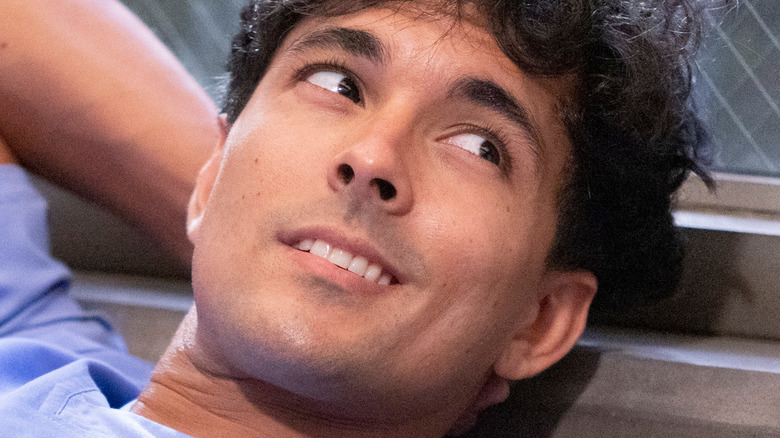 ABC
"Grey's Anatomy" Season 19 marks the biggest shake-up of the series' status quo in quite some time, introducing fans to a whole new cast of medical interns under the supervision of Grey-Sloan Memorial's senior staff. But while these additions have largely proven popular, some viewers are already growing impatient with newcomer Lucas Adams (Niko Terho).
The ending of the Season 19 premiere episode saw "Grey's Anatomy" drop a shocking revelation about Lucas that had fans in tears. As Amelia Shepherd (Caterina Scorsone) tells Meredith Grey (Ellen Pompeo), the messy, bumbling, yet altogether charming new recruit is none other than her nephew, as well as the nephew of the late Derek "McDreamy" Shepherd (Patrick Dempsey). Of course, this reveal led to excitement over having two Dempsey relatives on the main cast once again, but it also prompted a debate over another key aspect regarding Lucas' backstory. Now, several episodes further into the season, fans are already growing tired of waiting for Lucas to dish on what has turned out to be his most-guarded secret.
Who is Lucas' mother?
While fans know Lucas is Derek's nephew, Episode 3 leaves viewers with no clear consensus on who his mother is. As showrunner Krista Vernoff told Variety, one of Derek's three sisters aside from Amelia — unless there's some really weird twist regarding Lucas and Amelia's familial connection — is the intern's mother. "Derek had all these sisters, who had all these kids — I remember writing about them in the early years of the show," she said.
Getting a more exact answer won't be easy, however, as the medical worker seems determined to hide his heritage from his fellow interns. Unfortunately, some fans are already sick of waiting for an answer to the big question. "Seeing that Lucas' anti-let people know who I am goes until at least [Episode 5], I'm not looking forward to it anymore," u/Macintoshk commented on a Reddit thread. "Too slow."
Episode 3 toys with the idea of revealing more about Lucas. Addison Montgomery (Kate Walsh), who was once married to Derek, clearly knows all about the recruit. However, he stops her before she can mention anything. As u/whackkitty pointed out, Lucas also references Connecticut, implying he may have a close tie to Derek's sister Nancy (Embeth Davidtz), who lives in the state. Still, the nature of their familial relationship is unknown. 
It remains to be seen how long "Grey's Anatomy" continues before Lucas' full familial tree gets revealed. Whenever it does happen, it won't be a moment too soon for many. "Dying for McNephew to be called out," u/GreysAnatomyChimes commented.