Fans Are Loving Glimpses Of Lucas And Amelia's Familial Connection On Grey's Anatomy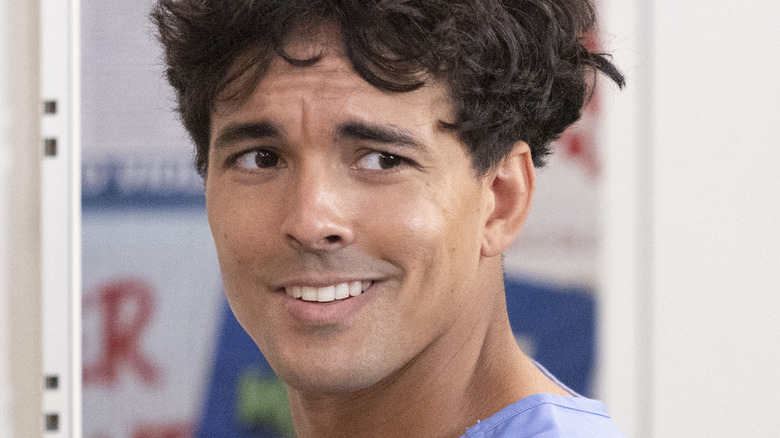 ABC
"Grey's Anatomy" is busy enough between all of the relationship drama and medical emergencies, but if you add in a family-based connection? Now you have an entirely new set of issues. Now in Season 19, "Grey's Anatomy" has shaken up its established formula by introducing an entirely new set of interns. These fresh faces are taught the proverbial ropes by several "Grey's Anatomy" veterans, and their experience will surely help temper this new batch of medical professionals.
One of the biggest shockers from this new collection of characters is Lucas Adams (Niko Terho). Confident in his abilities, Lucas is actually the nephew of Derek (Patrick Dempsey) and Amelia Shepherd (Caterina Scorsone). Not only is he their nephew, but it has also been said that he takes after Derek, which gives fans a look into how he may have acted while he was an intern. Considering that Amelia is still a doctor at Grey Sloan Memorial Hospital, it was only a matter of time before the family connection between Lucas and Amelia was expressed, and it seems like fans of the series are thoroughly enjoying the interaction between both nephew and aunt.
Grey's Anatomy fans love the banter between the aunt and nephew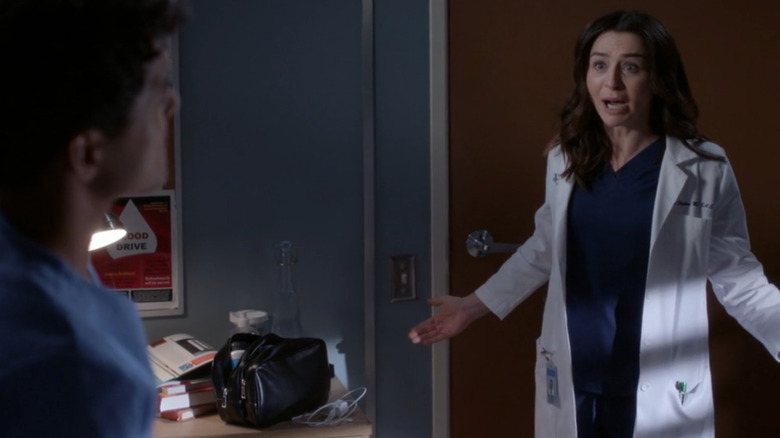 ABC/YouTube
Episode 2 of Season 19 sees this family relation really come into focus when Amelia catches Lucas sleeping at work because he doesn't have a place to live, and Lucas worries that Amelia may tell his mother. However, Amelia notes that she hasn't spoken with Lucas' mother in quite some time, and Lucas is thankful for family drama working in his favor. When Amelia offers to help Lucas, he says that he doesn't want her playing favorites, so that highlights that Lucas actually wants to earn things by his own actions, and not because he is related to several prolific doctors. These interactions have proven to be quite the hit with fans of "Grey's Anatomy," and of course they have taken to social media to express their adoration.
Popping on over to Twitter, @addimelias posted an image of both Lucas and Amelia looking at a phone and said that they are cute together and that Amelia is the best aunt, while @addimelia posted a different image of the two, and added that they love them together. The official account for the show @GreysABC posted a GIF of Amelia saying that she doesn't even talk to Lucas' mother, and stated, "Sibling drama aside, Amelia still looks out for her nephew," to which @ide_cyan joked, "McNephew needs to do his own laundry." @arigtats_ couldn't contain their emotions about the interaction, commenting, "Amelia literally looking for apartments for Lucas I WILL SOB she's so sweet." 
In summation, fans of "Grey's Anatomy" are absolutely loving Lucas and Amelia sharing scenes together, and one can only hope that there are plenty more on the way.