The Walking Dead Midseason Premiere Gets Extended Runtime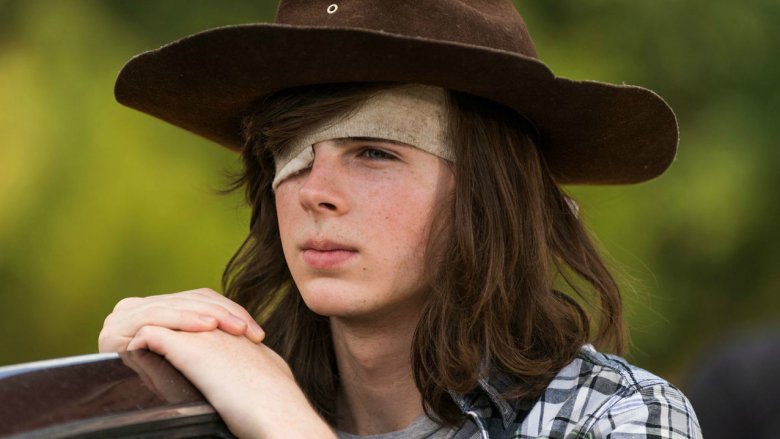 AMC
If you aren't exactly happy about the pending death of Carl Grimes (Chandler Riggs) on The Walking Dead, here's a glimmer of good news.
Entertainment Weekly reports the upcoming midseason premiere that's expected to be Carl's last episode will run for 82 minutes instead of the standard 60-minute runtime. That's a few extra potential minutes with one of the last remaining original characters on the show.
It was revealed in the midseason finale that Carl was bitten by a walker, which came as a shock to fans and cast members alike. Norman Reedus, who plays Daryl Dixon, told EW that he's "desperately unhappy" about the decision to kill Carl. "I've seen Chandler grow up from a little boy," he said. "I've known that kid so long, and it always hurts when you lose a family member on the show. Chandler is definitely a family member to me. I was not happy about it. I always thought Chandler would be the last man standing, to be honest."
In the comics, Carl is still alive and a central figure in the action. But The Walking Dead creator Robert Kirkman said the loss of Carl won't change the direction of the show or future storylines. "There are big, huge stories coming up that you might think will be massively altered because of the absence of Carl," he said. "But we have known these storylines have been coming for years. There are plans in place to make it all work. The loss of Carl doesn't necessarily mean that we're going to be losing big swaths of the comic book story. It means that there will be some differences to them. The goal is that those differences will be as exciting to the audience as they are to me."
We'll find out more when The Walking Dead returns to AMC with a super-sized, bittersweet episode on Feb. 25.