Slow Horses Season 2 - What We Know So Far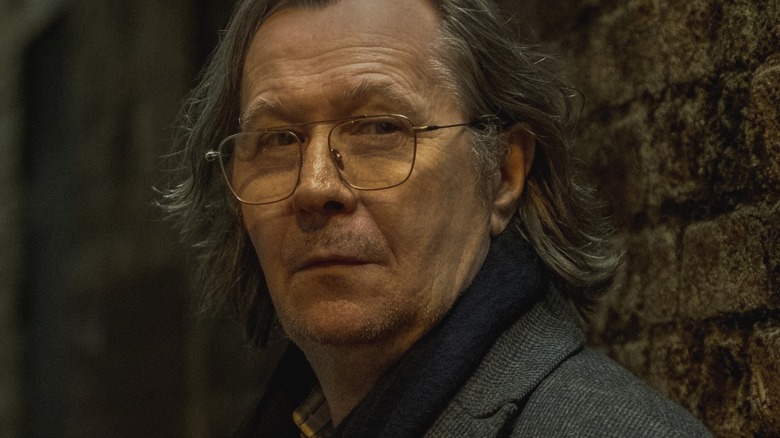 Apple TV+
When it comes to a show about spies desperate to redeem themselves, it's fitting that the debut season of "Slow Horses" went under the radar for some. Apple TV+'s espionage drama with a killer ensemble cast caused a slight stir initially, especially with Gary Oldman on point. So much so that the streaming service warranted enough of a good show to line up with the rest of its impressive library to take the inhabitants of Slough House back out for a 2nd season. It was a hunch they were right to follow up on, as critically the adaptation of Mike Herron's "Slough House" book series was praised immensely. Scoring 95% on Rotten Tomatoes, the bar has already been set for Jackson Lamb and his team of failures fighting to succeed. So what's next for them, exactly?
Of course, patience is a virtue if spending time with the team at Slough House has taught us anything. When will Jackson Lamb (Oldman), River Cartwright (Jack Lowden), and company be called into action again as being sat doing nothing clearly isn't their strong point? Well, thankfully, we've met in a very public location to exchange shady brown envelopes and gathered all the vital intel required to get a hold of the situation before The Dogs do.
When will Slow Horses Season 2 be released?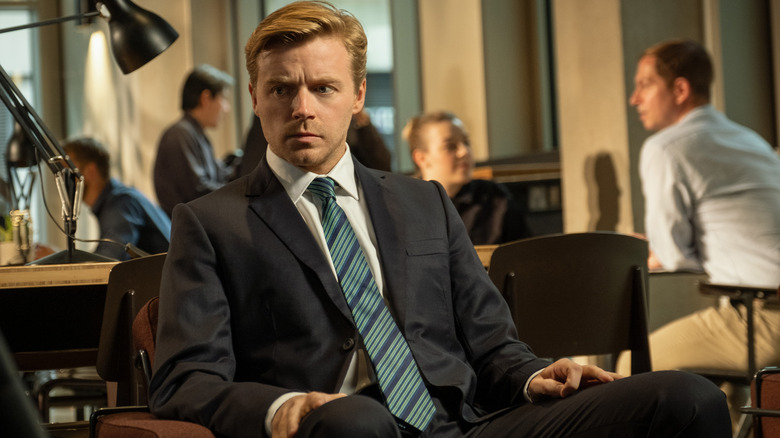 Apple TV+
The debut season of 'Slow Horses' had just left the barn, and Apple TV+ already had the cameras rolling for another round. After dropping its initial outing of six episodes for Season 1, reports suggested that Season 2 was in post-production, just waiting to get back in action. Of course, that was back in April, with a release date kept behind closed doors until September, when it was finally given the green light to come back in 2022. Additionally, it was confirmed in June that the show would be getting a 3rd and 4th season. Rather than waiting any longer for fans, Apple TV+ announced that 'Slow Horses' is returning on December 2 this year.
It marks a rare occasion for a top-tier show of this caliber to get a follow-up so soon after its debut. Also, as is the standard practice for every streaming service, the show will treat us with more than one initial episode, in this case giving us a double bill before going weekly for the remaining four.
Who is in Slow Horses Season 2?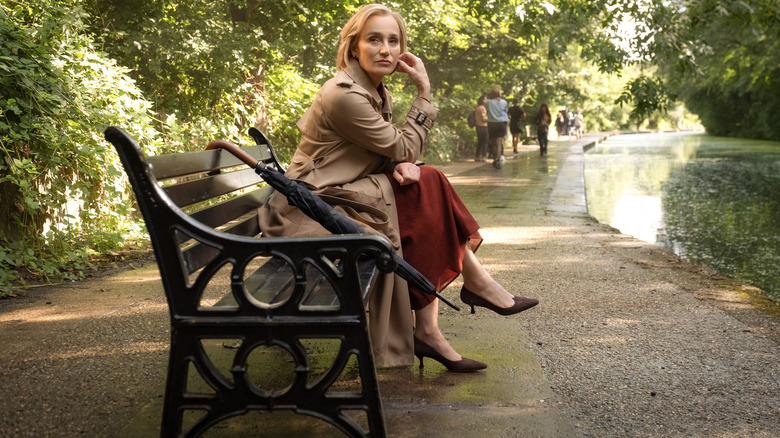 Apple TV+
Following their impressive tackling of a terrorist threat in the debut season, "Slow Horses" will see the return of the core cast from the show back in action and most likely getting yelled at by Jackson Lamb. The head of Slough House, who has no issue with dropping bombs of the flatulent kind in public, will be returning along with M15 failure River Cartwright, who will poking his nose in places he doesn't have clearance for yet again. Also returning are Dustin Demi-Burns and Rosalind Eleazar as Min Harper and Louisa Guy, who began a secret liaison of their own outside of working hours. Saskia Reeves will also be back as Lamb's bitter P. A. Catherine Standish, along with keyboard warrior Roddy Ho, played by Christopher Chung.
Across The River and the M15 types that haven't failed like Lamb's flock will also be sneering their way through another season. Kristin Scott Thomas returns as the exceptionally shifty Diana Taverner, as will Cartwright's office nemesis, Spider Webb, played by Freddie Fox. One person still absent from the call sheet is current "House of the Dragon" star Olivia Cooke, who played Sidonie "Sid" Baker in the 1st season and met a shocking outcome when she was shot after three episodes. With that said, die-hard fans of Herron's book series know Sid might not be out of action forever and might still return but that's classified information. Besides, there are Dead Lions to deal with first.
What is Slow Horses Season 2 about?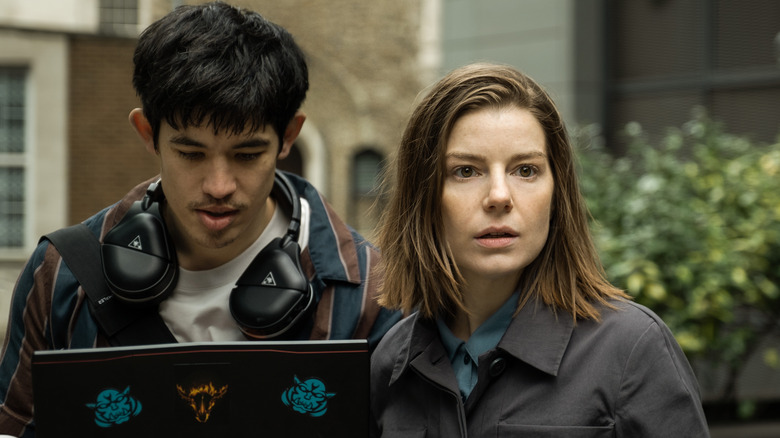 Apple TV+
Following the trail of Herron's books the show is adapted from, Season 2 of "Slow Horses" will follow (unsurprisingly) the second book in the franchise as well. Published in 2013, "Dead Lions" contain some elements that might strike nerves just as hard as before, with the story focussing on Russian oligarchs and sleeper agents of the Cold War, a tense subject matter given the country's attack on Ukraine. This may well have been the reason for releasing the 2nd season so soon, with the real-life conflict still raging on.
As far as other plot points go, the story linking to the Cold War sees Lamb become more involved in the tension to uncover the truth, bringing him face-to-face with Nikolai Katinsky (Rade Šerbedžija), who looks to be a former Russian agent. Besides old enemies, Slough House will also welcome new operatives such as Aimee-Ffion Edwards as Shirley Dander. No stranger to dodgy deeds and corruption, Edwards' most notable role was an Esme Shelby in "Peaky Blinders," so expect her to handle Lamb and his team of fighting failures just as well here too.
Is there a Slow Horses Season 2 trailer?
Besides the first teaser trailer that was taped onto the end of Season 1's finale, a brand new trailer for "Slow Horses" has been released, getting us even more excited to hear the iconic farts of Jackson Lamb again. Checking all the essential boxes for an espionage drama, the new preview has case exchanges, park bench meetings, and people looking far more intense than they should be while boarding public transport. Then again, London trains are a nightmare, so who knows?
What's great to see is that a clear effort is set to be made on expanding on the team that we fell in love with the first time around, rather than just Lowden's dashing hero and his stuffy superior played by Gary Oldman. The only problem is, if spy stories have taught us anything, it's that getting too close can make losses even harder to handle. Will everyone return to Slough House safe and sound this time around? Or is an outside force finally going to kick the door down (it sticks) and take a few of its operatives down with it? You'll have to wait and see when "Slow Horses" returns for a second season on December 2.