The School For Good And Evil Author Is Hoping For More Movies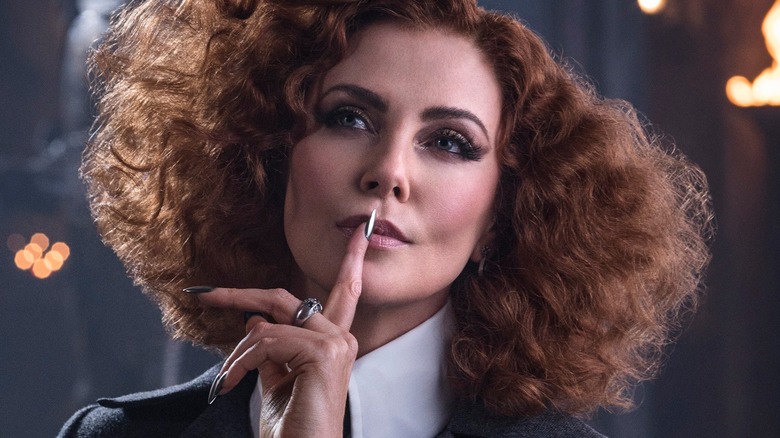 Helen Sloan / Netflix
Hollywood studios have been searching for a fresh and franchisable young adult fantasy series to replace the "Harry Potter" series pretty much since the day that blockbuster saga released its final chapter. To date, they've been largely unsuccessful in that endeavor, with even the "Potter" spin-off series "Fantastic Beasts" arguably missing the magical mark for many. Still, the search continues, and Netflix is clearly hoping they've found their own magic-friendly franchise in the guise of "The School for Good and Evil."
Set in a mystical prep school where youngsters are trained in the ways of heroes and villains from history's greatest fairy tales, the new film is, for better or worse, clearly putting out some serious "Harry Potter" vibes. But it's also boasting an impressive cast list, with the formidable talents of Charlize Theron, Kerry Washington, Patti Lupone, Laurence Fishburne, and Michelle Yeoh appearing alongside rising stars Sophia Wylie and Sofie Anne Caruso. 
"The School for Good and Evil" is, of course, based on a New York Times best-selling Young Adult fantasy novel from author and filmmaker Soman Chainani. And yes, Chainani is as hopeful as anyone that the adaptation will be a runaway success that inspires Netflix to make more movies set in the fantastical realm.
There's plenty Good and Evil magic to cast if Netflix wants to go franchise mode
Soman Chainani admitted as much during a recent interview with Variety, first telling the publication he still can't quite believe his book was actually adapted into a major motion picture. "You never really believe it's going to come to life in that way," the author stated, adding, "So when it actually happens, it feels so surreal. It feels like you're living in a dream a little bit." Chainani went on to admit he is indeed hoping Netflix will back another adaptation, "The hope is to make more [movies], it just depends on the audience."
That last comment clearly implies Netflix has not committed to going full franchise with Chainani's magical literary world, which is now a full six books deep. That hexalogy came to a thrilling conclusion with 2020's "One True King," though Chainani has since penned a prequel titled "The Rise of The School for Good and Evil." In any case, the author is indeed hoping "The School for Good and Evil" is a hit for Netflix so the rest of the books will get adapted as well, claiming, "We could make all six movies, so it just depends on how it how it does, ultimately."
Given the film's star power and potential international appeal, stars could well be aligning for "The School for Good and Evil" to become the next "Harry Potter"-sized franchise. The only question now is how big a hit the film needs to be before Netflix commits to prolonging the magic.