American Pickers' Danielle Colby Fell In Love With A Mandolin That She Picked For A Steal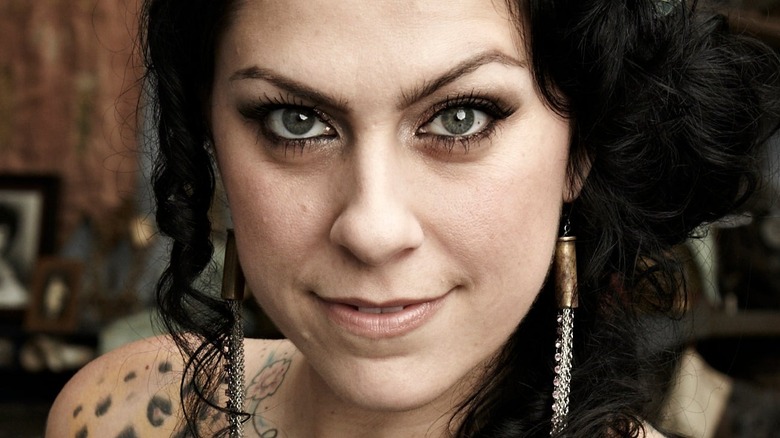 Zachary Maxwell Stertz/A+E Networks
Danielle Colby told Freshly Inked in 2019 that growing up, she never expected to be on television. "Honestly I was raised to believe Armageddon was coming." But the antique dealer has now been a mainstay on the History show "American Pickers" for over a decade.
At first, Colby's role on the series was as the manager of co-star Mike Wolfe's business, Antique Archeology. But she's been on the road with the hosts in more recent episodes, and even manages the "American Pickers" store remotely (via Freshly Inked).
Colby loves her work, but she also warns people that picking isn't as easy as it looks. "I don't think that enough people have enough drive to do this — it's a very hard job," she said during a 2015 interview (via YouTube). It's certainly a sweaty vocation that demands a lot of manual labor. But antique picking still has its share of rewards for Colby, like a mandolin she found during one episode.
Danielle Colby found a damaged but valuable mandolin
In a Season 14 installment of "American Pickers," Mike Wolfe and Danielle Colby were searching through treasures in the packed house of "Dollar Dick" in South Dakota. Colby first came upon a working accordion, which Wolfe jokingly dismissed as being too annoying. But then the experienced picker found an antique mandolin still in its case.
"I'm, I'm in love with this," she told Wolfe and Dick as she came out of the house with the beautiful instrument. Colby noted that she knows mandolins, but "this is unlike any ... I've seen before." Dick asked $100 for the crafted piece, but she noticed that the mandolin was "in rough shape" thanks to a damaged neck. Finally, Colby and Dick settled on $80 for the instrument after some tough haggling. Still, Colby thought she could make a profit on the stringed instrument by selling it for $200. 
The scene strongly demonstrates how the reality star has a good eye for antiques, and how easy it is to find beautiful things even in rooms filled with knick-knacks.