The Walking Dead's 'Kingdom 2.0' From Season 11, Episode 19 Explained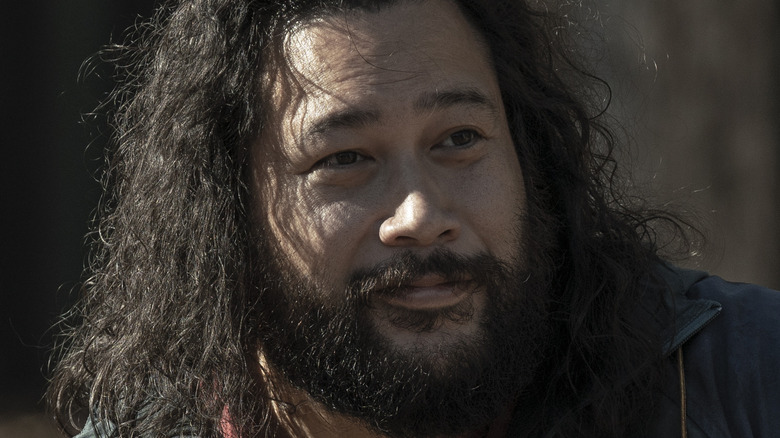 Jace Downs/AMC
"The Walking Dead" Season 11, Episode 19, "Variant," is one of the more terrifying episodes of the show's final season, introducing the idea of variant walkers climbing walls and managing simple obstacles like door knobs. It's also a rather bleak episode, ending with Eugene (Josh McDermitt) turning himself in to the Commonwealth and facing what could be a death sentence.
 Aaron (Ross Marquand), Jerry (Cooper Andrews), Lydia (Cassady McClincy), and Elijah (Okea Eme-Akwari) are allowed a moment of relaxation when they stay the night at a long-defunct Renaissance Faire park. For longtime fans of the show, the location should bring back instant memories of the Kingdom, where Ezekiel (Khary Payton) ruled with Jerry as his second-in-command. Even after the Kingdom fell, Jerry still referred to Ezekiel as King Ezekiel, proving he appreciated the theatrics and performance of the Kingdom, one of the more unique groups of survivors introduced on the AMC series.
The Kingdom falling is one of the show's numerous departures from the comics and was an intentional twist to the universe, "Walking Dead" showrunner and executive producer Angela Kang explained in March 2019 to Entertainment Weekly. "Variant" suggests that another twist to Robert Kirkman's comic could be in the cards with a possible Kingdom 2.0.
From King Ezekiel to King Jerry
While camping at the Renaissance Fair park for the night, Jerry mentions to Aaron that the location is perfect for a Kingdom 2.0, noting that it's close to water, is surrounded by walls, and has plenty of space. A stressed Aaron at first cold-shoulders this thought, but as they get ready to leave, he brings it up again, possibly teasing part of the show's ending.
"Feels more like this place was built for King Jerry," Aaron tells the potential future ruler, who replies, "I like the sound of that." If a Kingdom 2.0 is indeed in the cards, then Jerry is the clear choice to lead it. Ezekiel has made it clear that his days of leading are behind him, preferring to simply work with animals in the Commonwealth. Ezekiel also dropped the performative nature of the Kingdom not long after losing it. Jerry, however, continued to refer to him as King Ezekiel and remains a loyal friend.
Whatever positive came out of the Kingdom's theatrics, Jerry clearly saw it and still longs for it, something that becomes crystal clear in "Variant." The group of "Walking Dead" characters who end up at the Renaissance Fair park was en route to Oceanside and Alexandria, meaning the location has a close enough proximity to the other communities that it could easily serve as a new addition, with King Jerry taking the place of King Ezekiel.
Variant walkers pose a major threat to Kingdom 2.0
Unfortunately, the potential future Kingdom 2.0 is already threatened by walkers. While staying the night at the Renaissance Fair park, Jerry and the others are introduced to the concept of variant walkers, which are even more threatening than the ones that existed when Rick Grimes (Andrew Lincoln) woke up to the apocalypse in a hospital bed.
A swarm of walkers finds their way into our group's camp, so they escape to a roof, with Jerry even having to hold back a walker trying to open a door as the others climb to safety. Once they're all on the roof, one walker climbs up and nearly kills an injured Jerry. Luckily, Aaron steps in and uses his metal arm to kill it, but it puts up more of a fight than we've ever seen come from a walker on "The Walking Dead."
The next morning, Aaron reveals that he's heard stories of walkers that can do more than just mindlessly wander and chomp at flesh. As Jerry notes, Kingdom 2.0 is a location with plenty of opportunity, but it's also a place that will need to account for a pressing new threat in the form of variant walkers.