Johnny Knoxville Says He Would Have To 'Step Back' If Another Jackass Film Is Made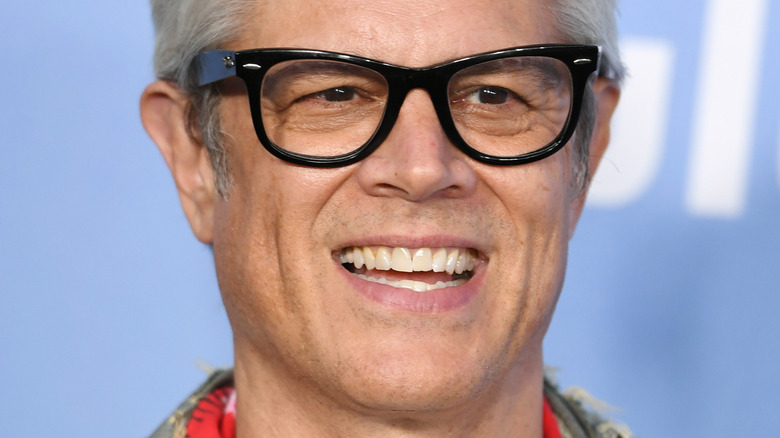 Jc Olivera/Getty Images
Over the years, the daring stunt group known as "Jackass" has sustained many gnarly injuries — many of which are filmed and aired for the audience's enjoyment. From broken teeth to cracked skulls, broken collarbones to broken noses, the "Jackass" crew has suffered injuries to just about every body part you can imagine. For nobody is that more true than for franchise co-creator and "Jackass" frontman Johnny Knoxville.
In an interview for E! Online, Knoxville detailed just a few of the most gruesome injuries he'd suffered throughout his time on "Jackass." He included his infamous boxing match with Butterbean from "Jackass: The Movie" (which left him with a concussion and in need of several stitches) and one particularly costly motorcycle stunt that left him with a torn urethra.
In the stunt group's latest outing, "Jackass: Forever," Knoxville suffered perhaps one of the scariest injuries in the franchise's history: when a collision with an angry bull left him with brain hemorrhaging, a broken wrist, a broken rib, and a concussion. This particular stunt was so brutal that for a time, it seemed as though Knoxville's stunt career was completely over — and in a recent interview with Variety, Knoxville touched on this and what his role would be if another "Jackass" film was made.
Johnny Knoxville can't suffer any more brain injuries
Although Johnny Knoxville made sure to clarify that "Jackass: Forever" was not a definitive end for his role in the "Jackass" franchise, he recently told Variety that he would have to take a step back if another "Jackass" film is made. This was primarily due to his long history of brain injuries.
"We never said whether it was or wasn't [the final film]. That got written somewhere and people ran with it," Knoxville explained. "If we did continue, we would lean on the younger cast more and the old guys would take a little step back but still be a part of it. I would have to step back because my neurologist said I can't have any more concussions." Knoxville's comments should come as no surprise to longtime "Jackass" fans, as the prolific stuntman has suffered around 16 concussions alongside his brain hemorrhage from "Jackass: Forever" (via E! Online).
Knoxville went on to reveal that he was actually supposed to participate in a slew of other dangerous and elaborate stunts for "Jackass: Forever" before the bull incident sidelined him with yet another brain injury. In any case, Knoxville's comments make it clear that a reduced role in future "Jackass" films would be entirely due to his own injury history and that he would still be a major part of any upcoming "Jackass" project — just not in the stunts themselves.