Lupita Nyong'o's Underwater Training For Black Panther: Wakanda Forever Was Literally Breathtaking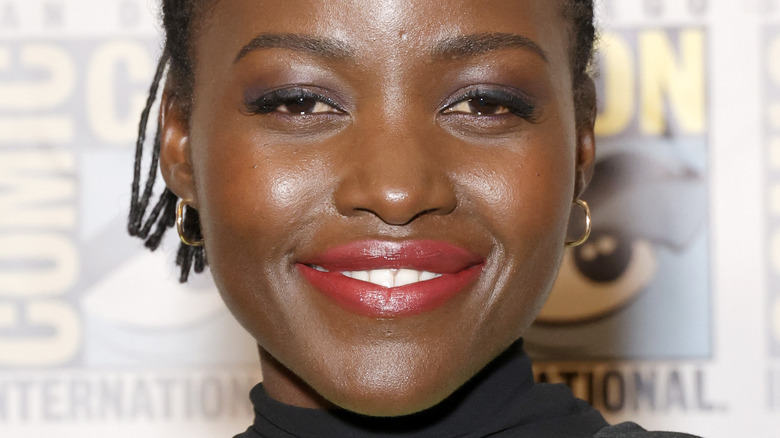 Frazer Harrison/Getty Images
At this point, it's no secret that nearly every actor who joins the Marvel Cinematic Universe has to undergo some pretty serious physical training before they suit up as one of Earth's mightiest heroes. Actors like Chris Hemsworth, Chris Evans, and Sebastian Stan (who play Thor, Captain America, and Bucky Barnes respectively within the MCU) have been extremely vocal about the rigorous training regimens required to get the cast ripped for "Infinity War" and "Endgame": including ludicrous weightlifting schedules and carefully tracked meal plans.
"Captain Marvel" star Brie Larson has also shared a few of these extreme workouts through her Instagram account, showcasing the incredibly draining leg day she uses to prepare for her upcoming role in "The Marvels." As such, it should come as no surprise that the cast of the upcoming film "Black Panther: Wakanda Forever" had to prepare for that film in much the same way –- training their bodies to capture both the physique and fighting skills that we've come to expect from heroes in the MCU.
That said, there was one particularly difficult training program that stood out to "Black Panther: Wakanda Forever" star Lupita Nyong'o — an intense underwater training regimen that left her breathless and exhausted.
Lupita Nyong'o's underwater training was so intense it surprised even the film's producers
While speaking to The Hollywood Reporter, Lupita Nyong'o revealed that she participated in an extremely difficult underwater training program to prepare for the underwater sequences in "Black Panther: Wakanda Forever" -– something she did all by herself and not at the request of the studio.
According to director Ryan Coogler and producer Nate Moore, this underwater training was incredibly intense and elaborate. They were both surprised whenever Nyong'o would send them videos of herself performing these ludicrous aquatic exercises. "She would be down there holding her breath and carrying giant weights through the water," Moore said. "Nothing we'd asked her to do, by the way. We were like, 'What is this lady doing?' She was so intent on being believably comfortable in the water," Moore explained that this breathtaking commitment to underwater training allowed Nyong'o to do things in the water that no other actor was even capable of.
On top of that, both Moore and Coogler also praised Nyong'o's incredible commitment to the character of Nakia. She comes from a water tribe within Wakanda and needed to look comfortable during all the underwater sequences. "She was just so intent on going above and beyond to make sure this character felt real," explained Moore. Nyong'o's rigorous underwater training regimen is a testament to her work ethic and acting talent. Coogler and Moore clearly gained immense respect for her after seeing these absurdly difficult underwater exercises.