The Sprint Ad NCIS' Pauley Perrette Booked At The Start Of Her Career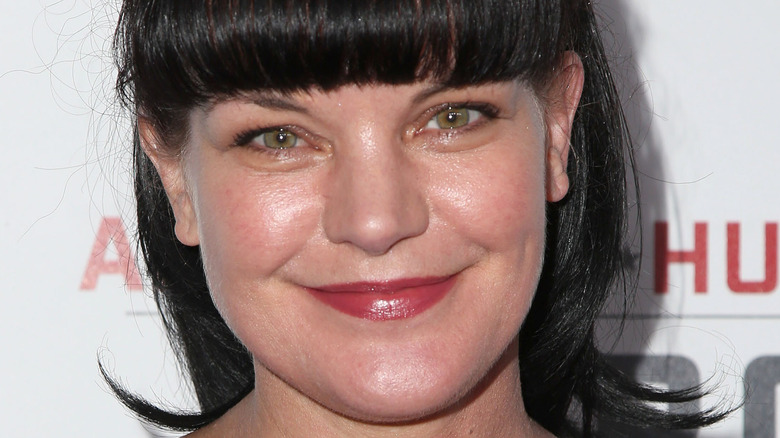 Kathy Hutchins/Shutterstock
"NCIS" has been around for nearly 20 years. For some fans, that means they grew up watching the show and are now still seeing the Major Case Response Team operate well into adulthood. In May, it was even reported by Variety to be the most-watched television series at about 10.97 million viewers. Needless to say, the popularity that "NCIS" has held after all of this time is commendable, and not many other shows can do the same aside from "Law & Order: SVU" (via The Hollywood Reporter). Arguably, the show's first ascension to popularity in the early 2000s came from what many "NCIS" fans consider the show's greatest cast (via Reddit).
This group includes Leroy Jethro Gibbs (Mark Harmon), Anthony 'Tony' DiNozzo (Michael Weatherly), Ziva David (Cote de Pablo), Timothy McGee (Sean Murray), Dr. Donald 'Ducky' Mallard (David McCallum), his assistant Jimmy Palmer (Brian Dietzen), and of course, Abby Sciuto (Pauley Perrette). In fact, this cast gained so much popularity that Pablo said she still gets recognized worldwide as Ziva (via BUILD Series). Hamon and Perrette also gained massive stardom from their roles and their characters' close father-daughter-like relationship on "NCIS." However, everyone had to get their start somewhere.
Harmon had appeared on other wildly popular shows like "Chicago Hope" and "The West Wing," while Perrette was part of "The Drew Carey Show" and "Almost Famous" (via IMDb). However, Perrette also booked a Sprint advertisement at the beginning of her career that you might have forgotten about.
Pauley Perrette started landing commercials after a friend made $3,000
During a conversation with CBS Sunday Morning back in 2018, where she discussed leaving "NCIS" and her acting career in general, Pauley Perrette revealed that she got into acting while pursuing her degree in criminal science in New York City during the late '90s. She had overheard a friend, while bartending that was talking about how they made $3,000 from shooting a commercial. Immediately, Perrette wanted to know more, and her friend Walter said they knew a director "who'd love her." So, Perrette went to see him and began booking projects quickly, including an early Sprint advertisement. The ad features Perrette as a young woman overwhelmed by the internet, wireless phones, and e-mail and relaying this to a Sprint employee. The worker calms Perrette down by informing her that they have plenty of locations and Radio Shacks to find out more.
Perrette had notable short blonde hair in the advertisement, and only a few years later, she would appear as Abby in a jet-black ponytail and bangs. Sadly, fans will likely not see Abby appear on "NCIS" again anytime soon; however, she recently starred in her own series, "Broke" in 2020.