Tracy Spiridakos' Favorite Chicago P.D. Episode Includes The Infamous Moment When Ruzek Covers For Antonio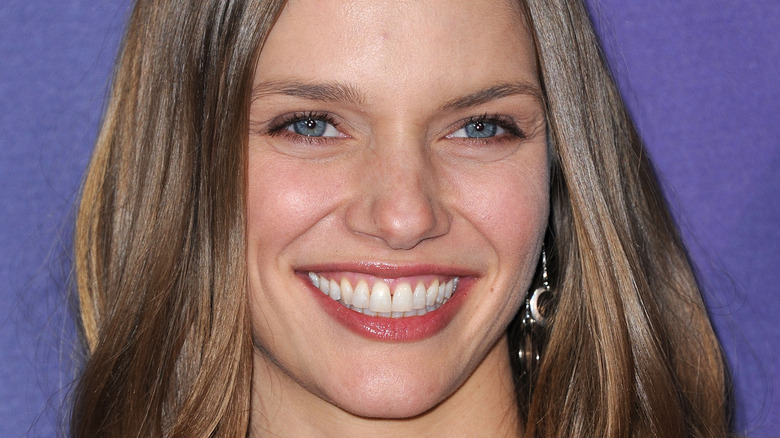 DFree/Shutterstock
As true Chi-Hards are well aware, Detective Hailey Upton (Tracy Spiridakos) has a long and involved history with fellow officer Adam Ruzek (Patrick Flueger) and former detective Antonio Dawson (Jon Seda) on NBC's "Chicago P.D." As a member of the elite 21st District Intel Unit since joining the squad in 2017, Upton is the short-timer in this trio of friends, as Ruzek and Dawson have both been part of the I.U. since 2014 and with Dawson debuting on the One Chicago sister show "Chicago Fire" in 2012.
As for Upton and Ruzek's initial head-butting and subsequent on-again, the off-again romantic pairing has given fans plenty of drama on the series. Starting with a bit of tension between the two due to Ruzek's impulsive, gung-ho policing methods, the duo eventually patch up their differences and then escalate things to the full-on relationship combo known as Upzek. But as time passes, both cops finally decide they're better off as friends. Among all the storylines she witnessed play out over multiple seasons of "Chicago P.D.," there's one particular episode featuring Ruzek and Dawson that Spiridakos cites as her all-time favorite.
Spiridakos says Ruzek's covering for Dawson revealed something about Upton's character
Season 6 of "Chicago P.D." reveals a growing camaraderie and bond between Ruzek and Dawson, even as the season also shows Dawson entering into a long, downward spiral into drug addiction, self-destructive behavior, and worse. The negative path for Dawson begins when he takes painkillers after damaging his shoulder and breaking down a door in the "Bad Boys" episode. Then, in the Season 6 Episode 10, "Descent," Dawson's daughter is kidnapped, and the team mounts an all-out search to find her. When they locate the girl, however, an enraged Dawson flips out, beats the kidnapper, and pushes him out of an upper-floor window, killing him. In the next episode, however, Ruzek takes the rap Dawson's role in the death, despite what that could mean for his career on the force.
Interviewed on BUILD Series in 2019, Tracy Spiridakos was looking back on her work on "Chicago P.D." when she revealed, "One of my most favorite episodes to shoot was Episode 11 where Ruzek ends up taking the fall for Antonio, and she ends up kind of uncovering that she maybe is a little bit more attached [to Ruzek} than she thought she was." The actress explained that, at first, her character's relationship with Ruzek was more casual. Still, after witnessing Ruzek's selfless sacrifice for his pal Dawson, Upton's feelings for her fellow cop began to blossom.