Mythic Quest Season 3 - Everything You Need To Know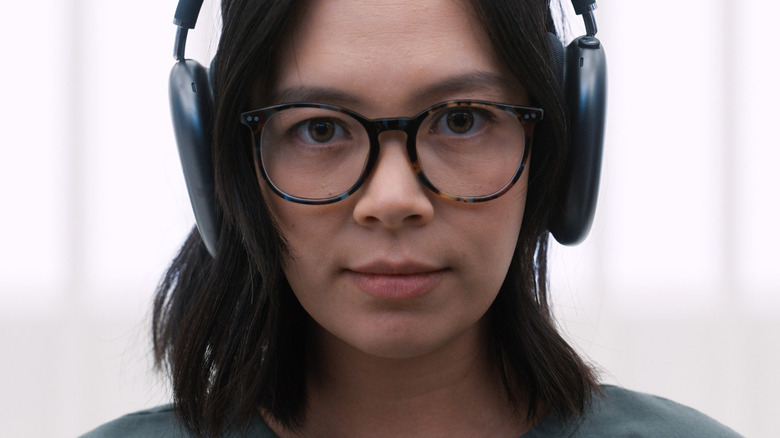 Apple TV+
While it's not as big as streamers like Netflix or HBO Max, AppleTV+ has been knocking it out of the park when it comes to their original series. Obviously, they won everyone's hearts with "Ted Lasso," but they also have a hit on their hands with "Mythic Quest." With the world's most popular online fantasy game as its backdrop, the story focuses on two egocentric video game designers and their misfit crew. The show finds the strange sweet spot between "It's Always Sunny in Philadelphia" and "Parks and Recreation," with the characters all being kinda terrible people who work together and sincerely love one another in their own unique ways.
In short, it's a feel-good show despite its characters' quirks. It's also a show that's evolved in real time, having to deal with the COVID-19 pandemic partway through the series. Along the way, it's found unexpected moments of profundity and plenty of comedy to match, making it one of the best shows on Apple TV+. In fact, Season 2 earned a perfect 100% on Rotten Tomatoes, meaning that getting a Season 3 was a no-brainer. Now that it's here — premiering on Apple TV+ on November 11, 2022 and ending on January 6, 2023 — what do you need to know about this unique workplace show? Well, read on to learn all there is to know about Season 3 of "Mythic Quest."
What is the plot of Mythic Quest Season 3?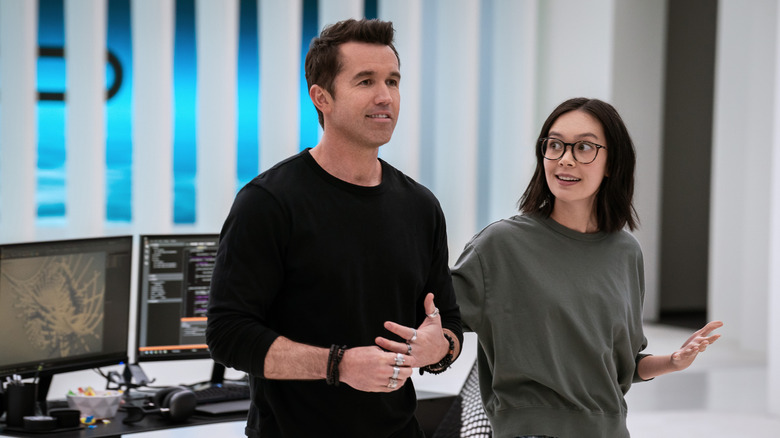 Apple TV+
In the finale of "Mythic Quest" Season 2, Ian Grimm and Poppy Li left the show's titular company to create a new game of their own, leaving David Brittlesbee behind to forge the future of Mythic Quest. Meanwhile, Brad Bakshi was arrested for insider trading, taking the fall for Jo in order to get street cred for being in jail.
So where do things go in Season 3? Well, Ian and Poppy have started their new company — GrimPop — but if you thought it would be smooth sailing between these two, think again. David, as always, is struggling to get the respect of his employees, which makes producing the new "Mythic Quest" movie all the more difficult.
As for the former testers, Rachel finds herself falling under Brad's sway while her girlfriend, Dana, tries to make the best of things over at GrimPop. Meanwhile, Jo is simply trying to figure out how to do things like friendship and how to be a good assistant without terrifying everyone in the room.
"Mythic Quest" has also found great success in episodes that deviate from the main story, such as Season 1's "A Dark Quiet Death," which tells the story of failed creative dreams. Season 2's "Backstory!" explored the history of Mythic Quest's award-winning writer, C.W. Longbottom. Season 3 has a similar episode with "Sarian," which delves deeper into Ian and Poppy's backstories, showing what they were like as kids.
Who stars in Mythic Quest Season 3?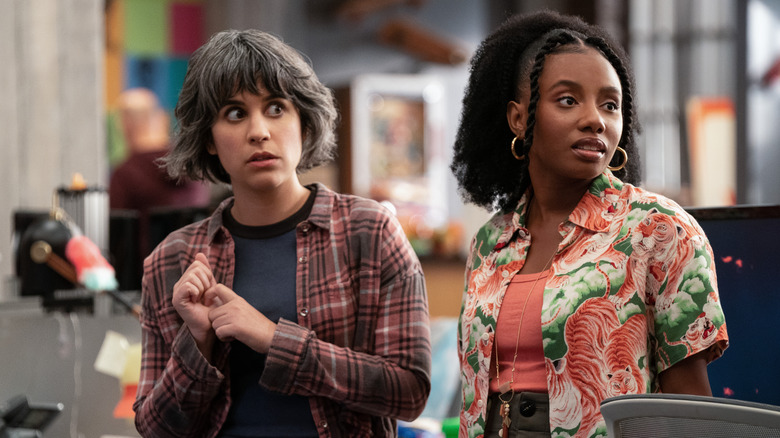 Apple TV+
After so many plot shakeups in the Season 2 finale of "Mythic Quest," fans can rest assured that the cast remains mostly unchanged. Rob McElhenney returns as Ian Crimm, the vain video game visionary, with Charlotte Nicdao back as developer extraordinaire Poppy Li. David Hornsby, a longtime collaborator with McElhenney from "It's Always Sunny in Philadelphia," is also back in the mix as David Brittlesbee, the sad-sack game executive, as is "Community" alum Danny Pudi as Brad Bakshi.
There are plenty of other returning favorites, such as Jessie Ennis as Jo, Imani Hakim as Dana, Naomi Ekperigin as Carol, and Ashly Burch as Rachel. As for newcomers, expect to see Joe Manganiello playing himself as David tries to cast him in the Mythic Quest movie. Plus, Lindsey Kraft, Judah Prehn, and Isla Rose Hall all give powerhouse performances in the flashback episode "Sarian." Sadly, F. Murray Abraham didn't return as C.W. Longbottom in Season 3, and the show addresses his absence in the very first episode.
Who are the showrunners, directors, and writers on Mythic Quest Season 3?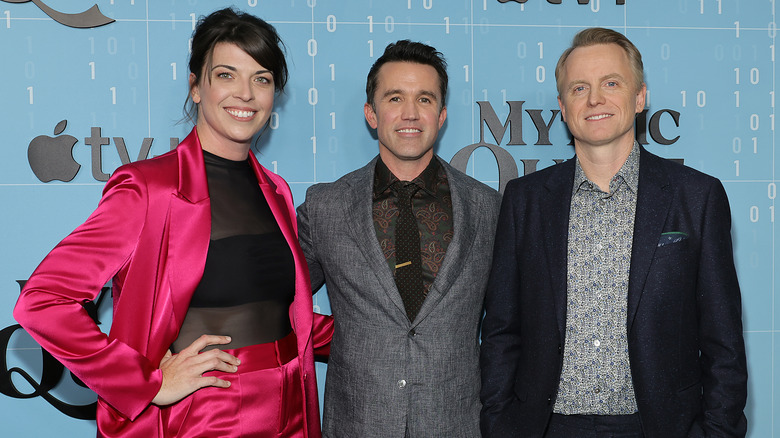 Amy Sussman/Getty Images
In front of the camera, "Mythic Quest" focuses on two "It's Always Sunny in Philadelphia" favorites — Rob McElhenney and David Hornsby. The same goes for behind the camera too. "Mythic Quest" was created by McElhenney, Charlie Day, and Megan Ganz, who's a long-time writer on "Always Sunny" and has also worked on series like "Community" and "Modern Family."
That "Always Sunny" vibe carries over the director's chair, as McElhenney directed two episodes and David Hornsby helmed another. Both Danny Pudi and Ashly Burch directed themselves in two episodes — "Playpen" and "To Catch a Mouse," respectively — with the rest being helmed by Ganz, Steve Welch, Nina Pedrad, Todd Biermann, and Heath Cullens.
On the writing side of things, in addition to McElhenney and Ganz penning a handful episodes, they're joined by Hornsby, Burch, Carol actress Naomi Ekperigin, and Rob McElhenney's sister, Katie, along with John Howell Harris, Kyle Mack, Humphrey Ker, Emma DePaulo Reid, and Davis Kop.
How are critics and audiences responding to Mythic Quest Season 3?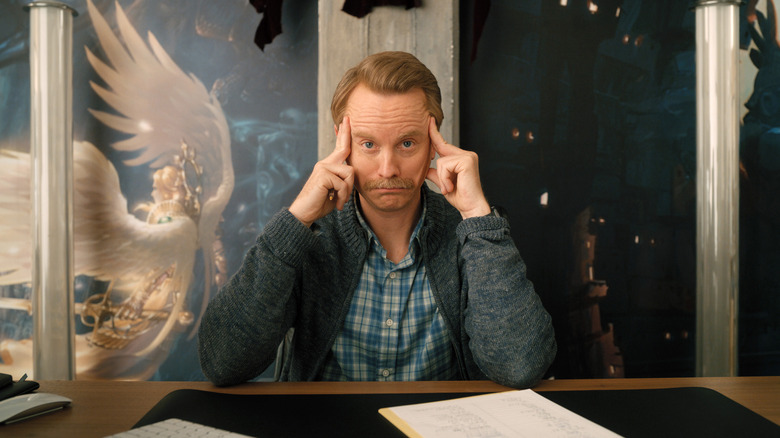 Apple TV+
Critics don't like "Mythic Quest" ... they love "Mythic Quest." Over on Rotten Tomatoes, the first season boasts an impressive 90%, while Season 2 and the two "Mythic Quest" specials all hold a 100% rating. While Season 3 doesn't have that high a mark, it can still hold its chin up, with a critic score of 95% based on 19 reviews.
So why all the love? Well, critic Allyson Johnson of InBetweenDrafts singled out the actress behind Poppy Li, saying the series' success is "a greater testament to Charlotte Nicado being one of the single, brightest, stars on television right now." Amanda Mazzillo of Film Joy summed up the show as a whole, writing, "Every season of 'Mythic Quest' is funnier and more heartfelt as we fall in love with every character — the more flawed the better. 'Mythic Quest' is cynical and heartwarmingly sincere, reflecting the flawed nature of humanity and quest to find where we belong."
As for audiences, they don't love it quite as much, with Season 3 having an audience approval rating of 78% on Rotten Tomatoes. That's the lowest audience score of any "Mythic Quest" installment. Still, that ain't rotten, and the majority of fans seem to enjoy the latest expansion.
Where to watch Mythic Quest Season 3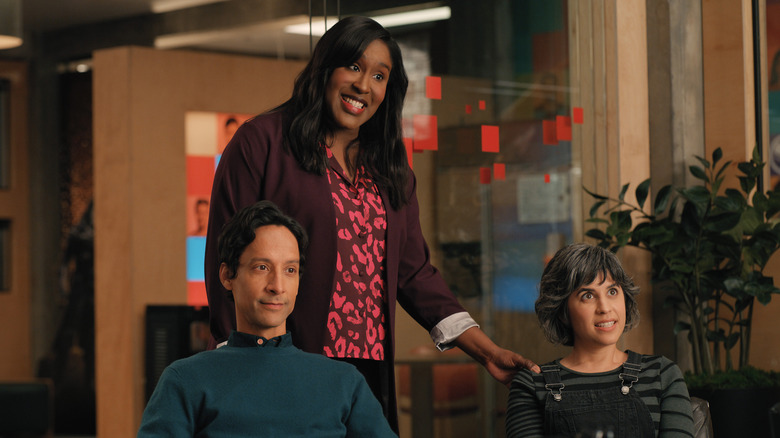 Apple TV+
"Ted Lasso," "Slow Horses," "Severance" — Apple TV+ has an embarrassment of riches when it comes to original content. And if you're wanting to watch "Mythic Quest" Season 3, that's exactly where you can find the beloved video game series. Plus, if you need to brush up on previous seasons or want to visit Mythic Quest headquarters for the first time, Season 1 and Season 2 are also available on the streamer.
What is Mythic Quest rated?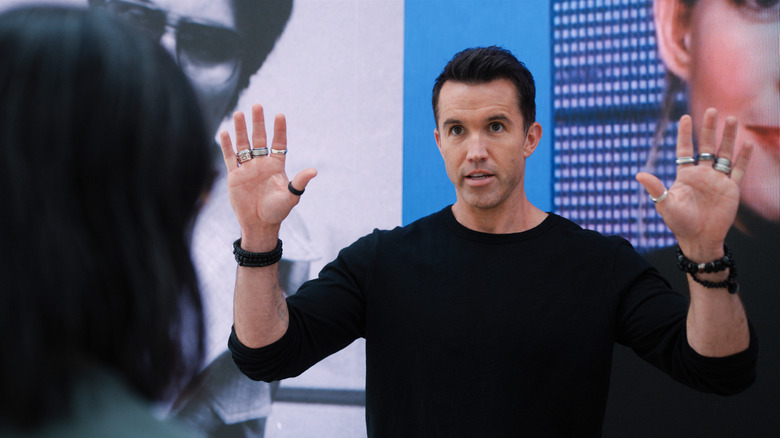 Apple TV+
While it's way more upbeat and positive than "It's Always Sunny in Philadelphia," "Mythic Quest" doesn't shy away from making its characters act in pretty terrible ways. As a result, they're all pretty foul-mouthed and hurl abusive language at each other on a pretty constant basis. So it shouldn't come as much of a surprise that "Mythic Quest" Season 3 is rated TV-MA.