12 Movies About Being Single That Should Be On Your Watch List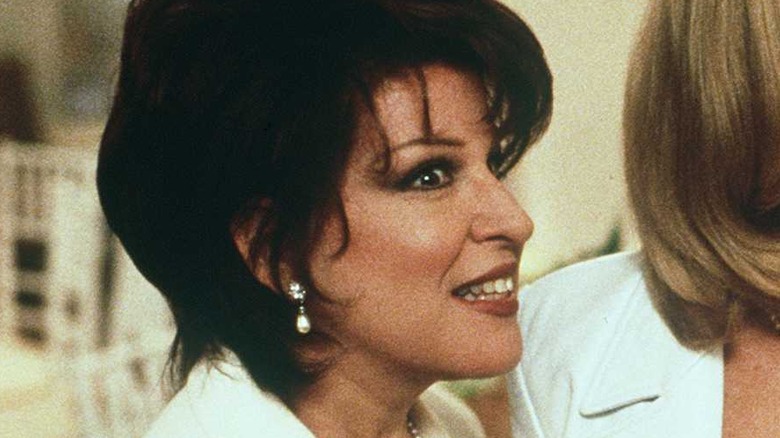 Getty Images/Getty Images
As "500 Days of Summer" taught audiences, not all love stories end with a wedding. One of the most popular genres in Hollywood is the rom-com: boy meets girl, they encounter difficulties, but manage to earn their happily ever after in the end. Romantic comedies are about forging human connections at their core, which is a big part of their charm (along with the obligatory sassy best friend), even if the focus is on romantic love. However, everyone sometimes needs a little reminder that creating human connections can happen outside of a dating app.
There are dozens of lists out there covering the best films to watch while going through a breakup: "The Way We Were" and "Forgetting Sarah Marshall" come to mind. But what to watch when it's time to rejoice in singlehood? Or embrace the rollercoaster that is dating in a world meant for couples? Being single isn't all doom and gloom, though, and we're always on the lookout for films that show a bunch of single people just having a good time.
So here they are, 12 films about being a "singleton" (thank you, "Bridget Jones's Diary") that feature new friendships, finding independence, disastrous dates, and even taking down a few drug lords (as many single people do).
Wild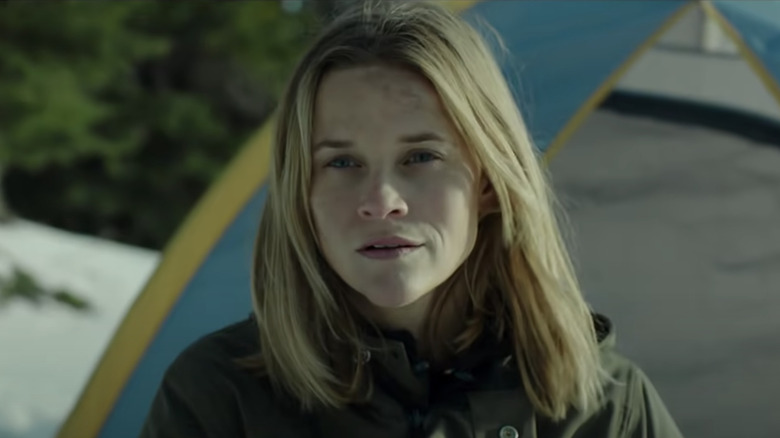 Searchlight Pictures
While some may know Cheryl Strayed as advice columnist "Dear Sugar," a few will have heard of a small memoir she wrote called "Wild: From Lost to Found on the Pacific Crest Trail," which spent an incredible 11 weeks at the top of the New York Times bestseller list. Reese Witherspoon produced and starred in the film adaptation, with Nick Hornby ("High Fidelity") writing the screenplay.
2014's "Wild" follows Cheryl as she hikes the Pacific Crest Trail after her mother's death and the end of her first marriage. Initially, Cheryl attempts to process her grief over her mother's death by engaging in damaging behaviors, including drug use and cheating on her husband. It's an honest and unflinching account of dealing with the anguish caused by the death of a loved one. Eventually, Cheryl is able to find some measure of peace through the challenges she faces on her trek.
Much as the book has become a fixture of book clubs everywhere, "Wild" was a box-office success and earned two Academy Award nominations (via IMDb). The emotional film takes viewers through a harsh wilderness environment, exploring the themes of survival, memory, and independence. And for those who might dismiss the film as a "chick flick," Cheryl Strayed has a few words on that topic: "We need to come to think that women's stories are human stories" (via The Sydney Morning Herald). 
The First Wives Club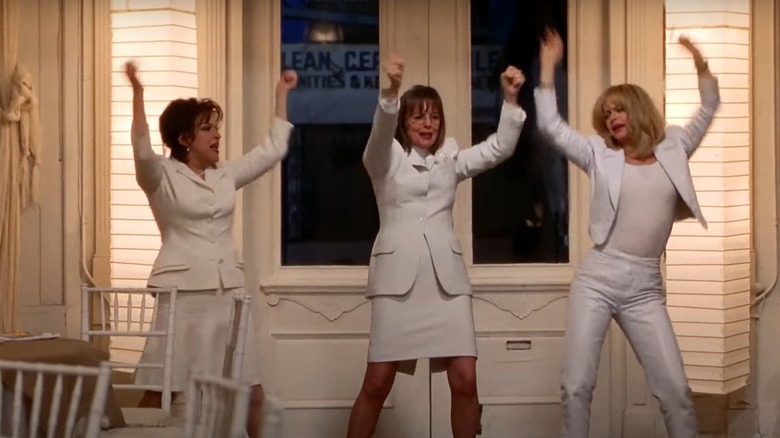 Paramount Pictures
There can be no "best films about being single" list without "The First Wives Club." Seriously, this film is an absolute classic. The film's basic premise follows three best friends, Bette Midler, Goldie Hawn, and Diane Keaton, whose husbands have left them for younger women. Rather than mourning the end of their marriages, the three hatch a plot to enact financial revenge on their sleazy husbands. Even if the premise centers around getting their financial dues, the film's strengths lie in its stars' palpable comedic chemistry and heartwarming friendship.
Even though critics had mixed feelings about the film (we're not sure how that's possible), "The First Wives Club" was a massive success at the box office, coming in at number one for its opening weekend (via Box Office Mojo).
The 1996 film also sported an incredible supporting cast, including Maggie Smith and Sarah Jessica Parker (who had worked with Midler before on "Hocus Pocus"). Fans of the film might not know that Jon Stewart had a significant role as Elise's (Goldie Hawn) younger boyfriend (via Vogue). Unfortunately, the film was far too long in its original edit, meaning that the entire character and subplot were axed. Though, one cameo stayed in the movie: Ivana Trump and her advice to the women, "Don't get mad, get everything."
Obvious Child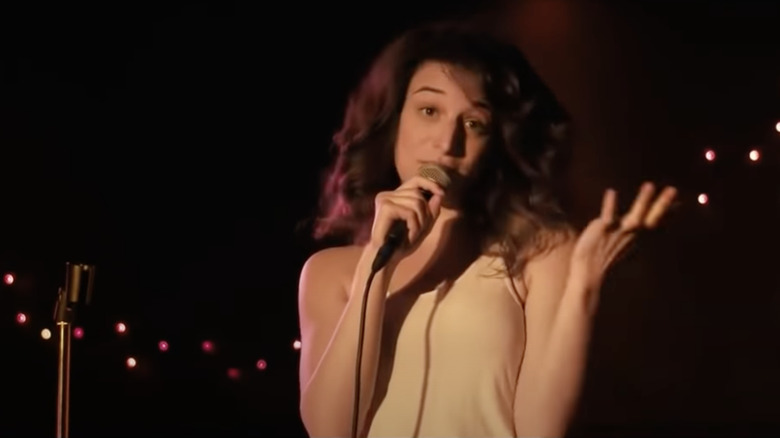 A24
Jenny Slate is a hilarious woman, which audiences will already know due to Slate's hilarious character, Mona-Lisa, in "Parks and Recreation." In 2014, Jenny Slate starred in director Gillian Robespierre's award-winning "Obvious Child." The movie follows Donna, a stand-up comedian struggling with a recent breakup, who has a one-night stand with Max (Jake Lacy) and subsequently discovers she's pregnant. The film bravely dove into one of America's most controversial topics — abortion.
The film focuses on Donna as she tries to understand the pregnancy and whether to discuss the issue with Max. The movie is unique in how much it allows Donna to be unsure of herself as she grapples with her career and relationships in a realistic way for what many 20-somethings go through. And it's not a super dramatic film, either. "Obvious Child" had the slogan "the abortion comedy" in advertisements, offering a hilarious view of the trickiness of modern entanglements.
Critically well-received for its deft handling of a sensitive issue, the film was initially a Sundance release before being more widely distributed (via Vice).
Promising Young Woman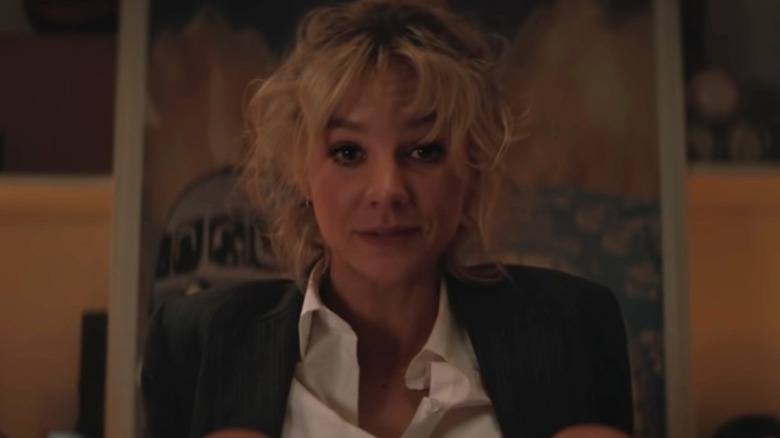 Focus Features
This darkly-comedic feminist thriller was arguably one of the most memorable films of 2020. Director Emerald Fennell (who also wrote the screenplay) tells the story of Cassie (Carey Mulligan), a woman who left medical school after her best friend's brutal rape and subsequent suicide. Cassie goes to nightclubs, pretends to be completely drunk so supposed "nice guys" will pick her up, and then enacts a bit of satisfying revenge. No spoilers, but there's a shocking twist that will leave viewers dwelling on the ending for days after.
There might be some question here, why does this film deserve to be included on a list about being single? This compelling movie is all about relationships and dealing with how they start and end. "Promising Young Woman" cleverly navigates the themes of rage, grief, guilt, friendship, and love. How quickly the film jumps between comedy and thriller can feel almost jarring. Besides that, "Promising Young Woman" won an Academy Award for best screenplay and was nominated for best picture (via IMBd).
And frankly, there's much to be said about an excellent revenge plot.
If you or anyone you know has been a victim of sexual assault, help is available. Visit the Rape, Abuse & Incest National Network website or contact RAINN's National Helpline at 1-800-656-HOPE (4673).
If you or anyone you know is having suicidal thoughts, please call the National Suicide Prevention Lifeline​ by dialing 988 or by calling 1-800-273-TALK (8255)​.
Thelma and Louise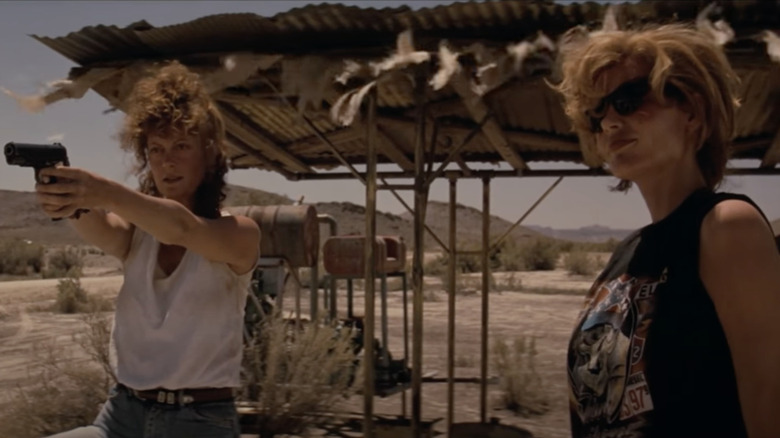 Metro-Goldwyn-Mayer
While the great American road trip has long been a trope in Hollywood, 1991's "Thelma and Louise" was a groundbreaking adventure that became a pop-culture icon. This classic Ridley Scott film starred Susan Sarandon as the confident Louise, and Geena Davis as the more timid Thelma. On a weekend away, looking to escape their dull lives and relationships, Thelma and Louise find themselves in trouble down in Texas (doesn't everyone?), kicking off a heist, a high-speed chase, and one of the most legendary and shocking endings in movie history.
In an interview with NPR about her memoir, Geena Davis spoke about the influential experience of working with Susan Sarandon. "Everything I said started with, 'This is probably a bad idea ... You're going to hate it' ... And [Sarandon] never did that. And somehow I'd never been exposed extensively to a woman who moves through the world like that." According to Davis, she lobbied for over a year trying to get the role of Louise, but ultimately, she was offered the part of Thelma. Regardless of which character she played, Davis accepted, ecstatic to be a part of the film.
There have been dozens of essays about the film, analyzing the ending and parsing its feminist message, but its most important takeaway is about friendship. For every woman who's ever had her ride-or-die buddy, who felt like it was them against the world, this is the movie to watch.
Waiting to Exhale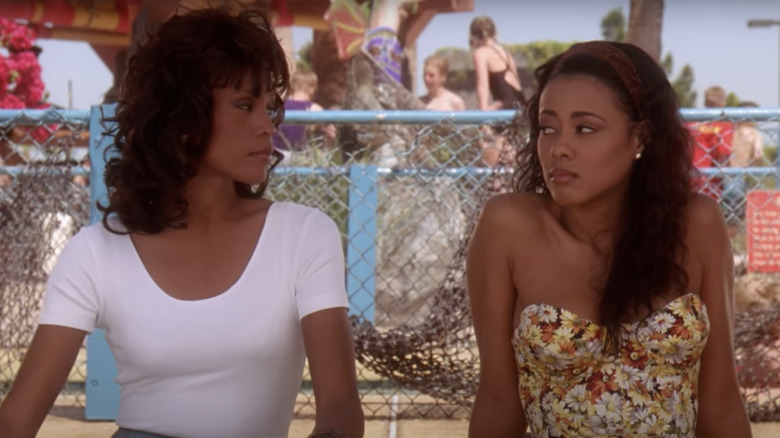 20th Century Studios
Forest Whitaker's 1995 film, "Waiting to Exhale," covers a lot of ground around the issue of dealing with complex relationships. A stunning cast of four friends, played by Whitney Houston, Angela Basset, Loretta Devine, and Lela Rochon, navigate divorce, marriage, motherhood, careers, and infidelity together, with their friendship at the center.
The main characters struggle to balance their desire for love and committed relationships with their professional lives and children's needs. The film especially resonates in its discussions of infidelity, including the rage of dealing with an unfaithful partner. Bernadine's righteous anger (played by Angela Basset) against her husband became one of the film's most memorable scenes. In an interview with Zora, Basset remembers filming that scene, "I thought of my mom and the way she held herself. I thought of her strength. It's an honor that the scene resonated in such an impactful way and has stood the test of time. I love all the memes."
The film was a financial success, and "Waiting to Exhale" found a large audience, becoming a modern classic (via Box Office Mojo). At the time of filming, Houston was at the top of her acting career, having starred in 1992's "The Bodyguard" with Kevin Costner. Viewers should come for the uplifting story and stay for the fantastic soundtrack; "Waiting to Exhale" featured music from Houston ("Count on Me"), Brandy, and other famous Black artists.
9 to 5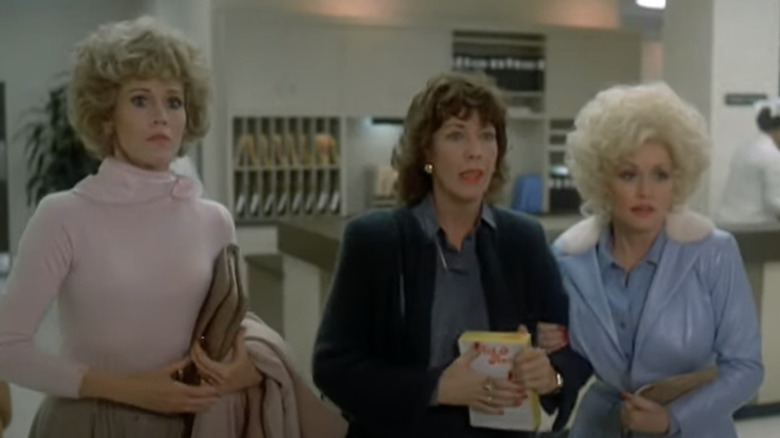 20th Century Studios
Mix Dolly Parton, Lily Tomlin, Jane Fonda, and a sleazy office boss (Dabney Coleman), and it's a recipe for movie magic. "9 to 5" takes on the issue of sexual harassment in the workplace (shockingly still common 40 years later) in one of the funniest films of all time. Judy (Fonda), Violet (Tomlin), and Doralee (Parton) set out to take down their lecherous boss, and various madcap hijinks ensue, including a botched attempt to steal a body from the morgue. We won't spoil it, but there's a happy sense of justice by the end.
The film was Dolly Parton's Hollywood debut, thankfully enabling her to later star in "Steel Magnolias," and became a massive hit. Parton also wrote and recorded the titular song, "9 to 5," which was nominated for an Academy Award for best song (via IMDb).
Now, not only is this film hilarious and heartwarming, and incredibly smart, but it also launched one of the most famously enduring female friendships in Hollywood. Lily Tomlin and Jane Fonda became friends due to their time filming together, and today they still collaborate on projects, give talks, and even get arrested together (as all good friends should). Besides, there's video evidence that Dolly Parton tells the most hysterical raunchy jokes behind the scenes, which makes us adore her even more.
How to Be Single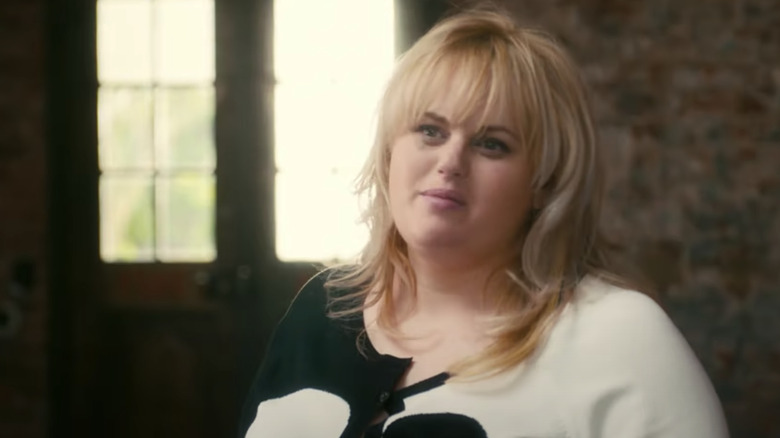 Warner Bros. Pictures
Dating manages to be an often horrifying and hilarious pursuit: There's a reason why this list has so many comedies on it. "How to Be Single" is a 2016 comedy film that follows two women, the aggressively confident Robin (Rebel Wilson) and the newly single Alice (Dakota Johnson), on their journey through New York City to find love. The pair are joined by Meg, played by the fabulous Leslie Mann, and Lucy, portrayed by Alison Brie. These four women face various trials as they attempt to find "the one;" shockingly, things don't always go according to plan.
"How to Be Single" is an excellent film for getting over a breakup, prepping for significant changes, and celebrating how absolutely hysterical Rebel Wilson is. The ending of "How to Be Single" feels particularly satisfying, especially since it offers an alternative to the more standard happily ever after. Unsurprisingly, Rebel Wilson ad-libbed the scene in the sauna room with Dakota Johnson, improvising "20 ... jokes. And then out," which she told the National Post. As a side note, during acting school, Wilson once got an award that said she "could steal a scene from a freight train," and that feels about right.
Under the Tuscan Sun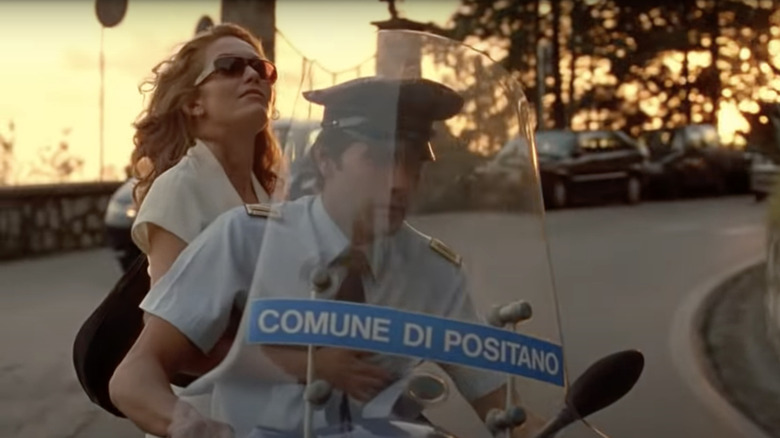 Walt Disney Studios Motion Pictures
While leaving behind your small apartment in San Francisco, running away to Italy, and purchasing a villa in Tuscany feels like it must be fiction, the truth is that "Under the Tuscan Sun" is based on a true story (via CBS Sunday Morning). The 2003 film, which starred Diane Lane and Sandra Oh, took inspiration from Frances Mayes' 1996 memoir.
Frances (Lane) discovers from a bitter author that her husband is having an affair, which leads to their divorce. Frances' best friend, Patti (Oh), worries that Frances is becoming a sad recluse and gives her a trip to Italy, where she sees and immediately falls in love with a run-down Tuscan villa. The film follows Frances as she renovates the villa, building a loving community of friends and neighbors in Tuscany and, ultimately, finding fulfillment and joy in the life she's created for herself there.
Incidentally, Frances Mayes was in Tuscany with her new partner Ed when Tom Sternberg, who was producing "The Talented Mr. Ripley," and Matt Damon encountered the couple in a Pienza shop. Sternberg, who had read and enjoyed Mayes' memoir, decided that a film based on the book could work. If that's not enticement enough to take a few chances (and possibly move to Italy), what is?
Auntie Mame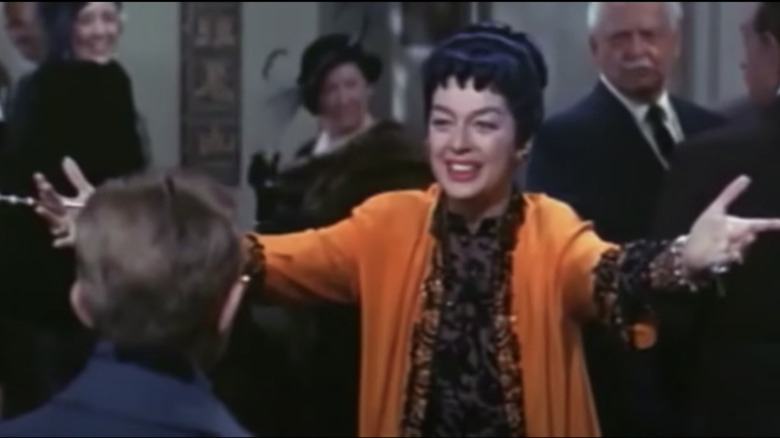 Warner Bros. Pictures
"Auntie Mame" is a novel, a Broadway play (which starred Angela Lansbury and Bea Arthur at one point), and several films. Still, the definitive version is 1958's portrayal starring the great Rosalind Russell. This absolutely joyful film is about a free-spirited woman, Mame, who raises her orphaned nephew, Patrick. The exuberant Mame is open-minded and gregarious, adventurous and outgoing; she throws parties with eccentric guests, introduces Patrick to a wide variety of people, and even sends him to a "nudist school."
"Live! Life is a banquet, and most poor suckers are starving to death!" is the seminal line Mame shouts at young Agnes in the film, perfectly encapsulating the film's spirit. At every turn, Mame is taking chances, excitedly trying new things, and generously welcoming as many people into her life as she can. The film may be a treatise on living life fully, but it's also a delightful romp about the importance of found families. A film that celebrates all the unconventional aunties (and uncles) out there.
Fried Green Tomatoes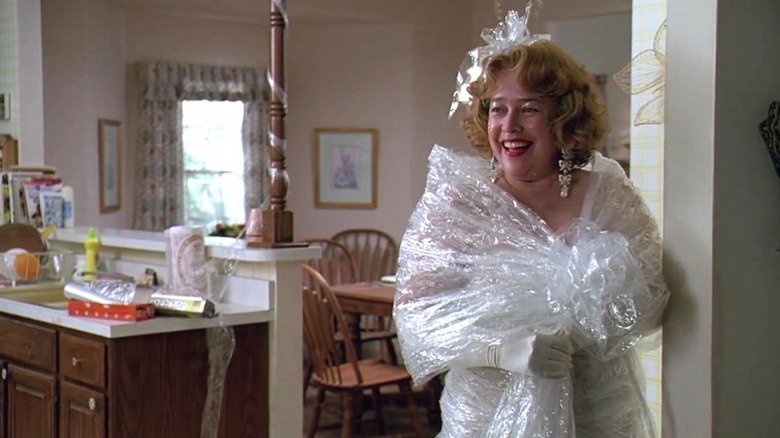 Universal Pictures
In 1991's "Fried Green Tomatoes," Evelyn, played by Kathy Bates, is a downtrodden housewife who befriends Ninny (Jessica Tandy), an older woman at a nursing home who tells her stories about two fierce women she knew as a child. These two women are friends Idgie (Mary Stuart Masterson) and Ruth (Mary Louise Parker), who are on the run from Idgie's abusive ex-husband.
It might seem like a simple premise, but the film is a funny, deeply emotional overview of the lives of four extraordinary women, told in two separate timelines. Evelyn and Ninny (Bates and Tandy) exist in the '80s, while the second timeline takes place in the 1920s. The stories Ninny tells Evelyn inspires her to stick up for herself and rediscover her strength and independence.
The acting in this film is brilliant; Jessica Tandy is a Hollywood legend, having starred in "The Birds" and "Driving Miss Daisy;" Kathy Bates is delightful as the timid Evelyn, and viewers will rejoice in seeing her transformation. There are more than a few surprises throughout the movie, and, no spoilers, but let's just say no one stays helpless in this film. "Towanda!" 
The Lobster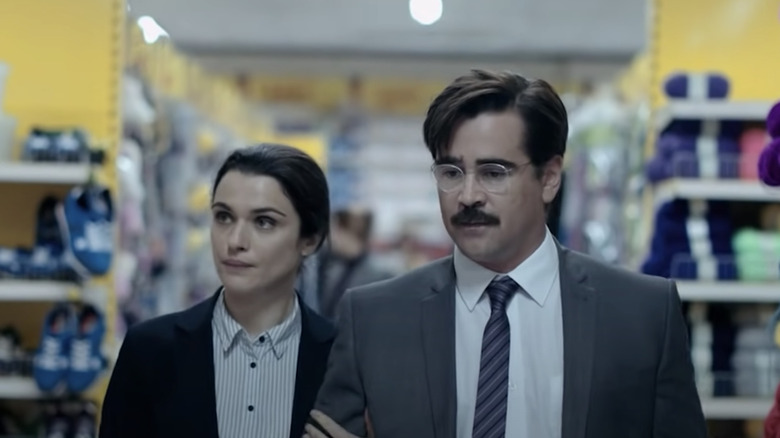 A24
"The Lobster" may well be the oddest movie on this list. It's probably the most offbeat film wherever it goes. This dark (very dark) comedy has a premise that feels shockingly relatable to most long-time singletons: find a partner, or be turned into a ridiculous animal (at least, it feels that way sometimes). David (Colin Farrell) and the short-sighted woman (Rachel Weisz) are two single people in a dystopian future where coupledom is valued above all else. David must find a partner within 45 days or be turned into a lobster, the animal of his choosing. Literally.
While the film is clearly a metaphor for the overwhelming focus on marriage in modern society, it does offer more than a few surprises as it progresses, including an unsettling ending. As much as it might sound a bit like a horror film (so much of dating is, though), the movie is also an intelligent comedy and a sharp satire, even if it is a bit of an acquired taste. According to Variety, The film is perfect for those who are fed up with dating apps since it's a "brilliant allegory for the increasingly superficial systems of contemporary courtship, including the like-for-like algorithms of online dating sites and the hot-or-not snap judgments of Tinder."
Even Colin Farrell walked away from the film with an adjusted view of relationships. "It did make me think about human beings and how we choose each other. How we profile other people, and what we think is the right match for us," he told Awards Daily. Also, Olivia Coleman plays an unempathetic hotel manager that manages to be both terrifying and hilarious.