Spy Classroom - Everything You Need To Know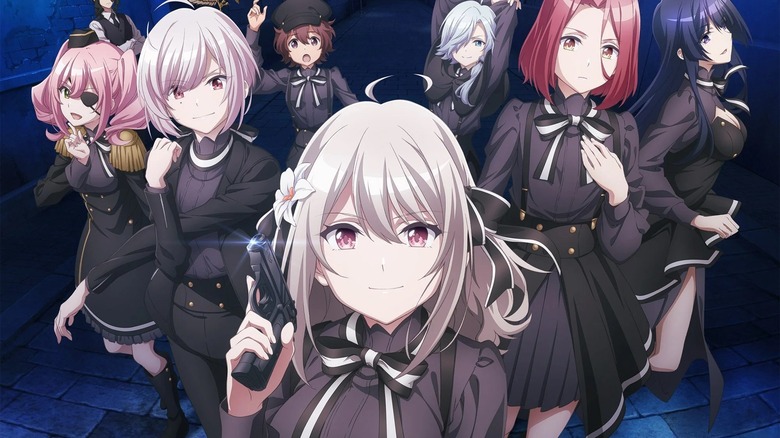 Studio Feel
"Spy Classroom" (sometimes called "Spy Room") takes place in a world where traditional warfare is a thing of the past and armies of spies have taken the place of soldiers. It follows a group of underachieving female spy graduates who get recruited for a new team tasked with infiltrating the Galgad Empire, a major player in the shadow war.
The franchise has expanded significantly since the first light novel in the popular series debuted in January 2020. First came a manga adaptation, which began serialization in Monthly Comic Alive magazine a few months later. It took a few years for an anime version of "Spy Classroom" to come to fruition, but it finally dropped in the Winter 2023 season, airing 12 episodes between January and March.
The anime version had a lot to live up to: "Spy Classroom" was ranked second on the Kono Light Novel ga Sugoi! (This Light Novel is Amazing!) list in 2021. Did the show live up to the expectations of fans? Why do the main characters sound familiar? And where can you watch it? Here's everything you need to know about "Spy Classroom."
What is the plot of Spy Classroom?
As the title suggests, the plot of "Spy Classroom" revolves around a group of students. First we meet Lily, who, despite having a good attitude, is weak academically. She wants nothing more than to become a spy, but the chances of her graduating from her spy school and securing a good position are slim. That's why she jumps at the chance to join a spy team called Lamplight when approached with a vague but intriguing offer.
Soon Lily discovers that six other girls have been recruited for the team, and, like her, they were all at the bottom of their classes in spy school. They're promptly informed that their team has the unenviable task of attempting missions that other, way more experienced squads have already failed at. The girls are then told that they will undergo four weeks of training before being sent on a nigh-on impossible mission: Despite their rookie status, they must infiltrate the Galgad Empire.
Who stars in Spy Classroom?
The girls of "Spy Classroom" are brought to life by a group of experienced voice actors who have worked on all manner of shows over the years. The role of Lily is played by Sora Amamiya, who is best known as the voice of Elizabeth in the hit shonen series "The Seven Deadly Sins." Monika is played by Aoi Yûki, who featured in two of the best anime movies of all time in "A Silent Voice" and "Your Name."
Next up is Sumire Uesaka, who plays Thea. Uesaka is widely known for her turn as the titular character in "Don't Toy with Me, Miss Nagatoro," a high school rom-com about a girl who can't stop torturing her manga-loving senpai. Meanwhile, Nao Tôyama (Sibylla) is best known for "Nisekoi," a tale of two teens from rival crime families who are forced into dating one another as part of a brokered peace. It might sound gritty, but it's also a rom-com.
Tomori Kusunoki (Annett) has voiced Nijigasaki High School Idol Club member Setsuna Yuki in a number of "Love Live!" projects, and Ayane Sakura (Sara) plays Reiner Braun's cousin Gabi Braun in "Attack on Titan." Last but not least is Miku Itou (Grete). She also has plenty of anime on her resume but more recently she's become known for the tokusatsu drama series "Kamen Rider Revice," playing a fictional version of herself.
Who directed Spy Classroom?
"Spy Classroom" is helmed by Keiichirô Kawaguchi, who made his directorial debut on a Season 1 episode of "Naruto" back in 2003. He directed his first full series in 2009, taking charge of the cat-themed "Nyan Koi!" It's a comedy about a high schooler who discovers that he can talk to cats after breaking a cat statue. They tell him that if he doesn't atone for his actions, he'll turn into a cat himself. He went on to direct the rom-com series "Mayo Chiki!" and the "Hunter x Hunter" movie "The Last Mission," proving his versatility.
Today, Kawaguchi is probably best known for his work on the "When They Cry" franchise, which spawned from visual novel games and includes a number of anime entries. Studio DEEN adapted the visual novel "Higurashi: When They Cry" in 2006 and the show's expanded universe is still ongoing today. However, a new take on "Higurashi: When They Cry" dropped in 2020, this one directed by Kawaguchi. Speaking to Crunchyroll, the director revealed that he was a big fan of the original show. "This series was so popular so I was watching it every week with some colleagues of mine," he said. "And because I was a viewer, I never imagined that I'd be directing it someday."
Which studio made Spy Classroom?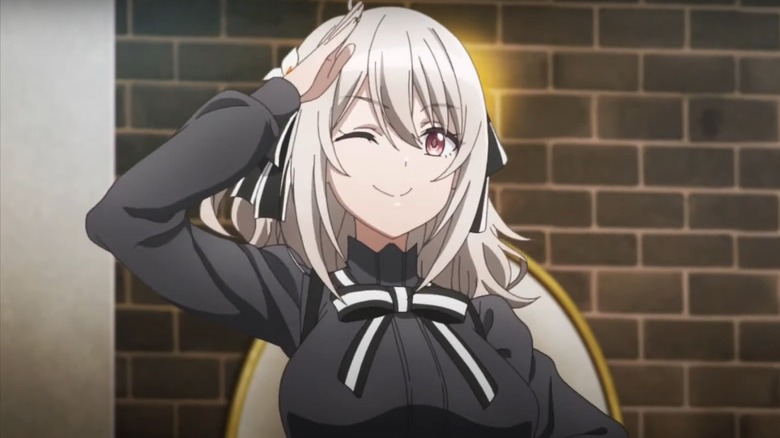 Feel/YouTube
"Spy Classroom" is animated by Feel, a Tokyo-based studio with a lot of young animators that's best known for its light-hearted, teen-orientated offerings. Its highest-rated shows on My Anime List are the second and third seasons of "My Teen Romantic Comedy SNAFU," and the studio has also had success with the likes of "Listen to Me Girls, I Am Your Father!" and "The Moon is Beautiful," both rom-coms. That's not to say that "Spy Classroom" is the first time Feel has mixed it up with something a little grittier.
In 2019, the studio adapted the visual novel game "YU-NO: A Girl Who Chants Love at the Bound of This World," a sci-fi drama about missing historians and parallel worlds. Prior to that it brought the visual novel "Island" to life, a show about a time traveler who washes up on a mysterious Japanese island many miles from the mainland. There are a few strings to Feel's bow, though some find the studio to be a bit hit-and-miss with its animation.
Feel's handling of the follow-up seasons of "My Teen Romantic Comedy SNAFU" was heavily criticized on Reddit, with one user accusing them of "butchering Yuki's character." Opinion on the studio is divisive on the platform, but the general consensus is that there has been improvement over time. "I personally admire their growth as a studio," u/Based Atlas said. "After many years of mediocrity, they personally have evolved to become one of my favorite studios."
Who sings the opening song of Spy Classroom?
A good anime opening will introduce the main characters, give you an idea of what you can expect from the show, and leave you humming the theme song for hours. The OP of "Spy Classroom" uses quick and clever imagery to explain that the show takes place after a great war while also introducing the main players of the story. But what about the song? It's called "Lamplight," and it's performed by Nonoc.
You may not know her by name, but if you're an anime fan then you might recognize Nonoc's voice from other shows. The Hokkaido native got her big break when she was chosen to sing the theme song for the OVA "Re:Zero Starting Life in Another World – Memory Snow" and she has contributed several more songs to the "Re:Zero" franchise since then. She's also known for the OPs of "Magical Girl Spec-Ops Asuka" and "Astra Lost in Space."
How did critics and audiences respond to Spy Classroom?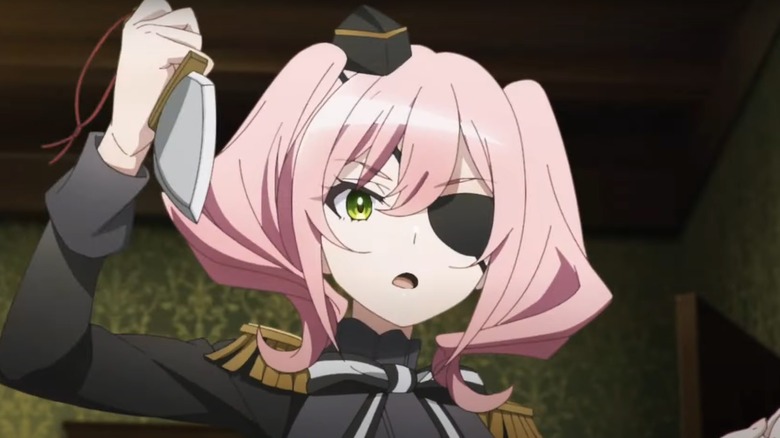 Feel/YouTube
The "Spy Classroom" anime received mixed reviews during and after its run. While some found that it got off to a good start, others weren't as keen. Game Rant called the first episode "an interesting and well-paced start to the story," while Anime Feminist called the opener "shockingly average in its execution." Reviewing the series as a whole, Anime Ignite said that the show was a prime example of "wasted potential," citing a failure to dig into the backgrounds of the girls.
Fans were also split in their response, with some criticizing the show and others defending it. When one Redditor asked why the anime was "getting so much hate," a couple of viewers pinpointed the nature of the backlash. "The first 3 episodes were rushed and not adapted properly and it did a number on the show's reputation so much that many people started heavily criticizing the anime adaptation," wrote u/Adensty. "Even though the later episodes got better, the damage had already been done."
Some say that the wrong studio was chosen for the job. "Given it was studio Feel, I was always apprehensive," said My Anime List user Marinate1016. "I tried to be as optimistic as possible. Unfortunately, I was wrong. The pacing and direction of this show were just awful." Hopefully things improve in Season 2, which was teased in the ending scene and is still expected to be announced in due course.
What is Spy Classroom rated?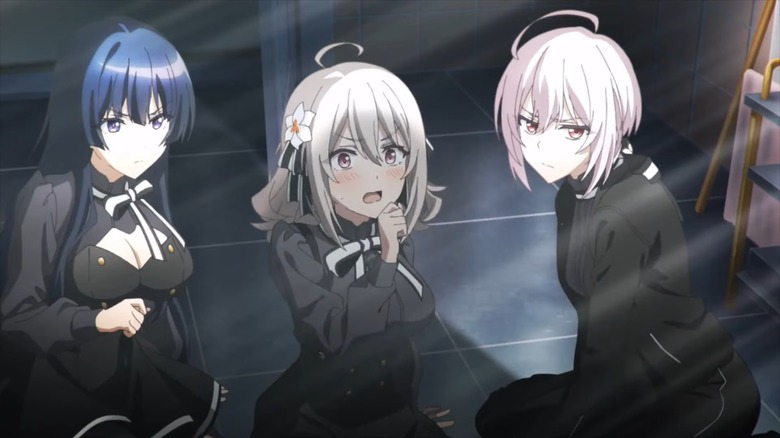 Feel/YouTube
"Spy Classroom" is rated TV-14, meaning the content may be unsuitable for viewers under the age of 14. There's moderate profanity in a number of scenes, and things do get violent sometimes — the girls are fighting a shadow war, after all. And, while "Spy Classroom" does spend a lot of time focused on actual espionage, it also ventures into harem territory in places, with Lamplight leader Klaus the only male character of any real note. However, it isn't overly sexualized like some other Feel shows (see: "Bikini Warriors").
The vibe is very similar to the manga adaptation, which Honey's Anime described as "another addition to the subgenre of cute girls in action/military settings, with a heavy harem undertone added for good measure." As part of their training Klaus has the girls try to assassinate him, knowing that they aren't up for the task but that it will be good practice. There's a scene in which three of them ambush him in the shower, killing the lights and pouncing before his eyes have time to adjust. Of course, it fails, and they're left red-faced when the lights come back on and "Teach" isn't wearing a towel.
Where to watch Spy Classroom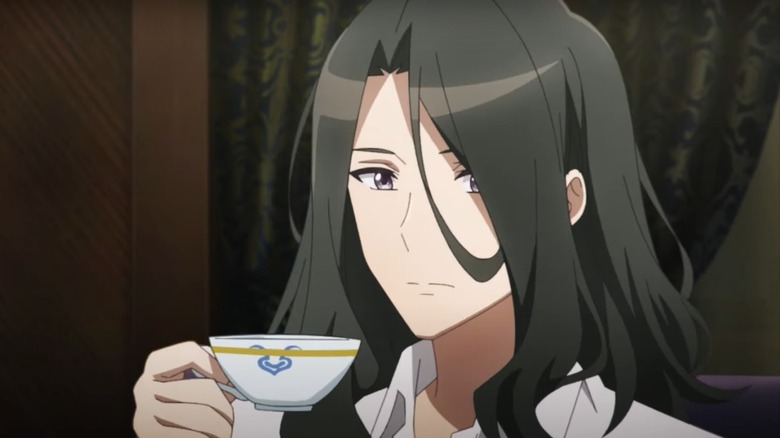 Feel/YouTube
Believe it or not, "Spy Classroom" is not available to stream on Crunchyroll, which has become the go-to streamer for anime fans around the world. However, Crunchyroll isn't your only option for streaming anime. If you want to watch "Spy Classroom," you can get it on HIDIVE, a relative newcomer to the anime streaming game. "We're an independent anime streaming company based out of Houston, Texas that just came into being in 2017," reads the company bio. "In this short amount of time, we've acquired the rights to over 500 series, movies, and OVAs, and gives you a price that won't make your wallet cry."
As you may have already guessed from that last statement, HIDIVE is cheaper than Crunchyroll, charging $4.99 per month for membership. They also offer a 7-day free trial, which will give you access to all 12 episodes of "Spy Classroom." There's no English language dub of the show yet, but subtitles come in English as well as Latin American Spanish and Portuguese.