The Daily Show May Experiment With Rotating Hosts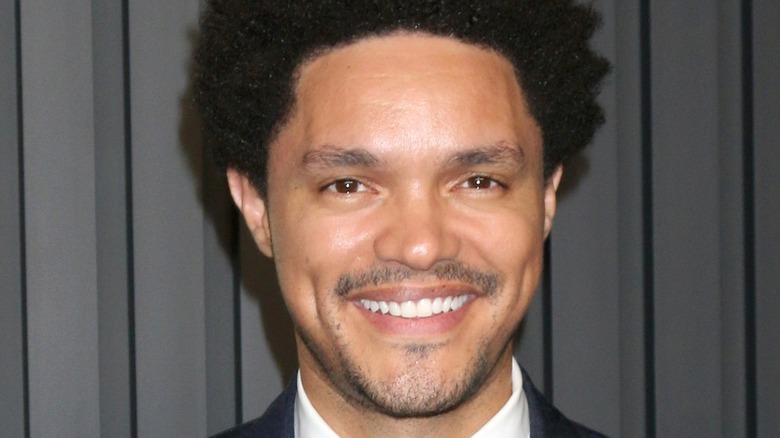 Kathy Hutchins/Shutterstock
"The Daily Show" has long been a fixture on Comedy Central for longer than one might have expected. Originally premiering in 1996, "The Daily Show" is basically a news program with a slightly different take than many other contemporary news outlets. That's because the primary slant of "The Daily Show" is that of comedy, and through that lens, current events are broken down into easily digestible jokes. Typically, there is a host who presents the daily events, as well as hilarious correspondents who often go out into the field to pursue a story. Each episode generally features an interview as well, and these can be with pop culture figures, politicians, scientists, authors, and whoever else might be of interest.
Considering how long "The Daily Show" has been on the air, it makes sense why hosts may come and go. For those that have been with the show since its beginning, the very first host of "The Daily Show" was Craig Kilborn, who hosted the show from 1996 to 1998. After Kilborn departed the show, Jon Stewart was the next to pick up the reins, and he hosted "The Daily Show" from 1999 to 2015. Now with the recent news of Jon Stewart's replacement, Trevor Noah, leaving the show, Comedy Central once again needs to find a new anchor, and it looks like they might try something unconventional.
The Daily Show with Trevor Noah comes to an end on December 8, 2022, but will return reinvented
According to Variety, it appears as if Comedy Central is giving serious consideration to a rotating set of hosts, though there has not been an official commitment from Paramount-Global, who owns Comedy Central. The publication also noted a previous communication from Comedy Central involving "The Daily Show," which said, "In time, we will turn to the next chapter of 'The Daily Show,' and all of our incredible correspondents will be at the top of that list. Until then, we are focused on celebrating Trevor and thanking him for his many contributions." At the time of this writing, nothing has been set in stone, but one thing is for certain, and that is "The Daily Show" will be on a temporary hiatus after December 8, 2022, which is Trevor Noah's last episode.
"The Daily Show" will return on January 17, 2023, but who will be hosting is definitely a conversation that is full of speculation. Some think that "Daily Show" correspondents like Jordan Klepper, Roy Wood Jr., Desi Lydic, or Ronny Chieng might be a part of the aforementioned rotating hosts, or perhaps there could even be some fresh faces in there. Fans of "The Daily Show" might even see some alumni like John Oliver or Stephen Colbert return in some capacity, but this is exceptionally unlikely due to their own respective shows. Either way, it will be interesting to see how "The Daily Show" picks up without Trevor Noah, but this isn't the first time the popular television show has lost its host.